It's so black and white!
---
Posted 01 Dec 2016
I have been working hard drawing a number of black and white Bible Cartoons for a lady in Jerusalem, Israel. Some of them will be coloured up, but most will be the black and white outline drawing only.
Here are the colour & b/w drawings I've done so far, I'll add more to this post as I draw them. Eventually, some time in 2017 I'll colour them all up too!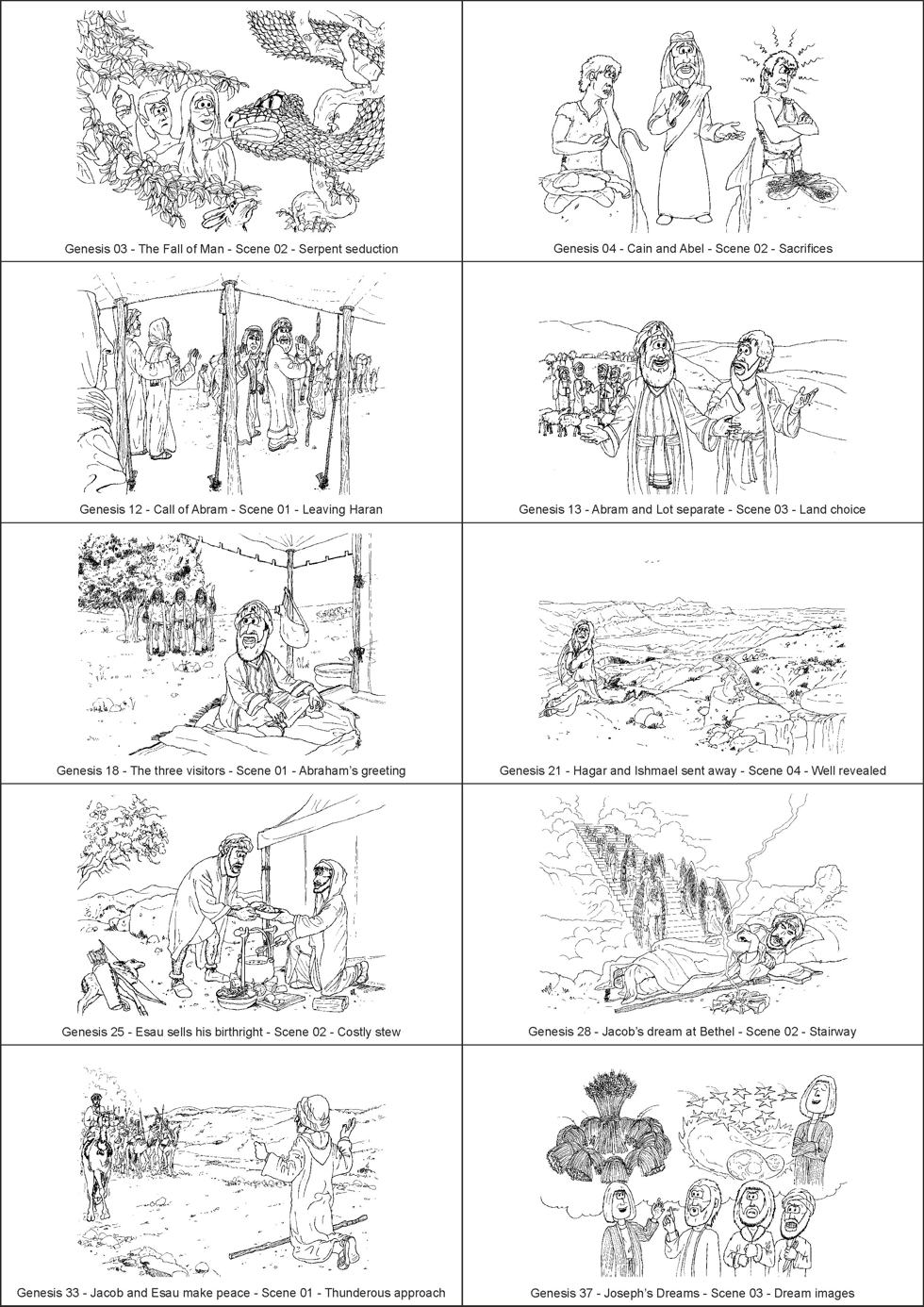 Follow this link to see these Bible Cartoons COLOUR VERSION with download & purchase options:
Genesis 03 – The Fall of Man – Scene 02 – Serpent seduction (Purple version)


Follow this link to see these Bible Cartoons COLOUR VERSION with download & purchase options:
Genesis 03 – The Fall of Man – Scene 02 – Serpent seduction (Yellow version)


Follow this link to see these Bible Cartoons COLOUR VERSION with download & purchase options:
Genesis 04 – Cain and Abel – Scene 02 – Sacrifices


Follow this link to see these Bible Cartoons COLOUR VERSION with download & purchase options:
Genesis 12 – Call of Abram – Scene 01 – Leaving Haran


Follow this link to see these Bible Cartoons COLOUR VERSION with download & purchase options:
Genesis 13 – Abram and Lot separate – Scene 03 – Land choice


Follow this link to see these Bible Cartoons COLOUR VERSION with download & purchase options:
Genesis 18 – The three visitors – Scene 01 – Abraham's greeting (Version 01)


Follow this link to see these Bible Cartoons COLOUR VERSION with download & purchase options:
Genesis 18 – The three visitors – Scene 01 – Abraham's greeting (Version 02)


Follow this link to see these Bible Cartoons COLOUR VERSION with download & purchase options:
Genesis 21 – Hagar and Ishmael sent away – Scene 04 – Well revealed


Follow this link to see these Bible Cartoons COLOUR VERSION with download & purchase options:
Genesis 25 – Esau sells his birthright – Scene 02 – Costly stew


Follow this link to see these Bible Cartoons COLOUR VERSION with download & purchase options:
Genesis 28 – Jacob's dream at Bethel – Scene 02 – Stairway


Follow this link to see these Bible Cartoons COLOUR VERSION with download & purchase options:
Genesis 33 – Jacob and Esau make peace – Scene 01 – Thunderous approach


Follow this link to see these Bible Cartoons COLOUR VERSION with download & purchase options:
Genesis 37 – Joseph's Dreams – Scene 03 – Dream images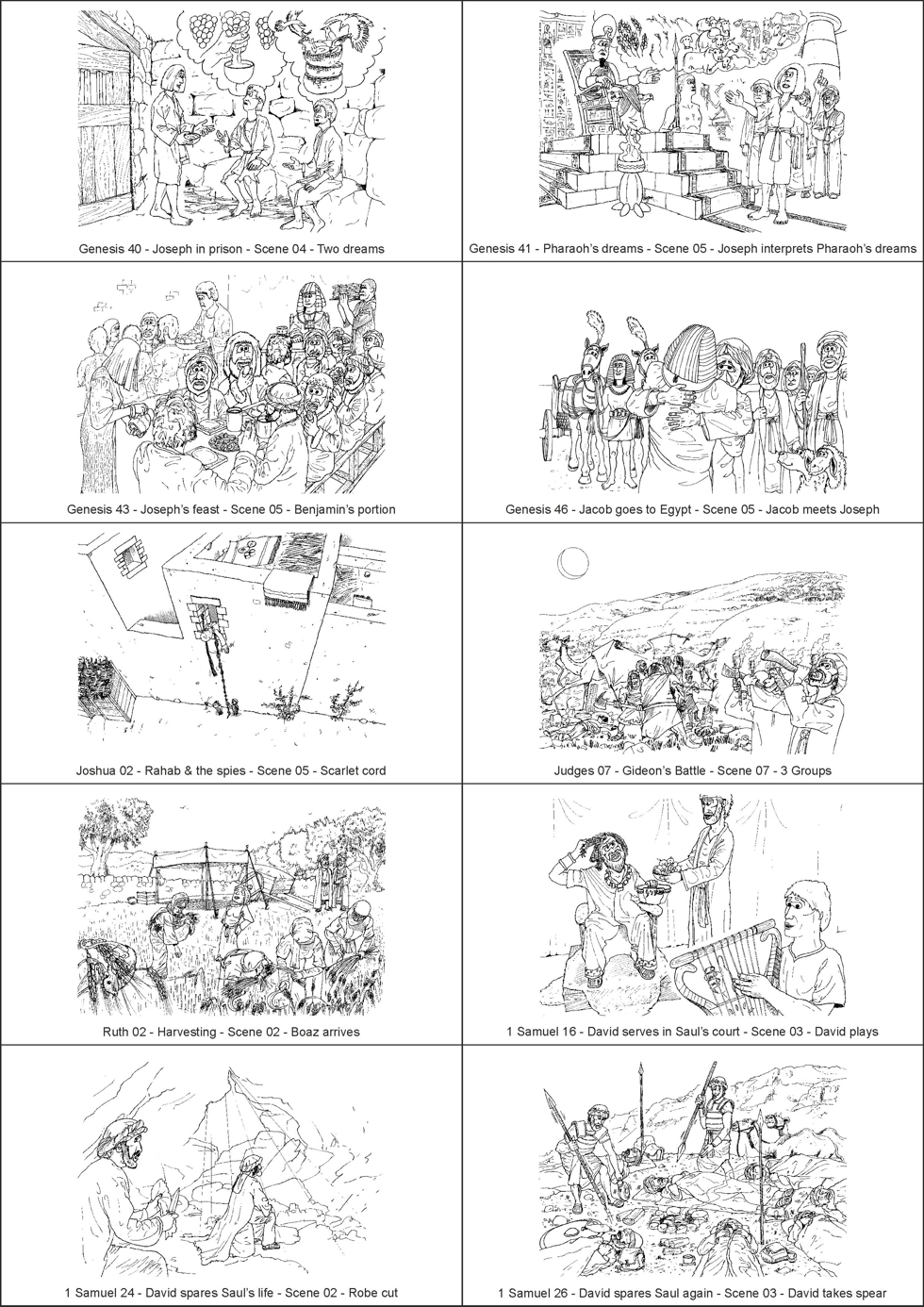 Follow this link to see these Bible Cartoons COLOUR VERSION with download & purchase options:
Genesis 40 – Joseph in prison – Scene 04 – Two dreams


Follow this link to see these Bible Cartoons COLOUR VERSION with download & purchase options:
Genesis 41 – Pharaoh's dreams – Scene 05 – Joseph interprets Pharaoh's dreams


Follow this link to see these Bible Cartoons COLOUR VERSION with download & purchase options:
Genesis 43 – Joseph's feast – Scene 05 – Benjamin's portion (Colour version)


Follow this link to see these Bible Cartoons COLOUR VERSION with download & purchase options:
Genesis 43 – Joseph's feast – Scene 05 – Benjamin's portion (Shadow version)


Follow this link to see these Bible Cartoons COLOUR VERSION with download & purchase options:
Genesis 46 – Jacob goes to Egypt – Scene 05 – Jacob meets Joseph


Follow this link to see these Bible Cartoons COLOUR VERSION with download & purchase options:
Joshua 02 – Rahab & the spies – Scene 05 – Scarlet cord


Follow this link to see these Bible Cartoons COLOUR VERSION with download & purchase options:
Judges 07 – Gideon's Battle – Scene 07 – 3 Groups


Follow this link to see these Bible Cartoons COLOUR VERSION with download & purchase options:
Ruth 02 – Harvesting – Scene 02 – Boaz arrives


Follow this link to see these Bible Cartoons COLOUR VERSION with download & purchase options:
1 Samuel 16 – David serves in Saul's court – Scene 03 – David plays


Follow this link to see these Bible Cartoons COLOUR VERSION with download & purchase options:
1 Samuel 24 – David spares Saul's life – Scene 02 – Robe cut (Dark version)


Follow this link to see these Bible Cartoons COLOUR VERSION with download & purchase options:
1 Samuel 24 – David spares Saul's life – Scene 02 – Robe cut (Colour version)


Follow this link to see these Bible Cartoons COLOUR VERSION with download & purchase options:
1 Samuel 26 – David spares Saul again – Scene 03 – David takes spear (Dark version)


Follow this link to see these Bible Cartoons COLOUR VERSION with download & purchase options:
1 Samuel 24 – David spares Saul again – Scene 03 – David takes spear (Colour version)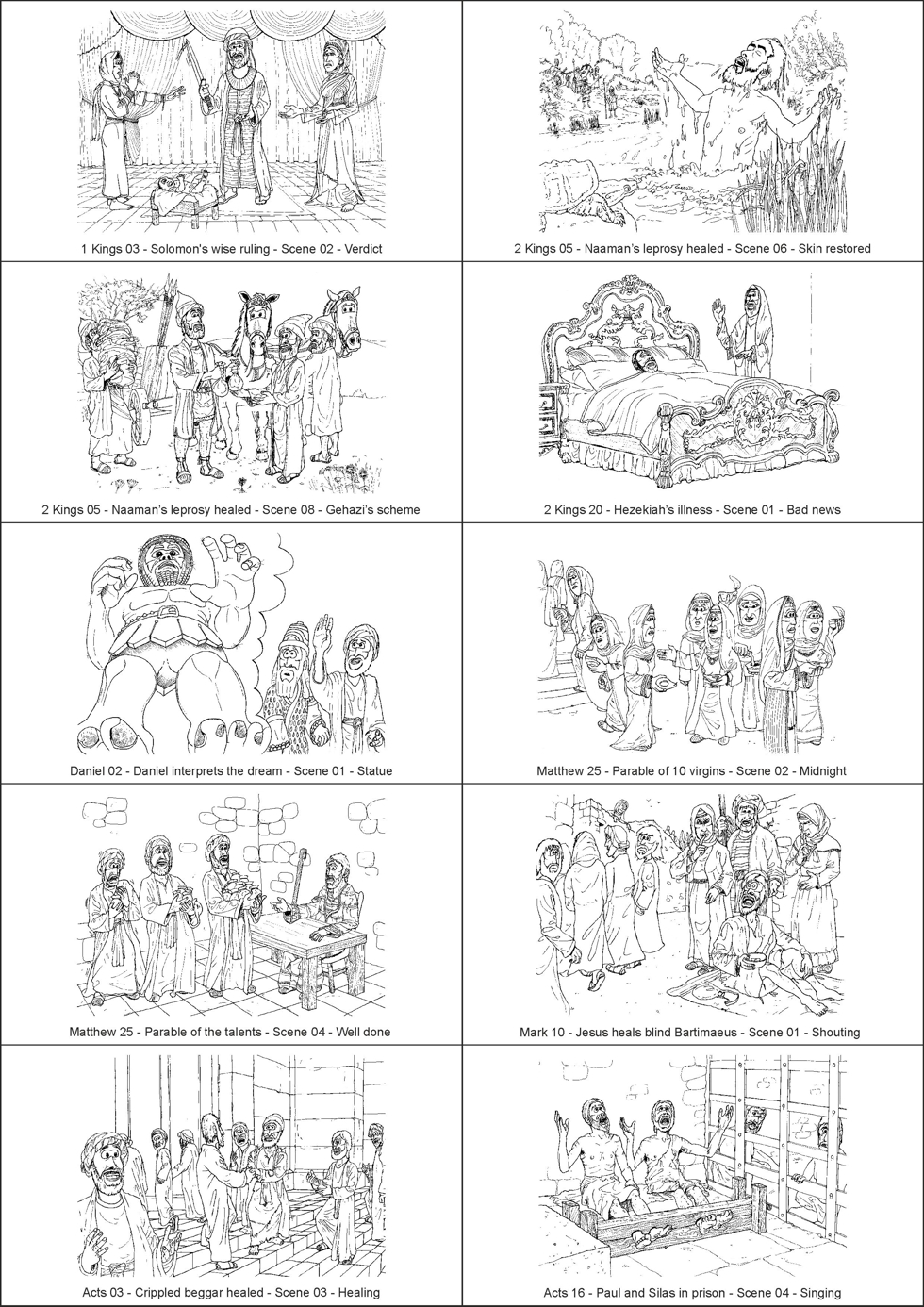 Follow this link to see these Bible Cartoons COLOUR VERSION with download & purchase options:
1 Kings 03 – Solomon's wise ruling – Scene 02 – Verdict


Follow this link to see these Bible Cartoons COLOUR VERSION with download & purchase options:
2 Kings 05 – Naaman's leprosy healed – Scene 06 – Skin restored


Follow this link to see these Bible Cartoons COLOUR VERSION with download & purchase options:
2 Kings 05 – Naaman's leprosy healed – Scene 08 – Gehazi's scheme


Follow this link to see these Bible Cartoons COLOUR VERSION with download & purchase options:
2 Kings 20 – Hezekiah's illness – Scene 01 – Bad news


Follow this link to see these Bible Cartoons COLOUR VERSION with download & purchase options:
Daniel 02 – Daniel interprets the dream – Scene 01 – Statue (Green version)


Follow this link to see these Bible Cartoons COLOUR VERSION with download & purchase options:
Daniel 02 – Daniel interprets the dream – Scene 01 – Statue (Blue version)


Follow this link to see these Bible Cartoons COLOUR VERSION with download & purchase options:
Matthew 25 – Parable of 10 virgins – Scene 02 – Midnight


Follow this link to see these Bible Cartoons COLOUR VERSION with download & purchase options:
Matthew 25 – Parable of the talents – Scene 04 – Well done


Follow this link to see these Bible Cartoons COLOUR VERSION with download & purchase options:
Mark 10 – Jesus heals blind Bartimaeus – Scene 01 – Shouting


Follow this link to see these Bible Cartoons COLOUR VERSION with download & purchase options:
Acts 03 – Crippled beggar healed – Scene 03 – Healing


Follow this link to see these Bible Cartoons COLOUR VERSION with download & purchase options:
Acts 16 – Paul and Silas in prison – Scene 04 – Singing


Comments
Comments are turned off for this article
---
Go to Blog Archive page