Bible Book:
1 Samuel
Bible Book Code:
0902400301
Scene no:
1 of 1
Bible Reference & Cartoon Description
1 Samuel 24:3-4 (NLT)
3 At the place where the road passes some sheepfolds, Saul went into a cave to relieve himself. But as it happened, David and his men were hiding farther back in that very cave!
4 "Now's your opportunity!" David's men whispered to him. "Today the Lord is telling you, 'I will certainly put your enemy into your power, to do with as you wish.'" So David crept forward and cut off a piece of the hem of Saul's robe.
DRAWING NOTES:
TIME OF DAY:
Unspecified in Bible narrative. Daytime.
LIGHTING NOTES:
Strong sunlight from outside the cave illuminates this scene. Note the highlights on the edges of the figures, and the beams of light seen in the cave air.
CHARACTERS PRESENT:
David in the left foreground, holding a dagger & a piece of king Saul's outer robe. King Saul sitting on a rock.
RESEARCH/ADDITIONAL NOTES:
There are two versions of this scene:
01) (This page) 1 Samuel 24 – David spares Saul's life – Scene 02 – Robe cut (Dark version). In which the figures are shadowy.
02) (Next page) 1 Samuel 24 – David spares Saul's life – Scene 02 – Robe cut (Colour version). In this version I have made the figures much lighter & their clothing colours stand out a lot more.
I found a great looking photograph of a cavern & cave mouth on the internet that helped me with this design. I enjoyed creating the dark shadows & strong highlights in this scene.

Here is the scene without the figures.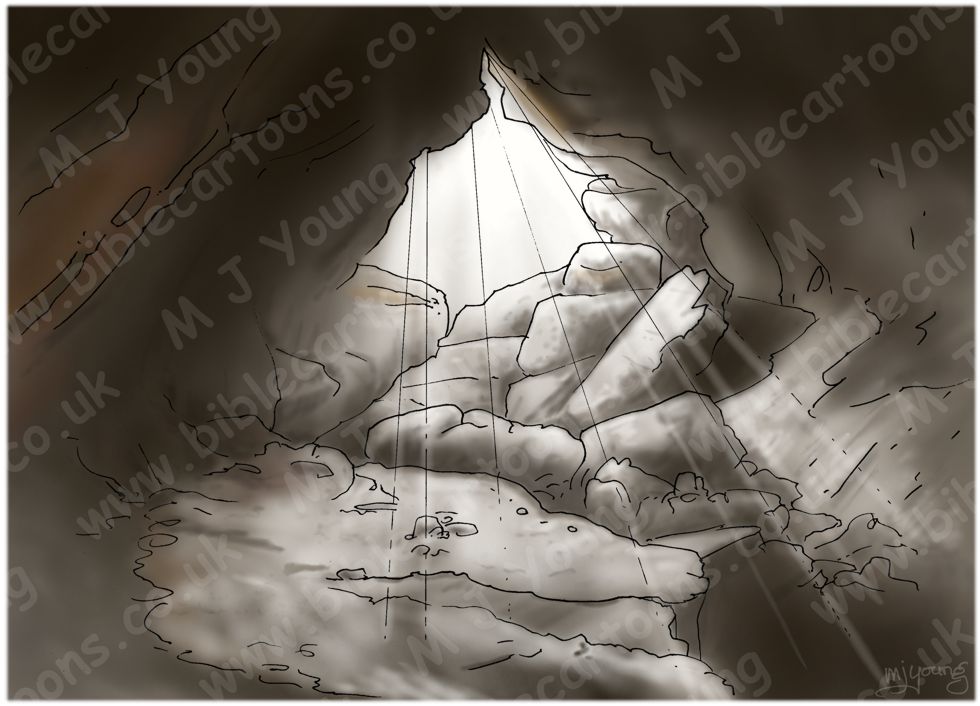 1 Samuel 24 – David spares Saul's life – Scene 02 – Robe cut (Dark version) – Background
---
Bible Doctrine Notes
24:1-22

EVIL

AND

SUFFERING

, Endurance (2.34C)
David suffered from king Saul's fits of jealousy and rage, but David show great restraint and an attitude of non-retaliation in his encounters with Saul. Though King Saul had tried to kill David, David didn't take this opportunity to rid himself of his powerful pursuer. We should all respond to evil acts by others with the same enduring love that Jesus taught and lived by.