Bible Book:
1 Kings
Bible Book Code:
1102101701
Scene no:
6 of 8
Bible Reference & Cartoon Description
1 Kings 21:17-19 (ANIV)
17 Then the word of the Lord came to Elijah the Tishbite: 18 "Go down to meet Ahab king of Israel, who rules in Samaria. He is now in Naboth's vineyard, where he has gone to take possession of it. 19 Say to him, 'This is what the Lord says: Have you not murdered a man and seized his property?' Then say to him, 'This is what the Lord says: In the place where dogs licked up Naboth's blood, dogs will lick up your blood—yes, yours!' "
DRAWING NOTES:
TIME OF DAY:
Unspecified in Bible narrative above. I have set this scene at mid morning.
LIGHTING NOTES:
The sun is above & to the right in this scene (unseen), casting shadows to the left of objects & the figure.
CHARACTERS PRESENT:
Elijah, the prophet.
RESEARCH/ADDITIONAL NOTES:
The Bible narrative above does not tell us where Elijah was when he heard the Lord God command him to go & talk to Ahab, the king of Israel. So I could have set this scene anywhere, but I decided to draw Elijah in the Valley of Doves, which is just west of the Sea of Galilee. It is a dramatic site, that is a suitable background for Elijah's revelation from the Lord.
Tishbe (where Elijah was from) was about 8.5 miles (13.6 km) north of the Sea of Galilee.
Samaria was about 30 miles (48 km) south west of the Valley of Doves, and about 44 miles (70.8 km) south west of Tishba, as the crow flies.
Once again God chose Elijah to bear a message of judgment to Ahab, the king of Israel. Although Jezebel was directly responsible for Naboth's death, the king was ultimately responsible since Jezebel's letter to the elders ordering Naboth's murder had been sent with his seal. God's charge against Ahab (spoken via Elijah) was committed the crime of murdering naboth & seizing his property.
Dogs licking up a person's blood was considered a disgraceful death; doubly so for a king whose body would normally be carefully guarded and buried with great respect. Elijah left no doubt in Ahab's mind concerning whose blood he referred to with his phrase "yes, yours!"
The spiky purple plants in the foreground are Echinops adenocaulos (Common Globe Thistle), which belongs to the Compositae/Asteracaea plant family. This spiky plant grows from 60-100cm (23.5-43 inches) tall, in Mediterranean Woodlands and Shrublands, Semi-steppe shrublands, Montane vegetation of Mt. Hermon habitats in Israel. The Hebrew name (kipodan) refers to a hedgehog, since the flowers are arranged in a spherical flower head is similar to a hedgehog. The plant flowers in June-July; the globes being a blue-violet colour & 5-8cm (2-3.1 inches) in diameter. The hairy stems have hard and thorn-like leaves; terminating in a spine or sharp point.
Here is the background without the figure of Elijah in it.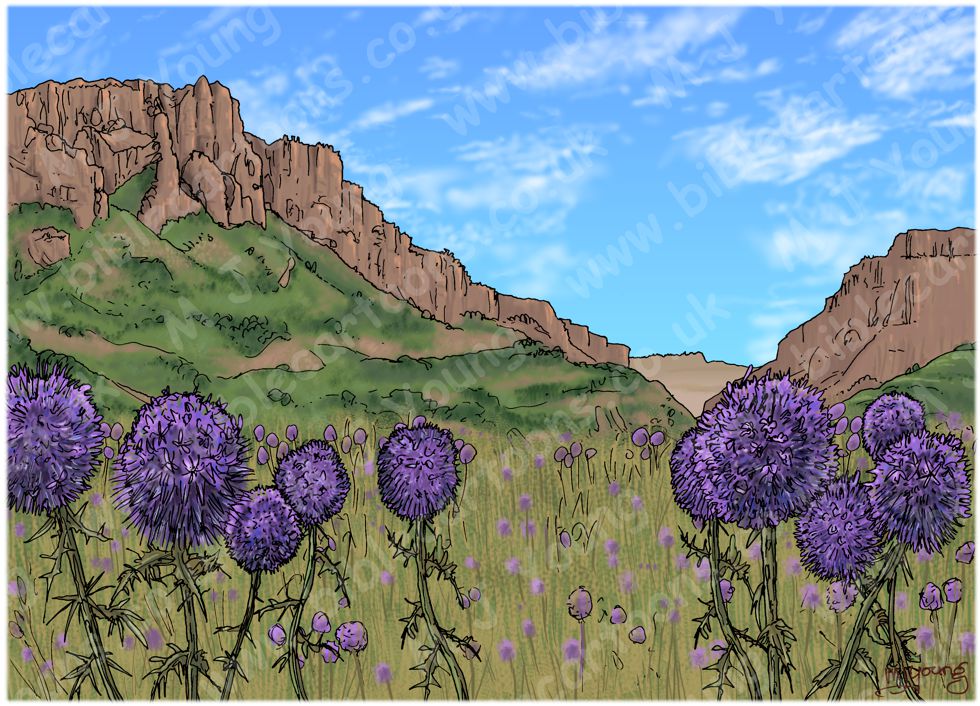 1 Kings 21 – Naboth's Vineyard – Scene 06 – Elijah hears God's word – Landscape
Here is the rough pencil sketch I drew to design this scene.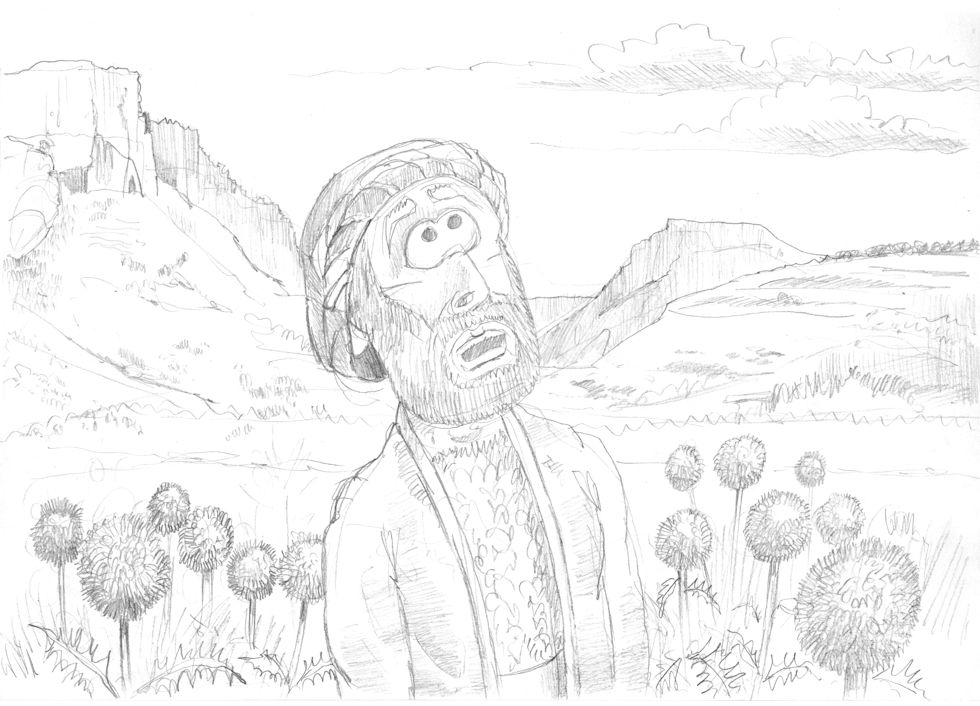 1 Kings 21 – Naboth's Vineyard – Scene 06 – Elijah hears God's word – Greyscale
Why not visit my website & see all the cartoons there? http://www.biblecartoons.co.uk