Click on Add to cart button below shopping cart.
Purchased Gospel Illustrations do not have watermarks. Links to Illustrations provided on email once purchase is completed.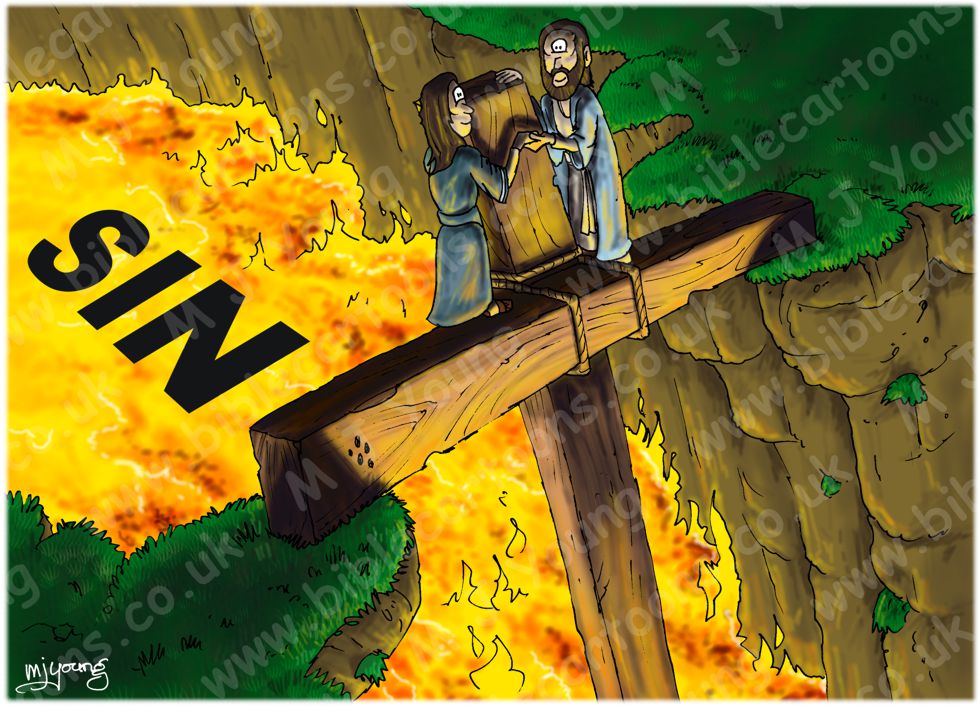 Illustration code:
7000100301
Scene no:
3 of 4
Illustration Description
This is the third illustration in this series of four.
The scene shows the man & woman (representative of us all) crossing the great wooden cross, which is the "bridge" in the title. Only by coming to the cross of Jesus Christ can our sins (wrongdoing) being dealt with once & for all. Only once that has happened, can we be reunited with the Lord God.
SCRIPTURES:
"For Christ died for sins once for all, the righteous for the unrighteous, to bring you to God."
1 Peter 3:18 (ANIV)
"But God demonstrates his own love for us in this: While we were still sinners, Christ died for us."
Romans 5:8 (ANIV)
DRAWING NOTES:
TIME OF DAY:
This cartoon has no particular time of day
LIGHTING NOTES:
The source of light in this scene is from the river of lava, beneath the man & woman. The red hot lava casts a yellow/orange light up into the scene.
CHARACTERS PRESENT:
The man & woman (after the fall in the garden of Eden) separated from God by a wide chasm of lava. Here they are climbing over the bridge, which is the cross of Jesus Christ.
RESEARCH/ADDITIONAL NOTES:
Man is separated from God by sin.
The dilemma for God is this: He has to deal with sin & he wants to love mankind. His pure & Holy nature can not abide sin, & sin must always be judged & destroyed by God. If people die in their sin, then they will be eternally separated from God, in hell. However, the other side of God's nature is love, & He does not want a single human being to suffer eternal separation from Himself. The whole of human history is a record of how God has been working both to fully deal with the problem of sin & how he has provided a way back into his presence for us all.
Since sin separates us from God, some way to "pay" that price had to be found, in order to remove the sin from mankind & thus allow men & women to once again enjoy the loving presences of God. It is clear from this condition that a sacrifice was necessary, one that would "pay" the price of all mankind's sin, & therefore provide a way back to God. As soon as sin entered the world (at the fall) God's plan of redemption started, which culminated in the birth, life, death, resurrection & ascension of His one & only Son, Jesus Christ. It is Jesus' sacrificial death on the cross (in our place) which pays the full price of all of our sin. Thus, in my cartoon, it is the wooden cross of Jesus which spans the chasm of sin, & effectively bridges the gap between man & God.
In this third scene we see the solution which God provides to enable mankind to overcome the problem of his sinfulness, & get back to God. The man & woman are walking across the "bridge" of the wooden cross, anticipating a speedy reunion with God, who is waiting on the other side of the sin chasm (out of our view.)