Click on Add to cart button below shopping cart.
Purchased Gospel Illustrations do not have watermarks. Links to Illustrations provided on email once purchase is completed.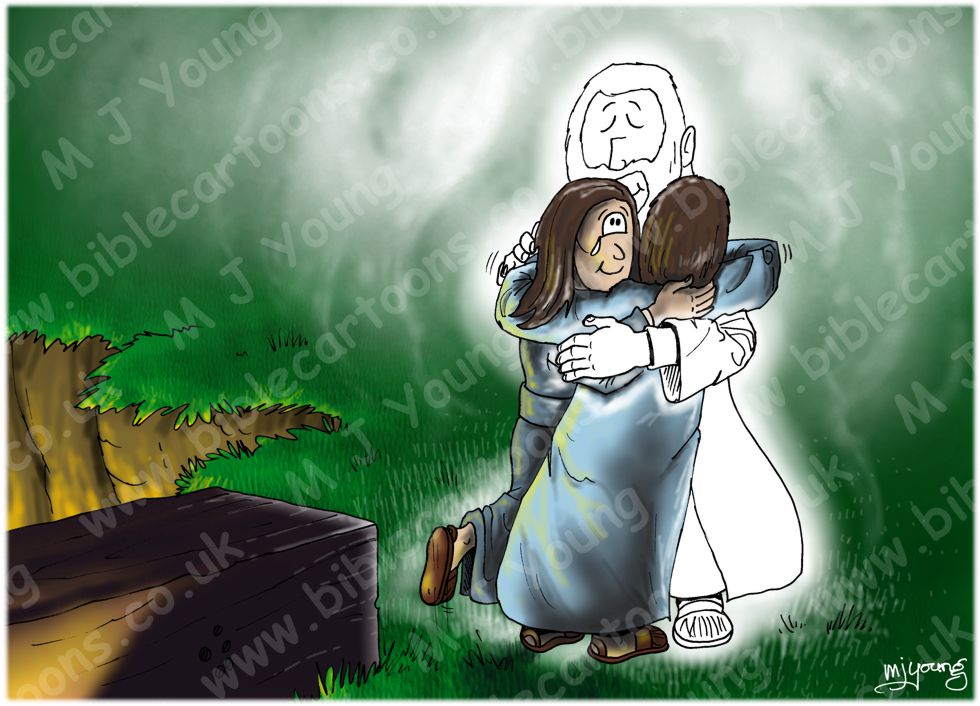 Illustration code:
7000100401
Scene no:
4 of 4
Illustration Description
This is the fourth illustration in this series of four.
The scene shows the man & woman (representative of us all) reunited with the Lord God. We know from the Bible that it was the terrible cost of the Cross, which Jesus paid on our behalf, for our sins, which allows our sins to be dealt with, & which allow us free access back into the wonderful presence of the Lord.
SCRIPTURES:
"For God so loved the world that he gave his one and only Son, that whoever believes in him shall not perish but have eternal life. For God did not send his Son into the world to condemn the world, but to save the world through him."
John 3:16-17 (ANIV)
"I tell you the truth, whoever hears my word and believes him who sent me has eternal life and will not be condemned; he has crossed over from death to life."
John 5:24 (ANIV)
DRAWING NOTES:
TIME OF DAY:
This cartoon has no particular time of day
LIGHTING NOTES:
The source of light in this scene is from the river of lava (which casts a yellow/orange light) & from the figure of God (who casts a pure white light.)
CHARACTERS PRESENT:
The man & woman (representing all men & women) safely back in the loving arms of our heavenly Father.
RESEARCH/ADDITIONAL NOTES:
In this fourth scene we see the man & woman have crossed the "bridge" (provided by the cross of Jesus Christ) & have ran back into the arms of our loving, heavenly Father. We can just see the edge of the wooden cross, resting on God's side of the chasm.
All the way down through history, God has been working to create a way to bring sinful mankind back to a point of sinlessness, so that He could restore the broken relationship between Himself & all mankind. The sacrifice made by Jesus Christ, on the cross, was the only way to provide a bridge over the chasm of sin that separates man from God. It is Christ's sacrifice on the cross which provides the means for all of us to return to God our heavenly Father.
This bridge illustration (seen here in my 4 cartoon series) explains the nature of sin & why it is so terrible: sin separates us from the love & saving grace of God. But help is at hand! The sacrificial life & death of God's Son, Jesus Christ, on the cross, paid the price of all of our sin, in full. Now the way back to God is open for everyone.
How do you cross over the chasm from the side of our sin (resulting in death & eternal separation from God) to the side of God (resulting in eternal life which begins as soon as you become a Christian & culminates in eternal life in Heaven with God)?
Acts 2:36-39 (ANIV)
[The apostle Peter said] "Therefore let all Israel be assured of this: God has made this Jesus, whom you crucified, both Lord and Christ." When the people heard this, they were cut to the heart and said to Peter and the other apostles, "Brothers, what shall we do?"
Peter replied, "Repent and be baptised, every one of you, in the name of Jesus Christ for the forgiveness of your sins. And you will receive the gift of the Holy Spirit. The promise is for you and your children and for all who are far off—for all whom the Lord our God will call."
The way to "get back to God" is two-fold:
1) Repent of your past sins – That just means to change your mind, to turn away from all your wrong doing. It means to say sorry to God for your wrong words & actions in the past. You can do that in a simple pray to God (see below.)
2) Believe & receive the free gift of salvation that Jesus Christ holds out to each & every one of us. Faith is an act of the will, it is not a feeling. You simply decide to believe. Then all you have to do believe what the Bible tells us:
Romans 10:13 (ANIV)
"Everyone who calls on the name of the Lord will be saved."
All you have to do in order to be saved from the sin that will condemn you to an eternity in hell, is to Repent & Believe. You can pray the following prayer & then be assured that you have saved yourself:
"Dear Heavenly Father,
I have heard your invitation to believe in Jesus Christ & now I want to accept Him as my Lord & Saviour.
I come to you now with all my past sins, errors, heartaches which you know all about.
I make the choice here & now to turn away from evil & to turn to you, Lord Jesus.
I choose to believe in my heart what I now confess with my mouth: that you are my Saviour, My Lord & My God.
Thank you for accepting me as your child & I open myself to receive the counsellor, the Holy Spirit, right now.
I believe in you & receive you, in the name of Jesus Christ I pray,
Amen."
If you have just prayed that prayer then welcome to the family of God! Please tell someone else about this amazing, life-changing & life-affirming decision that you have just made. You may not feel any different, but believe it when I say that you have been changed, instantly, into a new person. Before you where heading towards eternal death in hell, now you are going to heaven to spend eternity in the amazing presence of God, along with all other Christians – wow!
Please e-mail me & let me know if you have prayed this prayer, as I'd love to hear from you & to pray for you too.