Click on Add to cart button below shopping cart.
Purchased Gospel Illustrations do not have watermarks. Links to Illustrations provided on email once purchase is completed.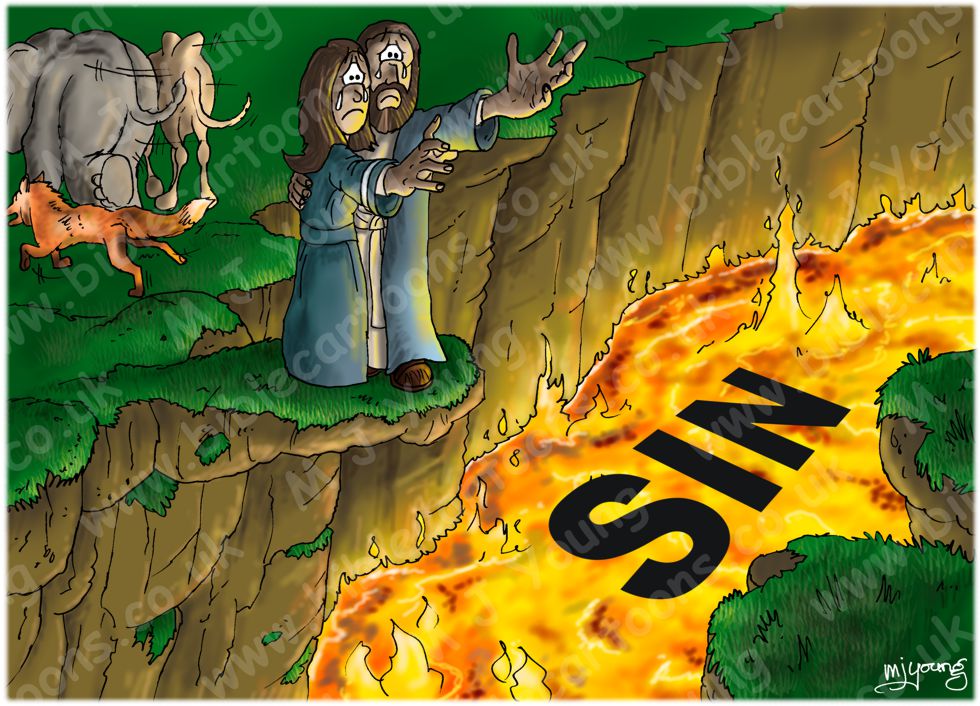 Illustration code:
7000100201
Scene no:
2 of 4
Illustration Description
This is the second illustration in this series of four.
The scene shows the man & woman (representative of us all) separated from the loving embrace & security of God by their sins (wrongdoing.) Sin always separates us from God, because He is perfect & can not look upon sin. In this illustration I have drawn Sin as a vast fiery chasm, impossible to cross for the man & woman. They need help! God knows that, & sent His only Son (Jesus Christ) to die & pay (atone for) all of our sins. In so doing, Jesus created a "bridge" across which we can once again be reunited with the Lord God.
SCRIPTURES:
"For all have sinned and fall short of the glory of God"
Romans 3:23 (ANIV)
"For the wages of sin is death"
Romans 6:23 (ANIV)
"Just as man is destined to die once, and after that to face judgment."
Hebrews 9:27 (ANIV)
DRAWING NOTES:
TIME OF DAY:
This cartoon has no particular time of day
LIGHTING NOTES:
The source of light in this scene is from the river of lava, below the man & woman. The lava throws up a yellow/orange light that bathes the scene.
CHARACTERS PRESENT:
The man & woman (after the fall in the garden of Eden) separated from God by a wide chasm of lava.
RESEARCH/ADDITIONAL NOTES:
In this second scene we see the result of sin entering into the world, which occurred after the fall of man (see Genesis chapter 3 for the account of the fall.) As a result of the fall, sin entered the world & the man & woman were separated from the loving relationship that they had previously enjoyed with God. Now a great chasm existed, which separated God from mankind – represented in my cartoon by the lava filled chasm. It is sin which separates man from God. This separation occurs for each & every person born into the world, regardless of how "good" or how many good deeds they do.
God is entirely pure & holy: there is no sin in Him. Since He is entirely without sin & His nature can not abide sin, his holy nature demands that mankind be separated from his holy presence. Thus God is on the right hand side of the chasm (you can not see Him in this scene) & the man & woman (representing all of mankind) are on the left hand side of the chasm – desperately reaching out towards God, but unable to get to Him, because of the great chasm of sin that separates both parties.