Click on Add to cart button below shopping cart.
Purchased Gospel Illustrations do not have watermarks. Links to Illustrations provided on email once purchase is completed.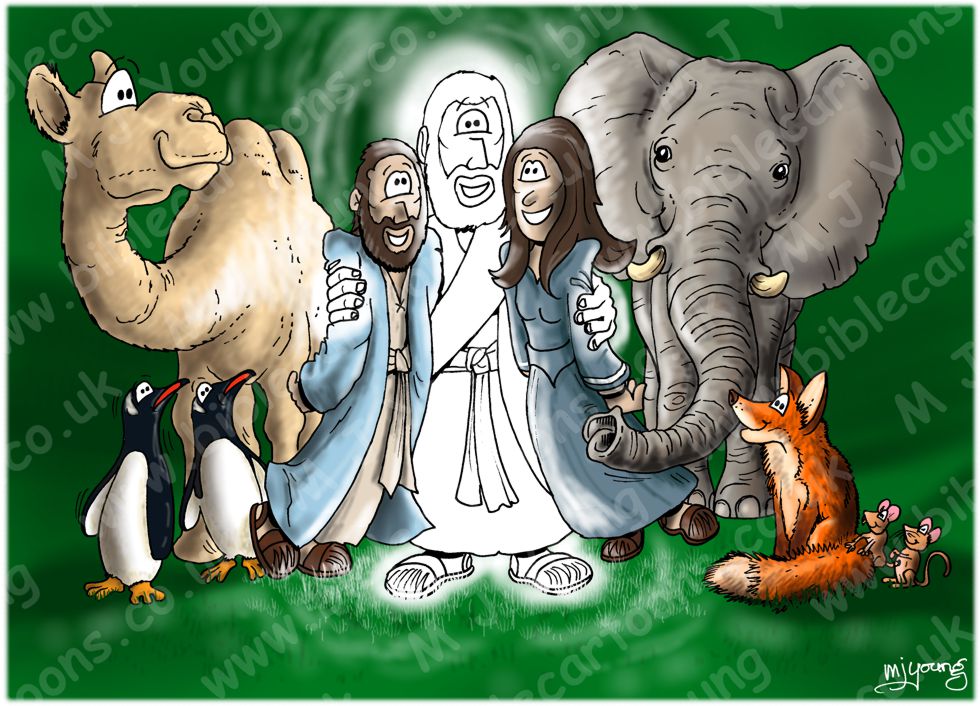 Illustration code:
7000100101
Scene no:
1 of 4
Illustration Description
This is the first illustration in this series of four.
The scene shows God having just created all things: the Earth, animals, man & woman. This illustration represents the perfect relationships that existed before Adam & Eve (the first man & woman) disobeyed God & sin entered the world. Before that terrible event, there was no sin (wrongdoing) to separate God & mankind.
SCRIPTURES:
"So God created man in his own image, in the image of God he created him; male and female he created them."
Genesis 1:27 (ANIV)
"I [Jesus Christ] have come that they may have life, and have it to the full. "
John 10:10b (ANIV)
DRAWING NOTES:
TIME OF DAY:
This cartoon has no particular time of day
LIGHTING NOTES:
The source of light in this scene is God himself. His purity & holiness is represented by the white light that surrounds him.
CHARACTERS PRESENT:
God, man & woman (Adam & Eve), as representatives of all men & women.
Elephant, Camel, Penguins, Red Fox & 2 mice, representing all of the created world.
RESEARCH/ADDITIONAL NOTES:
I drew this series of cartoons to show the Bridge illustration, which is a simple explanation of the Good News, or the Gospel, as outlined in the Bible. In this first scene we see the creation of the world, with man & woman in perfect relationship with each other & with God. This was the condition of man in the beginning, before sin entered the world & separated all of mankind from our holy God.