Click on Add to cart button below shopping cart.
Purchased Gospel Illustrations do not have watermarks. Links to Illustrations provided on email once purchase is completed.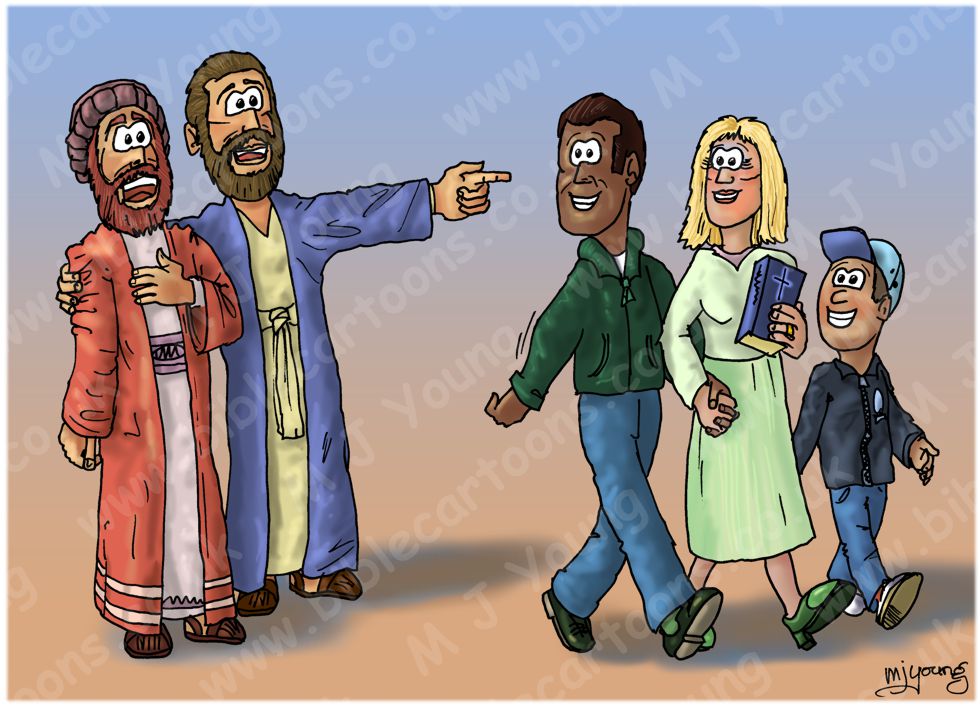 Illustration code:
7000500701
Scene no:
1 of 1
Illustration Description
This picture was originally created as a commission for a head teacher in the UK, who wanted it (along with other designs) to investigate the historical existence of Jesus. The scene shows Jesus (dressed in his usual blue outer robe) holding a Hebrew man and pointing to the figures o n the right of the scene. The couple with their son represent modern Christians. The scene tries to illustrate Jesus' Great Commission found in Matthew 28:16-20 (NIV version) '16 Then the eleven disciples went to Galilee, to the mountain where Jesus had told them to go. 17 When they saw him, they worshipped him; but some doubted. 18 Then Jesus came to them and said, "All authority in heaven and on earth has been given to me. 19 Therefore go and make disciples of all nations, baptizing them in the name of the Father and of the Son and of the Holy Spirit, 20 and teaching them to obey everything I have commanded you. And surely I am with you always, to the very end of the age." ' many believe that Jesus' Great Commission is repeated or amplified in in Acts 1:8 which says "But you will receive power when the Holy Spirit comes on you; and you will be my witnesses in Jerusalem, and in all Judea and Samaria, and to the ends of the earth."
This illustration is to be used in a school assembly and included in a printed handbook for the head teacher's school children to use around Easter time.