Bible Book:
Ruth
Bible Book Code:
0800101401
Scene no:
5 of 6
Bible Reference & Cartoon Description
Ruth 1:14-18 (NLT)
14 And again they wept together, and Orpah kissed her mother-in-law good-bye. But Ruth clung tightly to Naomi. "15 Look," Naomi said to her, "your sister-in-law has gone back to her people and to her gods. You should do the same."
16 But Ruth replied, "Don't ask me to leave you and turn back. Wherever you go, I will go; wherever you live, I will live. Your people will be my people, and your God will be my God. 17 Wherever you die, I will die, and there I will be buried. May the Lord punish me severely if I allow anything but death to separate us!" 18 When Naomi saw that Ruth was determined to go with her, she said nothing more.
DRAWING NOTES:
TIME OF DAY:
The story doesn't specify the time of day, so I have set it in the late morning.
LIGHTING NOTES:
The sun shines down from above the high rocky cliffs of the wadi.
CHARACTERS PRESENT:
Naomi is on the right, wearing green, with Ruth to the left, wearing yellow.
Orpah (wearing red) is walking away, on the left.
RESEARCH/ADDITIONAL NOTES:
I spent a long time researching were the land of Moab was, what it was like, so that I could draw an accurate representation of the land. Even so, the story of Ruth was set some 1186 years before the birth of Jesus the Christ, & therefore nearly 3200 years ago. No doubt a lot has changed in the land of Moab since then! For instance, the desert may very well have encroached on much more of the land than it used to. Certainly there is much evidence that the population of Moab was far greater in antiquity than it is today, which could only have been supported by a more fertile land than exists now.
Having done this research I next selected photographs on the internet which could form dramatic backgrounds for this scene of Orpah leaving Ruth & Naomi. I eventually chose a photo' of the impressive gorge of the Arnon river, as it is referred to in the Bible. Today this area is a nature reserve called Wadi Mujib.
In my cartoon illustration you can see Ruth clinging to Naomi, with her sister Orpah walking away behind them. Each woman carries their belongings in a large sack.
Here's the scene without the figures.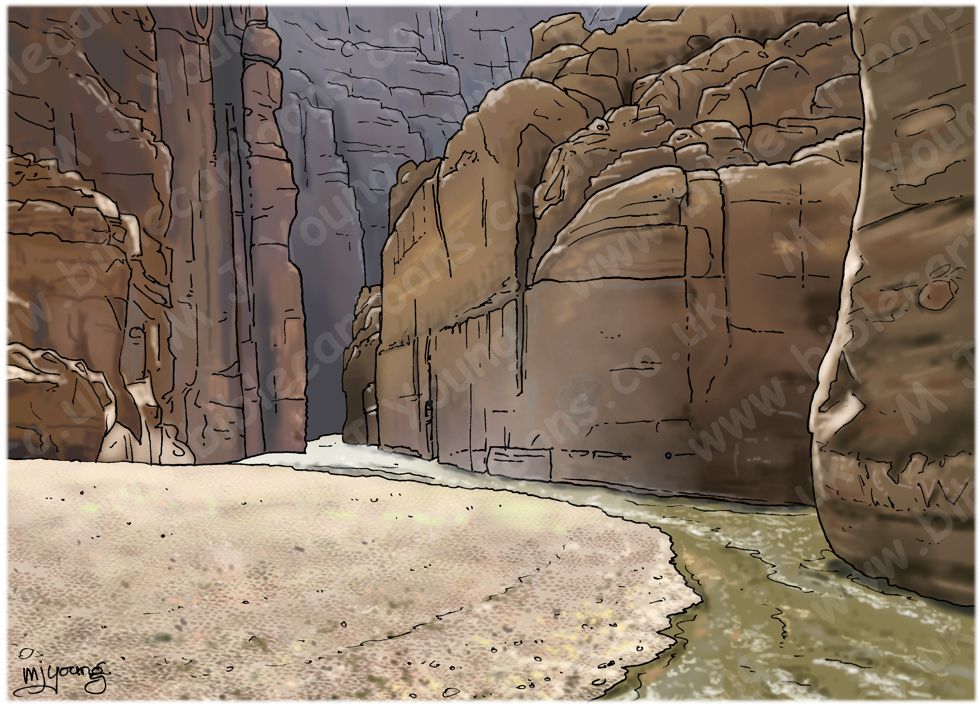 Ruth 01 – In Moab – Scene 05 – Ruth determined – Landscape
---
Bible Doctrine Notes
1:15-18

FAMILY

, Authentic Love (5.86F)
Ruth's fervent speech to her mother-in-law Naomi is one of the most beautiful declarations of authentic family love in the whole Bible. Even though Ruth's address is not in the setting of the husband-wife relationship, nevertheless her speech is often used in wedding ceremonies between man and woman to describe what marital love and commitment should be. Ruth's words powerfully confirm her desire to be together, face life's challenges together, to be family, and to serve and worship the same God together. All of these elements are central and essential to a firm, strong, Christian marriage when Jesus the Christ becomes the Lord who makes the Father known to the family.
1:17 PRAYER, Commitment (5.54F)
Ruth was a Moabitess, a member of the Moabites, a foreign (often historically hostile) nation to Israel. Ruth claimed Israel's God for herself and committed her life to God, and to the one (Naomi) who had introduced her to Him. Commitment to God often comes in the form of commitment to other people. A solemn commitment prayer to God is the first step towards God.