Bible Book:
Ruth
Bible Book Code:
0800100601
Scene no:
3 of 6
Bible Reference & Cartoon Description
Ruth 1:6-7 (NLT)
6 Then Naomi heard in Moab that the Lord had blessed his people in Judah by giving them good crops again. So Naomi and her daughters-in-law got ready to leave Moab to return to her homeland. 7 With her two daughters-in-law she set out from the place where she had been living, and they took the road that would lead them back to Judah.
DRAWING NOTES:
TIME OF DAY:
I have set the scene in the early morning.
LIGHTING NOTES:
The early morning sun is gently lighting this scene, casting feint shadows to the right of figures and objects.
CHARACTERS PRESENT:
In the foreground we can see Naomi (in green head scarf) waving to the crowd of well-wishers. To her right is Ruth and behind them both is Orpah All three are carrying their belongings in large sacks, slung over their shoulders.
RESEARCH/ADDITIONAL NOTES:
This scene is set just outside an un-named Moabite walled town. Naomi & the girl's friends and family are waving goodbye to the trio, as they set out back to Israel.
This is what the scene looks like without the foreground figures: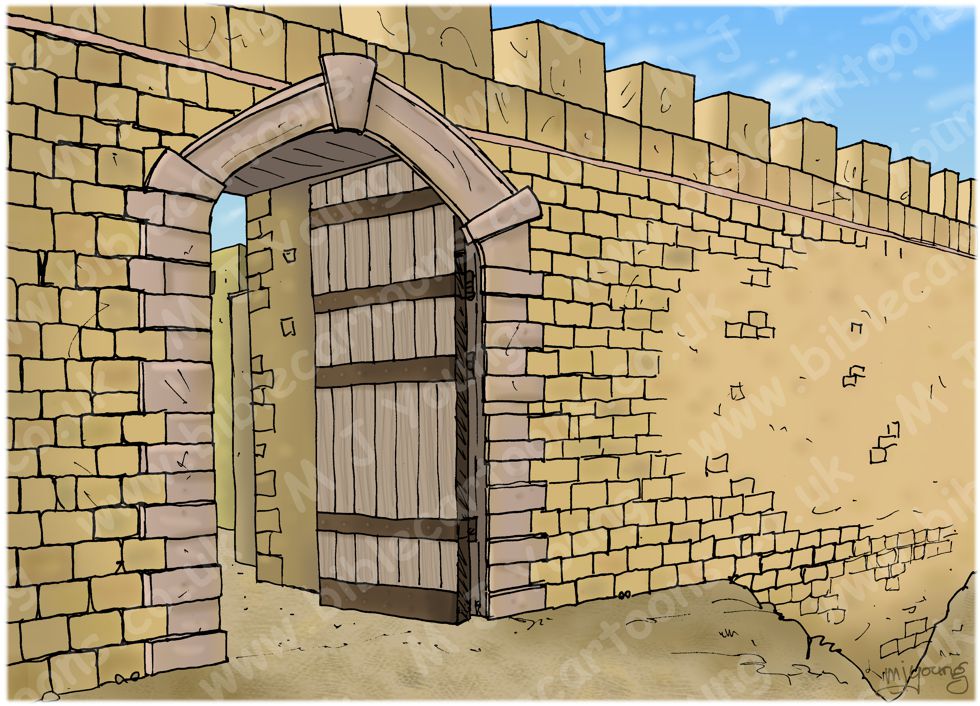 Ruth 01 – Going to Moab – Scene 03 – Setting out for home – Landscape