Bible Book:
Revelation
Bible Book Code:
6600700901
Scene no:
1 of 1
Bible Reference & Cartoon Description
Revelation 7:9-10 (ANIV)
The Great Multitude in White Robes
9 After this I looked and there before me was a great multitude that no-one could count, from every nation, tribe, people and language, standing before the throne and in front of the Lamb. They were wearing white robes and were holding palm branches in their hands. 10 And they cried out in a loud voice:
"Salvation belongs to our God,
who sits on the throne,
and to the Lamb."
DRAWING NOTES:
TIME OF DAY:
Not specified in the account.
LIGHTING NOTES:
The central figure of the Lord God on his throne provides the light for this scene.
CHARACTERS PRESENT:
The Lord God on his throne, with angels behind. The great multitude of Christians waving palm branches , singing and worshipping the Lord God.
RESEARCH/ADDITIONAL NOTES:
A lady in North America asked me to produce this scene for her. It shows "a great multitude that no-one could count, from every nation, tribe, people and language, standing before the throne…" The human figures are wearing white robes and waving palm branches. I was keen to demonstrate their differing nationality and ethnicity through skin and hair colour. In my original version I also had people in national costume, underneath their white robes, including a variety of hats, beads, feathers, brightly coloured clothes, etc. The lady who commissioned this scene was keen on having simple white robes, which represent the crowds unity of purpose, so I agreed to dispense with the national costumes altogether.
I called the scene "Worshipping loudly" because verse 10 informs us that the crowd of people "cried out in a loud voice…"
I have been careful to obscure the features of the Lord God in the centre of the picture, since I know that some people do not like to see a clear depiction of Him, in reference to the second of the Ten commandments from Exodus chp 20, which reads (in the King James version) "Thou shalt not make unto thee any graven image, or any likeness of any thing that is in heaven above, or that is in the earth beneath, or that is in the water under the earth. Thou shalt not bow down thyself to them, nor serve them: for I the Lord thy God am a jealous God, visiting the iniquity of the fathers upon the children unto the third and fourth generation of them that hate me; And shewing mercy unto thousands of them that love me, and keep my commandments."
For those viewers who are curious to see what the central Lord God figure looks like here He is, without the obscuring white cloud/mist. No offence to anyone's faith is intended by showing this.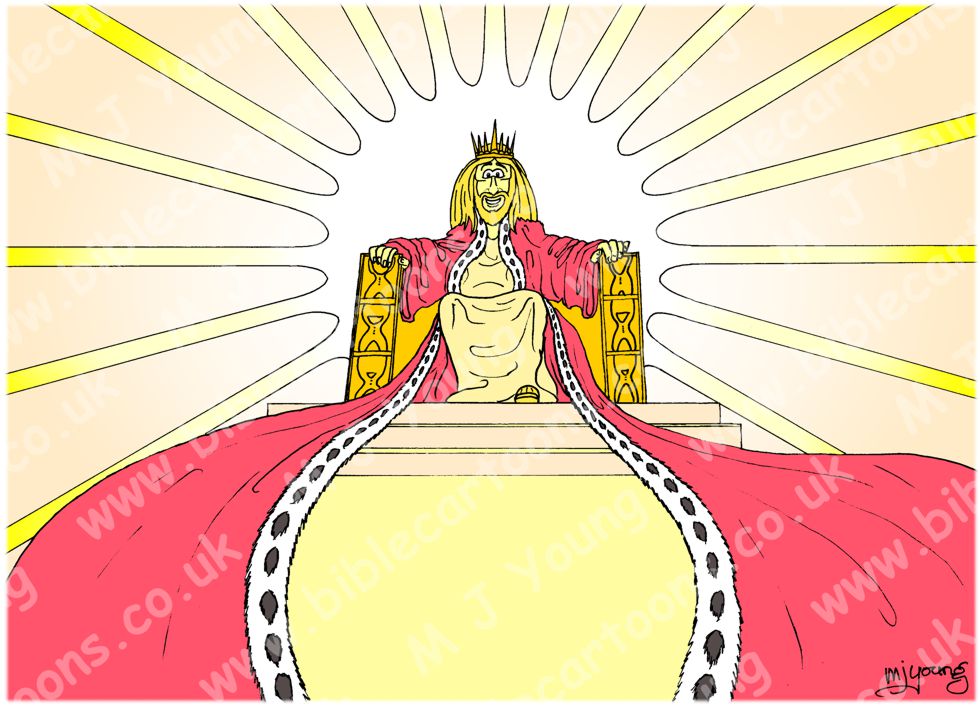 Revelation 07 – Great multitude in white – Scene 01 – Worshipping loudly – PARTIAL 01