Bible Book:
Numbers
Bible Book Code:
0401603501
Scene no:
8 of 12
Bible Reference & Cartoon Description
Numbers 16:35 (ANIV)
And fire came out from the Lord and consumed the 250 men who were offering the incense.
DRAWING NOTES:
TIME OF DAY:
Unspecified in Bible. I have set this scene at about mid day. Immediately following the previous scene.
LIGHTING NOTES:
The sun (high overhead) illuminates this scene.
The fire also lights the scene.
CHARACTERS PRESENT:
250 Hebrew leaders, who rebelled against Moses.
RESEARCH/ADDITIONAL NOTES:
I have set this scene at the entrance to the Tent of Meeting (Tabernacle). You can see the colourful entrance in the background. This picture took a long time to design, draw & colour up. I thought about making the fire from the Lord blue in colour, or else make it look like lightning, to indicate it's divine, supernatural origin, but in the end I decided on yellow & orange flames, as you might see from an ordinally, natural fire.
Here's the scene without the figures & fire.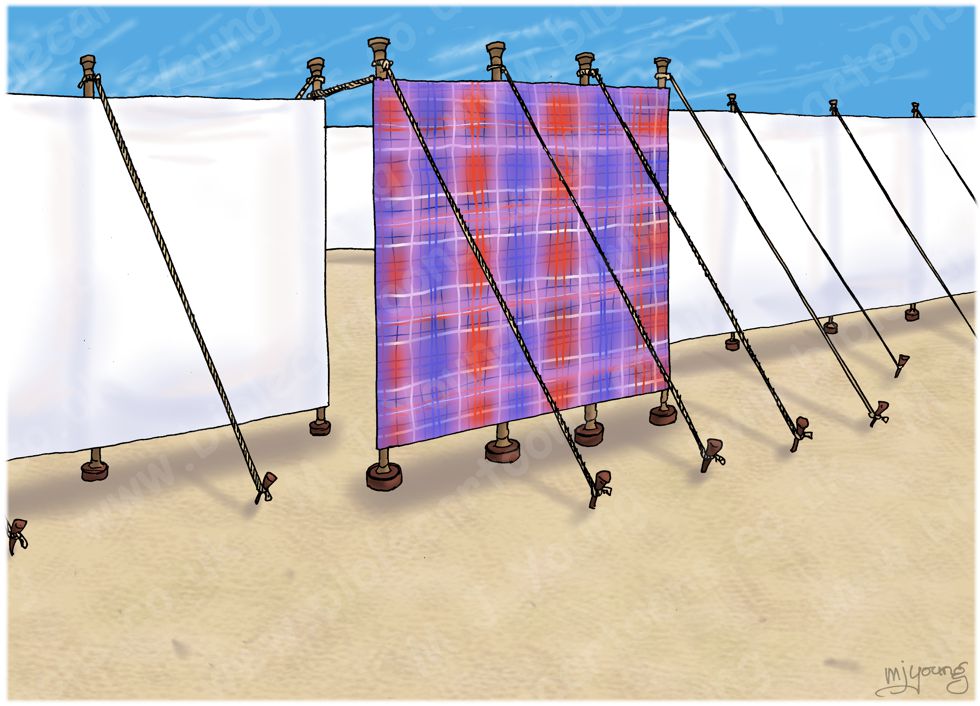 Numbers 16 – Korah's rebellion – Scene 08 – God's fire consumes 250 men – Landscape