Bible Book:
Numbers
Bible Book Code:
0401602501
Scene no:
6 of 12
Bible Reference & Cartoon Description
Numbers 16:25-27 (ANIV)
25 Moses got up and went to Dathan and Abiram, and the elders of Israel followed him. 26 He warned the assembly, "Move back from the tents of these wicked men! Do not touch anything belonging to them, or you will be swept away because of all their sins." 27 So they moved away from the tents of Korah, Dathan and Abiram. Dathan and Abiram had come out and were standing with their wives, children and little ones at the entrances to their tents.
DRAWING NOTES:
TIME OF DAY:
Unspecified in Bible. I have set this scene at about mid day.
LIGHTING NOTES:
The sun (high overhead) illuminates this scene.
CHARACTERS PRESENT:
From left to right, in the foreground we have various Hebrew people, most of whom we can only see the back of. Facing this crowd are Joshua, Aaron & Moses, who have hands & arms upraised to warn the people to move back from the tents of the rebellious Dathan, Abiram, Korah, On & their families.
The small figures outside their tents are these four men, with their wives and children.
RESEARCH/ADDITIONAL NOTES:
This was quite a complicated scene to design, and it took many hours to colour up to, what with all those tents in the background, and the many figures I have included!
Hopefully you can make out the 4 main, named rebels (from left to right), Dathan, Abiram, Korah & On. Notice that the short man On has a very tall wife in pinks & purples, standing beside him!
Here's the scene without the foreground figures, but still including the 4 chief rebels: Dathan, Abiram, Korah & On, with their families.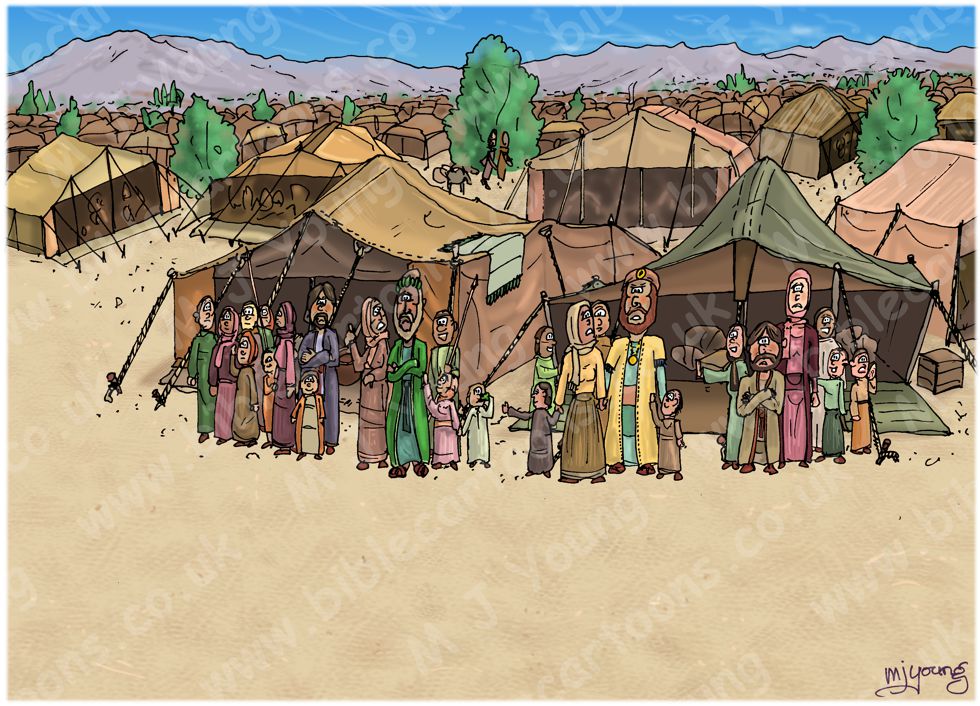 Numbers 16 – Korah's rebellion – Scene 06 – Move back from the tents – Tent Figures – Landscape
Here's the scene without any of the figures included.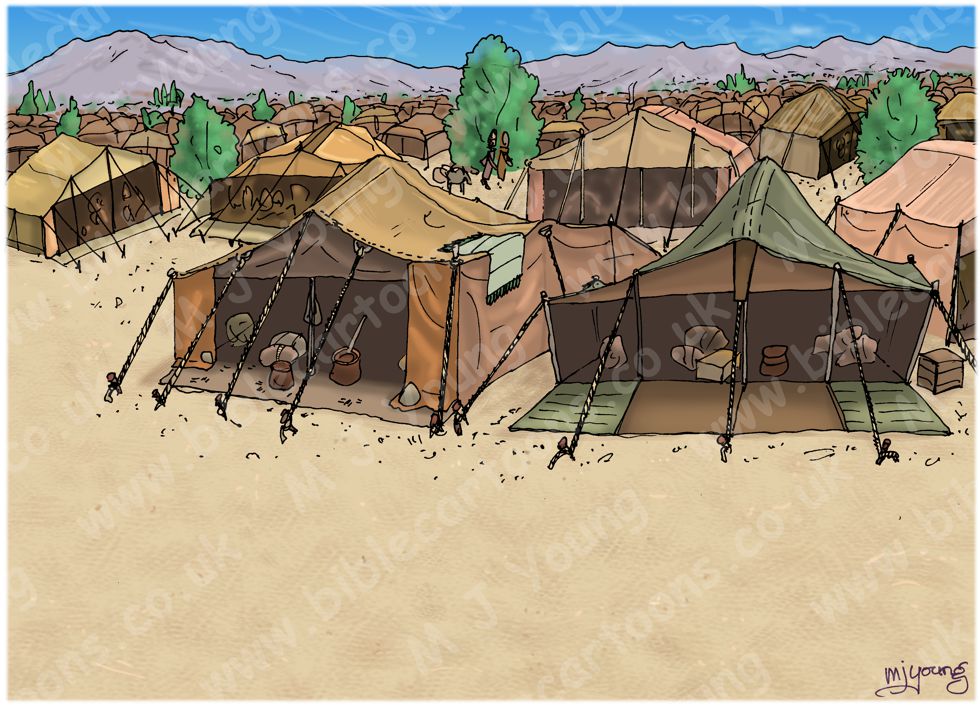 Numbers 16 – Korah's rebellion – Scene 06 – Move back from the tents – Landscape