Bible Book:
Matthew
Bible Book Code:
4002705101
Scene no:
1 of 1
Bible Reference & Cartoon Description
Matthew 27:51 (NLT)
At that moment the curtain in the sanctuary of the Temple was torn in two, from top to bottom. [The earth shook, rocks split apart,]
DRAWING NOTES:
TIME OF DAY:
Verse 46 informs us Jesus died at 3pm.
LIGHTING NOTES:
There are two sources of light, the brilliant heavenly, Godly glow coming from behind the curtain in the Holy of Holies, and the falling brazier, which is spilling flames and hot colas over the floor of the temple.
CHARACTERS PRESENT:
Three priests.
RESEARCH/ADDITIONAL NOTES:
I enjoyed drawing this scene, although it contains a lot of detail that took me a long time to colour up! I enjoyed drawing the Godly beams of light coming out of the Holy of Holies. This represents the power of the Lord, tearing the heavy curtain in two, from top to bottom.
Verse 54 tells us that the people present thought they were experiencing an earthquake at the time of Jesus' death. For this reason I have drawn some of the floor tiles moving, breaking and jumping about, the brazier containing fire falling and the three priests present falling over!
I used the same curtain design I created for the temple curtain being torn in two in Mark's Gospel.
In case you're wondering what the curtain looks like without the radiating light lines, here it is: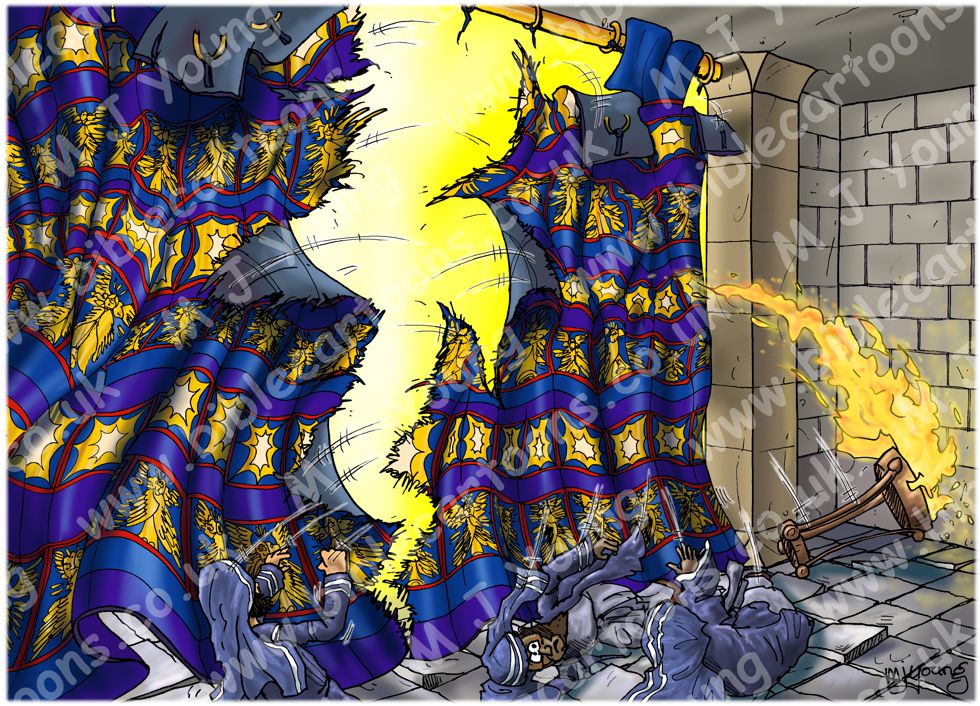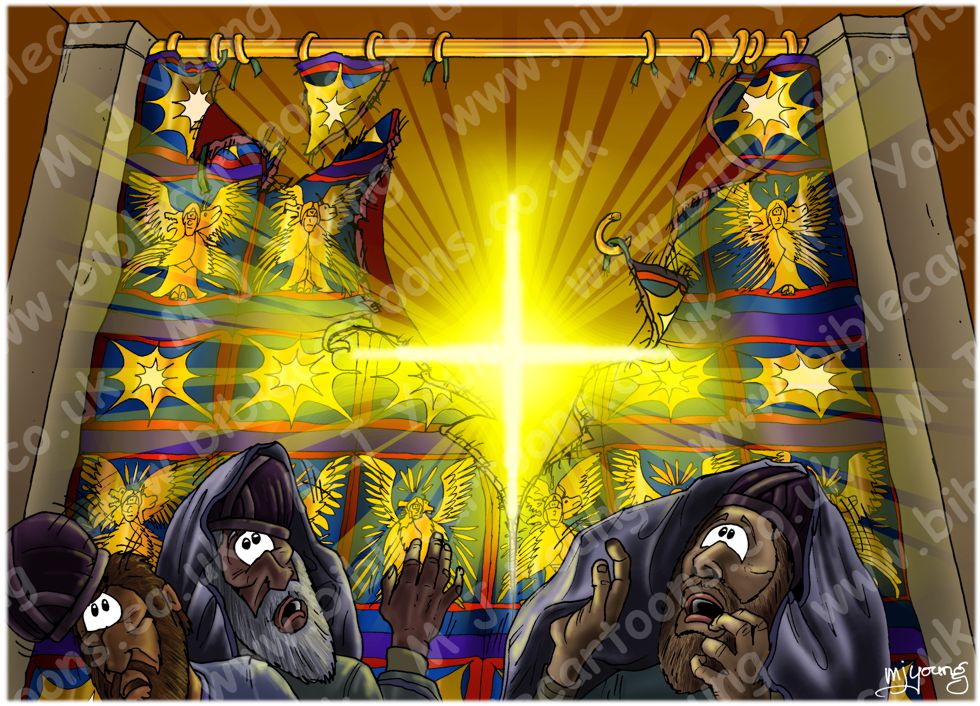 Mark 15 – Death of Jesus – Scene 02 – Temple curtain torn
This is how I originally designed and drew the temple curtain, in Mark's Gospel

Follow this link to see this Bible Cartoon on the BC Gallery page, with download & purchase options:
Bible Cartoon: Mark 15 – Death of Jesus – Scene 02 – Temple curtain torn