Bible Book:
Luke
Bible Book Code:
4201800401
Scene no:
3 of 4
Bible Reference & Cartoon Description
Luke 18:4-5 (ANIV)
[Jesus continued] 4 "For some time he [the judge] refused. But finally he said to himself, 'Even though I don't fear God or care about men, 5 yet because this widow keeps bothering me, I will see that she gets justice, so that she won't eventually wear me out with her coming!' "
DRAWING NOTES:
TIME OF DAY:
Unspecified I the Bible narrative. I have set the scene in the mid morning.
LIGHTING NOTES:
The sun illuminates this scene (unseen above & to the right), which casts shadows to the left of figures & objects.
The unseen red canopy above the judge's seat is providing some shade for him as he listens to the various cases brought before him.
CHARACTERS PRESENT:
Sitting on the stone "throne" is the unjust judge. Standing before him in dark robes is the widow of Jesus's parable.
RESEARCH/ADDITIONAL NOTES:
Notice that the widow is holding the Judge's hand, as he has finally agreed to give her the justice she is seeking.
Here's the rough pencil sketch I drew for this scene.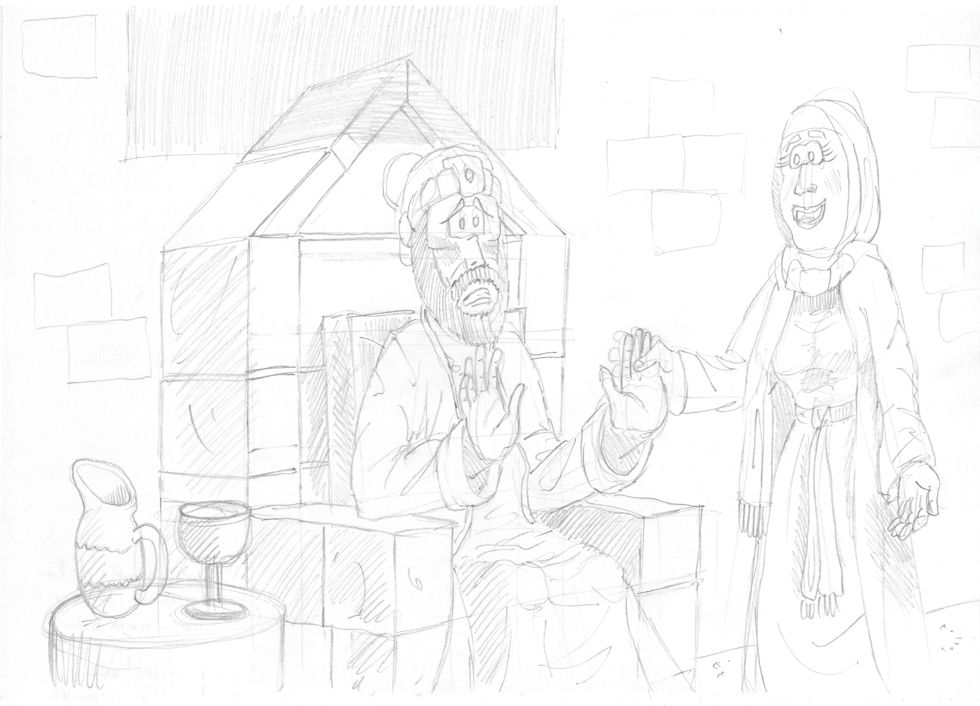 Luke 18 – Parable of persistent widow – Scene 03 – Worn out – Greyscale