Bible Book:
Judges
Bible Book Code:
0701600102
Scene no:
1 of 10
Bible Reference & Cartoon Description
Judges 16:1-2 (ANIV)
Samson and Delilah
1 One day Samson went to Gaza, where he saw a prostitute. He went in to spend the night with her. 2 The people of Gaza were told, "Samson is here!" So they surrounded the place and lay in wait for him all night at the city gate. They made no move during the night, saying, "At dawn we'll kill him."
DRAWING NOTES:
TIME OF DAY:
The Bible tells us that this scene is set at night, at some time before midnight.
LIGHTING NOTES:
There is cool blue moonlight used in this scene, coming from high above & to the left. There is also warm yellow lamp light illuminating the background figures, and showing from two windows above those figures.
CHARACTERS PRESENT:
Philistine men surrounding the prostitutes house where Samson was.
RESEARCH/ADDITIONAL NOTES:
This is a street scene, showing some men of Gaza (on of the chief Philistine cities) surrounding the house of the prostitute Samson visited there. I decided to include some Philistine soldiers, as well as other men of the city.
There are two versions of this scene:
01) (Previous page) Judges 16 – Samson and Delilah – Scene 01 – Surrounded (Colour version). In which the colour of the men's skin, hair & clothing are distinct.
02) (This page) Judges 16 – Samson and Delilah – Scene 01 – Surrounded (Night blue version). In this version I have made the figures more monochromatic (single coloured). This is because the moon tends to drain colour out of objects at night.
I had to think of a tasteful way to suggest that Samson was in the house of a prostitute. My solution was to hang little pink stone hearts from the woman's awning over her front door!
Here's the scene without the figure of Samson.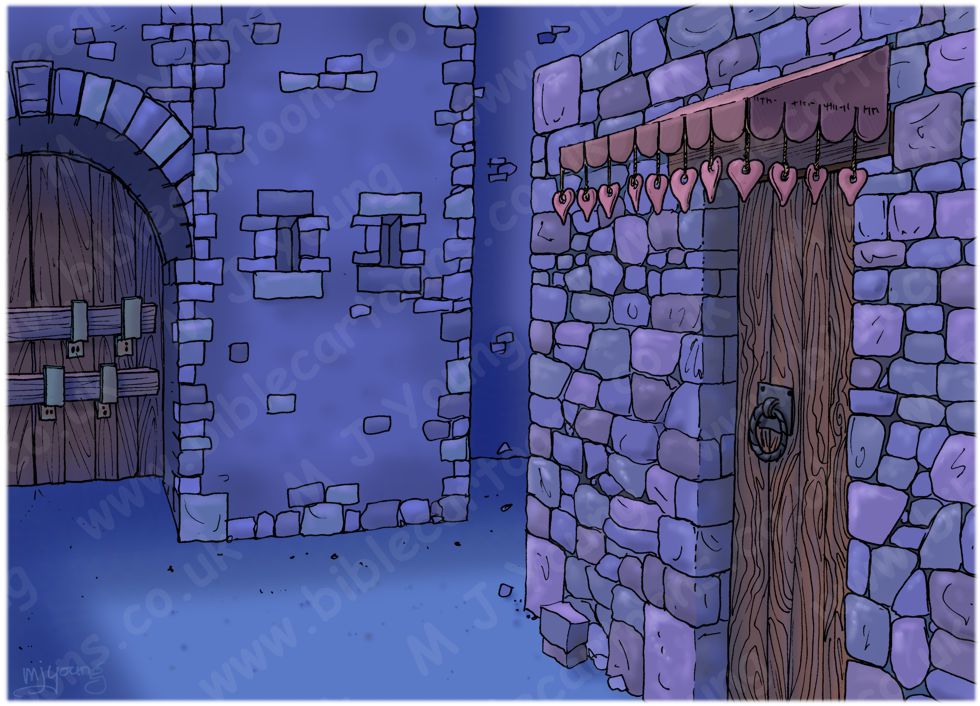 Judges 16 – Samson and Delilah – Scene 01 – Surrounded – Townscape