Bible Book:
Judges
Bible Book Code:
0701600301
Scene no:
2 of 10
Bible Reference & Cartoon Description
Judges 16:3 (ANIV)
But Samson lay there [in the house of the prostitute] only until the middle of the night. Then he got up and took hold of the doors of the city gate, together with the two posts, and tore them loose, bar and all. [He lifted them to his shoulders and carried them to the top of the hill that faces Hebron.]
DRAWING NOTES:
TIME OF DAY:
The Bible tells us that Samson tore up the city gates in the middle of the night.
LIGHTING NOTES:
There is cool blue moonlight used in this scene, coming from high above & to the left. There is also warm yellow lamp light coming from a Gaza resident's open door in the background.
CHARACTERS PRESENT:
Samson carrying the Gaza city gate.
In the background are some Philistine city residents and soldiers… all very nervous about getting too close to the supernaturally strong Hebrew man!
RESEARCH/ADDITIONAL NOTES:
This scene shows Samson tearing the Gaza city gate doors loose; a feat which is truly supernatural. Remember that city gates were very stout, thick & strong, being designed to repel invading armies of soldiers. No human being could possess the strength to rip out such huge, heavy, solid gates without a supernatural gift from the Lord God. He has hefted the entire gate on to his back and is carrying them away to Hebron… with a rather grumpy look on his face too!
Note: the bars and brackets seen in the previous scene are on the other (inner) side of the gate. The outside of the gate simply has thick bronze bindings running across them.
For this scene, which is quite complicated in design, I produced a detailed pencil sketch before I inked in & coloured up the final scene. Here is that rough pencil sketch: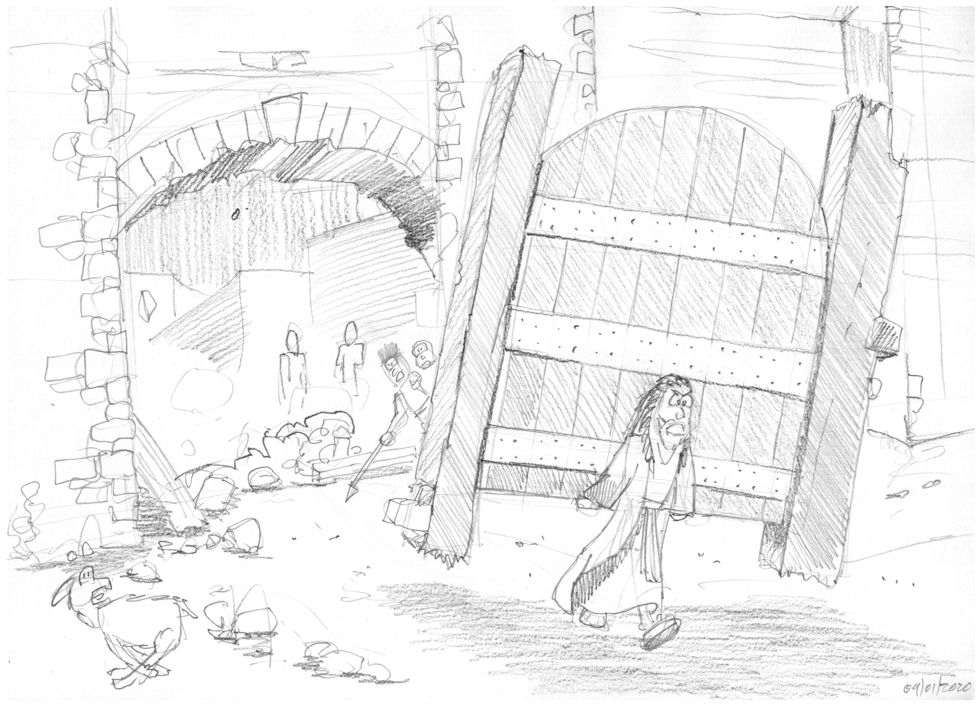 Judges 16 – Samson and Delilah – Scene 02 – City gate torn loose – Rough pencil sketch