Bible Book:
Judges
Bible Book Code:
0701501401
Scene no:
7 of 8
Bible Reference & Cartoon Description
Judges 15:14-16 (ANIV)
14 As he [Samson] approached Lehi, the Philistines came towards him shouting. The Spirit of the Lord came upon him in power. The ropes on his arms became like charred flax, and the bindings dropped from his hands. 15 Finding a fresh jaw-bone of a donkey, he grabbed it and struck down a thousand men.
16 Then Samson said,
"With a donkey's jaw-bone
I have made donkeys of them. [1]
With a donkey's jaw-bone
I have killed a thousand men."
[1]
Or, made a heap or two; the Hebrew for donkey sounds like the Hebrew for heap.
DRAWING NOTES:
TIME OF DAY:
The Bible doesn't specify the time of day. I've set the scene in the morning.
LIGHTING NOTES:
There is sunlight used in this scene, coming from above & to the right, casting shadows to the left of the figures.
CHARACTERS PRESENT:
Samson in the centre of the scene, sweeping the donkey's jaw-bone around & hitting a Philistine soldier, who is dressed in green, with leather armour.
Various Philistine soldiers.
RESEARCH/ADDITIONAL NOTES:
This is quite a complicated scene, with lots of movement, & lots of figures, which took quite a long time to draw and colour up; about 2 days or approximately 8-10 hours.
I often add "movement lines", which are the black lines with white surrounds, that give the sense of motion, eg coming off the jaw-bone Samson is using, and forming an arc, which suggests the sweep of his stroke which hits the green-clad Philistine soldier, who is falling in the left foreground of the picture. I have added quite a few "movement lines" to the left of the two Philistine soldiers hanging on to Samson's arm, which helps to give the sense of speedy motion in the scene. I don't often apply a "colour swoosh" to my pictures, but I thought the movement in this scene deserved it. By "colour swoosh" I mean the feint colours coming off the two Philistine soldiers hanging on to Samson's arm, & the feint green coming off the falling soldier in the right foreground. Like the "movement lines" I have drawn, these "colour swoosh" lines help to give a sense of dramatic movement in the picture.
For this scene, which is quite complicated in design, I produced a detailed pencil sketch before I inked in & coloured up the final scene. Here is that rough pencil sketch: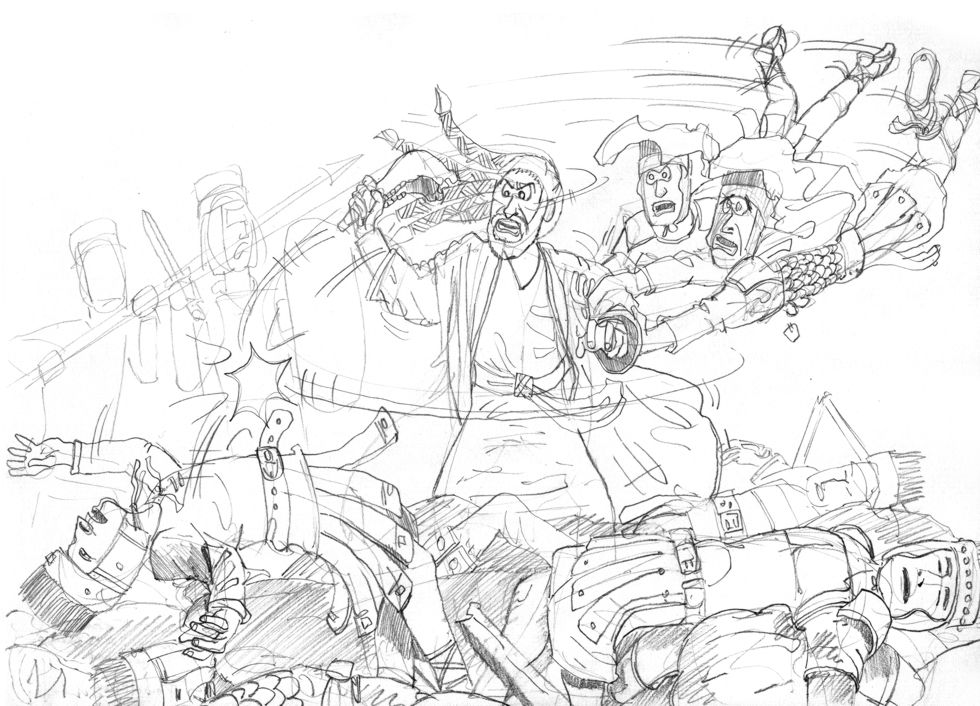 Judges 15 – Samson's revenge – Scene 07 – Donkey's jaw-bone – Rough pencil sketch