Bible Book:
Judges
Bible Book Code:
0701500901
Scene no:
6 of 8
Bible Reference & Cartoon Description
Judges 15:9-13 (ANIV)
9 The Philistines went up and camped in Judah, spreading out near Lehi. 10 The men of Judah asked, "Why have you come to fight us?"
"We have come to take Samson prisoner," they answered, "to do to him as he did to us."
11 Then three thousand men from Judah went down to the cave in the rock of Etam and said to Samson, "Don't you realise that the Philistines are rulers over us? What have you done to us?"
He answered, "I merely did to them what they did to me."
12 They said to him, "We've come to tie you up and hand you over to the Philistines."
Samson said, "Swear to me that you won't kill me yourselves."
13 "Agreed," they answered. "We will only tie you up and hand you over to them. We will not kill you." So they bound him with two new ropes and led him up from the rock.
DRAWING NOTES:
TIME OF DAY:
The Bible doesn't specify the time of day. I've set this scene in the mid morning.
LIGHTING NOTES:
There is sunlight coming from above and to the left, casting shadows to right of figures and objects.
CHARACTERS PRESENT:
Samson, tied by two new ropes by three thousand men from Judah
RESEARCH/ADDITIONAL NOTES:
I haven't drawn all of the three thousand men mentioned in verse 11! The six men surrounding Samson (who is tied at the wrists and arms by two new ropes) are representative of them.
Notice that the men are carrying stone (flint) spears, that is because the Philistines wouldn't allow the Israelites to have blacksmiths, and they insisted that the Israelite people used the Philistine blacksmiths to sharpen any metal tools they had (see 1 Samuel 13:19 [*1]). So I thought the Israelite men might have made simple flint spears for themselves, since they were being denied access to more "modern" metal weapons. My only reservation about this idea is that the 1 Samuel 13 reference is in connection with king Saul and Jonathan and occurred in 1015 BC, whereas the events of Samson occurred in 1015 BC, some 428 years earlier (dates provided in Adam Clarke's Commentary). I have to admit that the Bible doesn't tell us definitively that the Philistines were limiting Israel's use of metal during the time of the Judges. You could argue that the Philistines didn't limit the use of metal during the Judges era, as they clearly did later in king Saul's era. But then again it was a pretty good idea for the occupying forces of the Philistines to limit the use of metal in this way, so maybe the Philistines did that in both eras!
In case you are wondering what the scene looks like without the figure of Samson in the foreground, here it is: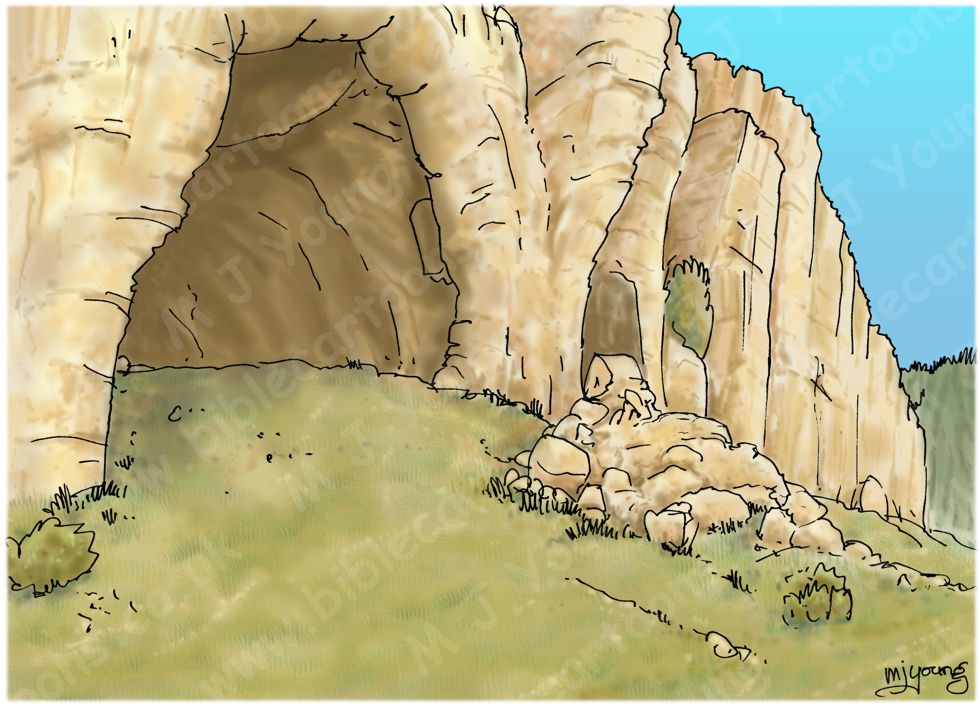 Judges 15 – Samson's revenge – Scene 06 – Rope bound – Landscape
[*1]
1 Samuel 13:19
"Not a blacksmith could be found in the whole land of Israel, because the Philistines had said, "Otherwise the Hebrews will make swords or spears!"