Bible Book:
Judges
Bible Book Code:
0701500801
Scene no:
5 of 8
Bible Reference & Cartoon Description
Judges 15:8 (ANIV)
He [Samson] attacked them [the Philistines] viciously and slaughtered many of them. Then he went down and stayed in a cave in the rock of Etam.
DRAWING NOTES:
TIME OF DAY:
The Bible doesn't specify the time of day. I've set this scene early in the morning.
LIGHTING NOTES:
There is sunlight coming from above and to the right, that is catching the edges of the rocks of the cave mouth.
There is also a fire on the ground (mostly unseen by the viewer) which is lighting the figure of Samson, his water bottle and bag, with a warm yellow glow.
CHARACTERS PRESENT:
Samson sitting in the cave at the rock of Etam.
RESEARCH/ADDITIONAL NOTES:
This scene shows a somewhat dejected Samson sitting at the entrance to the cave at the rock of Etam, as mentioned in verse 8 above. I imagine he brought food and water with him, which I have represented by the two bags near him. A warm glow from a wood camp fire can just be seen in the foreground.
I had to imagine what the other side of the Sorek valley may have looked like, as I couldn't find any photographic reference for it. I imagine it looks similar to the photograph I used to show Samson trudging up the cave in the previous scene.
In case you are wondering what the scene looks like without the figure of Samson in the foreground, here it is: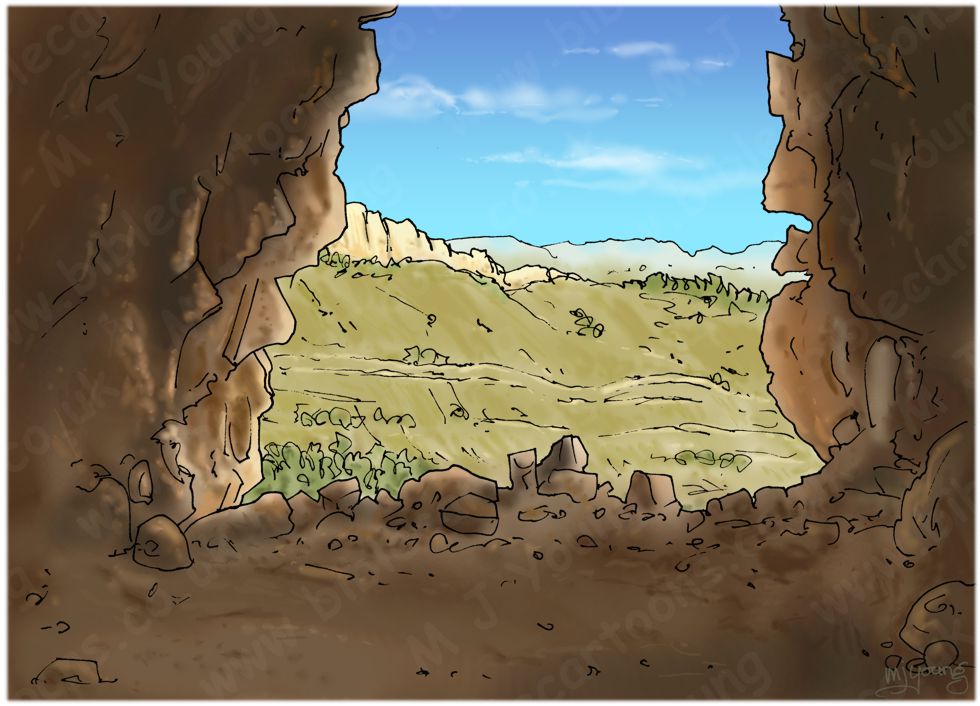 Judges 15 – Samson's revenge – Scene 05 – Etam cave – Landscape