Bible Book:
Judges
Bible Book Code:
0701400501
Scene no:
2 of 8
Bible Reference & Cartoon Description
Judges 14:5 (ANIV)
Samson went down to Timnah together with his father and mother. As they approached the vineyards of Timnah, suddenly a young lion came roaring towards him.
DRAWING NOTES:
TIME OF DAY:
The Bible doesn't specify the time of day.
LIGHTING NOTES:
There is sunlight used in this scene, coming from above & to the right.
CHARACTERS PRESENT:
Samson and lion (Panthera leo leo (aka the Asiatic lion))
RESEARCH/ADDITIONAL NOTES:
This exciting scene shows the young lion charging and leaping towards Samson, who is standing in the right foreground, with hands raised.
I actually drew the following scene (Judges 14 – Samson's marriage – Scene 03 – Lion attack) BEFORE I drew this one! That's how it goes sometimes in the world of Bible Cartoons!
Plants in this scene
In the left foreground is Urtica pilulifera L. (aka Roman nettle), an annual, which grows in Israel in a wide variety of habitats including Deserts, Shrub-steppes, Semi-steppe shrublands, The Mediterranean Woodlands and Shrublands. The plants stem grows between 11.8-31.5 inches (30-80 cm) in height. It flowers from Jan-July, producing green flowers, the female flowers have inflated perianth (the outer part of a flower, consisting of the calyx (sepals) and corolla (petals)). Urtica p. prefers nutrient-rich soils. The botanical name Urtica pilulifera is derived from: Urtica (uro, I burn, alluding to the nettle's sting; stinging nettle) and pilulifera (pilula, a little ball, a pill; fero, to bear, carry, bring; with little balls).
There are general (unidentifiable) grasses, bushes and trees further in the background of this scene.
Here's the scene without the figures. I faded out the little trees in the mid ground (top left) so that the lion would show up more clearly against them.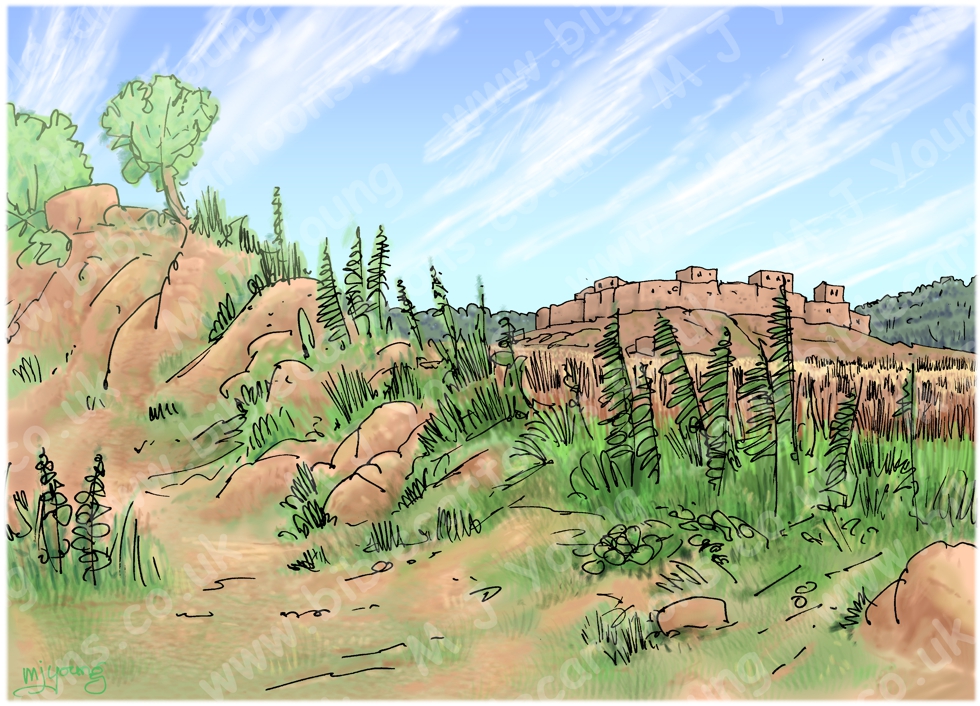 Judges 14 – Samson's marriage – Scene 02 – Lion charge – Landscape