Bible Book:
Jonah
Bible Book Code:
3200400501
Scene no:
12 of 13
Bible Reference & Cartoon Description
Jonah 4:5-6 (NLT)
5 Then Jonah went out to the east side of the city and made a shelter to sit under as he waited to see if anything would happen to the city. 6 And the LORD God arranged for a leafy plant to grow there, and soon it spread its broad leaves over Jonah's head, shading him from the sun. This eased some of his discomfort, and Jonah was very grateful for the plant.
DRAWING NOTES:
TIME OF DAY:
Early morning.
LIGHTING NOTES:
Sun rising in the east (right of viewer) provides strong sunlight & shadows.
CHARACTERS PRESENT:
Jonah & the crab.
RESEARCH/ADDITIONAL NOTES:
Google Earth position & orientation 36°21'48.57" N 43°10'39.98" E Looking NNW
The stream or river in this scene is a tributary that flows into the Tigris river, which is off to the left.
The sky is based on a photograph I took a few days ago, near our house.
The plant that provides shade for Jonah is a Ricinus communis (parma Christi, or Palm of Christ) which many judge to be the plant in question that provided shade for Jonah.

Here's the scene in greyscale form, which I create before I colour up a scene, to get the tone (light and shade) right.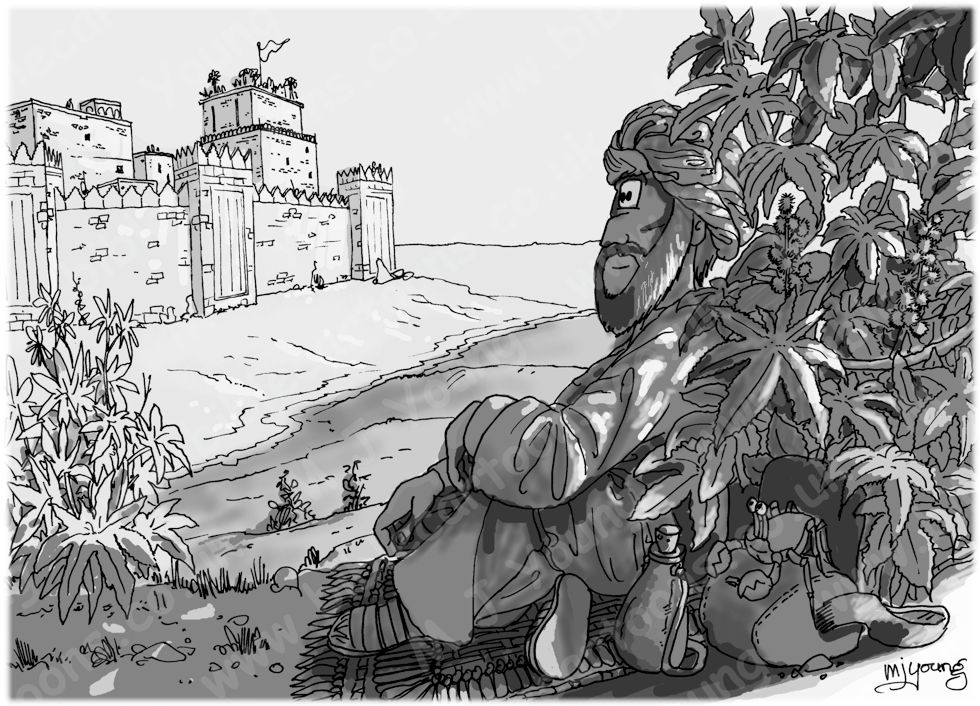 Jonah 04 – Scene 12 – Plant – Greyscale