Bible Book:
Jonah
Bible Book Code:
3200400101
Scene no:
11 of 13
Bible Reference & Cartoon Description
Jonah 4:1-4 (NLT)
1 This change of plans upset Jonah, and he became very angry. 2 So he complained to the LORD about it: "Didn't I say before I left home that you would do this, LORD? That is why I ran away to Tarshish! I knew that you were a gracious and compassionate God, slow to get angry and filled with unfailing love. I knew how easily you could cancel your plans for destroying these people. 3 Just kill me now, LORD! I'd rather be dead than alive because nothing I predicted is going to happen."
4 The LORD replied, "Is it right for you to be angry about this?"
DRAWING NOTES:
TIME OF DAY:
Morning.
LIGHTING NOTES:
Sunlight coming from above.
CHARACTERS PRESENT:
Jonah, the crab & various Assyrians who live in Nineveh.
RESEARCH/ADDITIONAL NOTES:
I visited Marrakesh, Morocco, several years ago & took lots of photo's. I used one of them for reference for the archway.

Here's the scene in greyscale form, which I create before I colour up a scene, to get the tone (light and shade) right.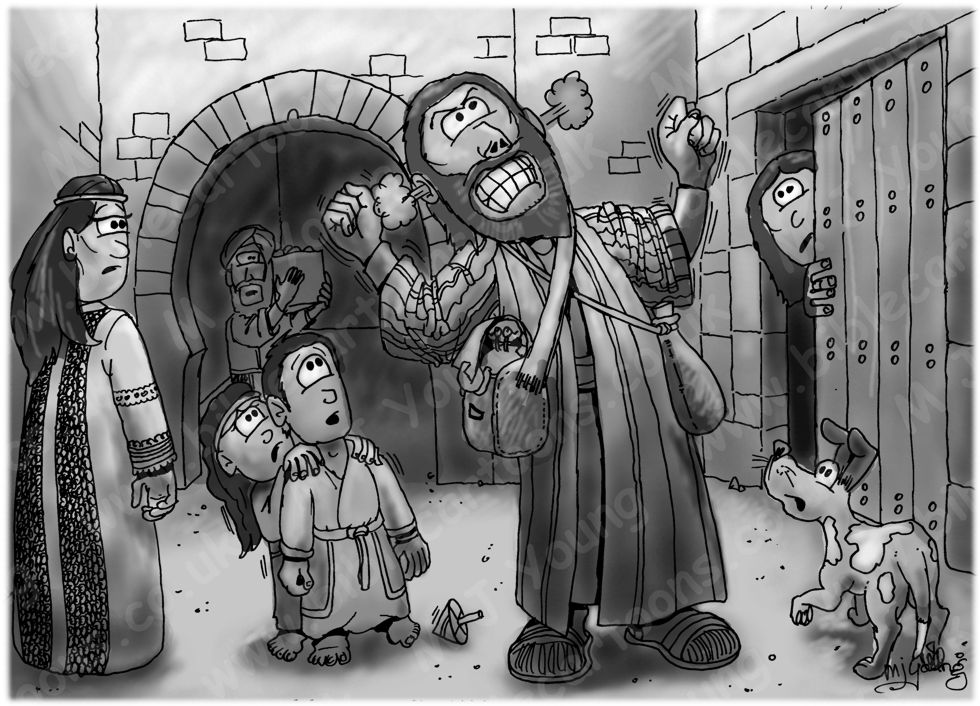 Jonah 04 – Scene 11 – Jonah Angry – Greyscale