Bible Book:
Jonah
Bible Book Code:
3200400701
Scene no:
13 of 13
Bible Reference & Cartoon Description
Jonah 4:7-11 (NLT)
7 But God also prepared a worm! The next morning at dawn the worm ate through the stem of the plant, so that it soon died and withered away. 8 And as the sun grew hot, God sent a scorching east wind to blow on Jonah. The sun beat down on his head until he grew faint and wished to die. "Death is certainly better than this!" he exclaimed.
9 Then God said to Jonah, "Is it right for you to be angry because the plant died?"
"Yes," Jonah retorted, "even angry enough to die!"
10 Then the LORD said, "You feel sorry about the plant, though you did nothing to put it there. And a plant is only, at best, short lived. 11 But Nineveh has more than 120,000 people living in spiritual darkness, [1] not to mention all the animals. Shouldn't I feel sorry for such a great city?"
[1]
Hebrew, people who don't know their right hands from their left.
DRAWING NOTES:
TIME OF DAY:
Early morning, after dawn.
LIGHTING NOTES:
Sunlight.
CHARACTERS PRESENT:
Jonah & the crab.
RESEARCH/ADDITIONAL NOTES:
Google Earth position & orientation 36°21'48.54" N 43°10'39.90" E Looking due east.
I love the last verse of this story & draw your attention to it. If you have ever wondered what God feels about His creation, specifically animals, then notice that in this verse, the Lord says "… not to mention all the animals (or cattle, as it says in some bible translations.)" God is clearly concerned about humans, but here we see He is also concerned about animal welfare as well, which is exactly what you would expect from the Creator of the whole world & cosmos.

Here's the scene in greyscale form, which I create before I colour up a scene, to get the tone (light and shade) right.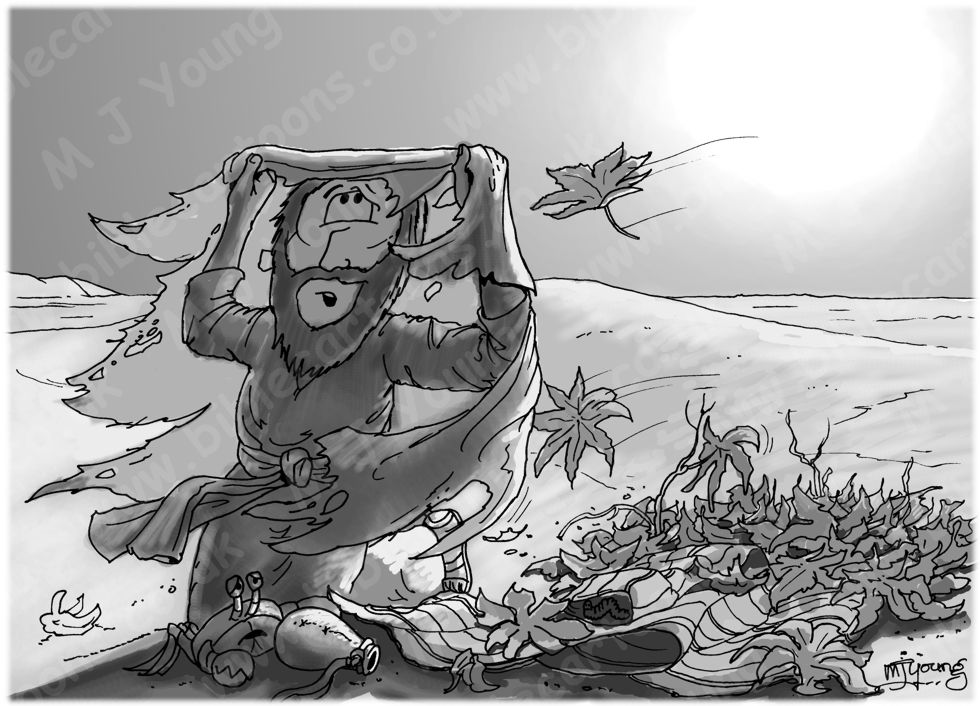 Jonah 04 – Scene 13 – Worm – Greyscale

In case you're not sure where the worm is in this picture, here's a clue…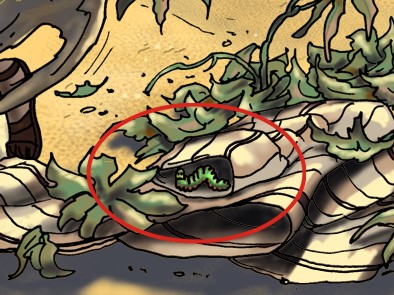 Jonah 04 – Scene 13 – Worm – PARTIAL/Close-up