Bible Book:
John
Bible Book Code:
4300100101
Scene no:
1 of 5
Bible Reference & Cartoon Description
John 1:1-4 (ANIV)
The Word Became Flesh
1 In the beginning was the Word, and the Word was with God, and the Word was God. 2 He was with God in the beginning.
3 Through him all things were made; without him nothing was made that has been made. 4 In him was life, and that life was the light of men.
DRAWING NOTES:
TIME OF DAY:
Not specified in Bible.
LIGHTING NOTES:
The stars in the background provide light in this scene. The pre-incarnate Jesus has a holy glow about his figure as well.
CHARACTERS PRESENT:
The pre-incarnate Jesus, holding the world in his hands.
RESEARCH/ADDITIONAL NOTES:
This is a simple scene, which represents the first 4 verses of John's gospel. I have drawn a translucent figure of Jesus, holding the newly created earth in his hands. I couldn't think of a way to translate "the Word" into a visual, so elected to show the figure of Jesus, who that term refers to.
Here's the rough pencil sketch I drew for this scene.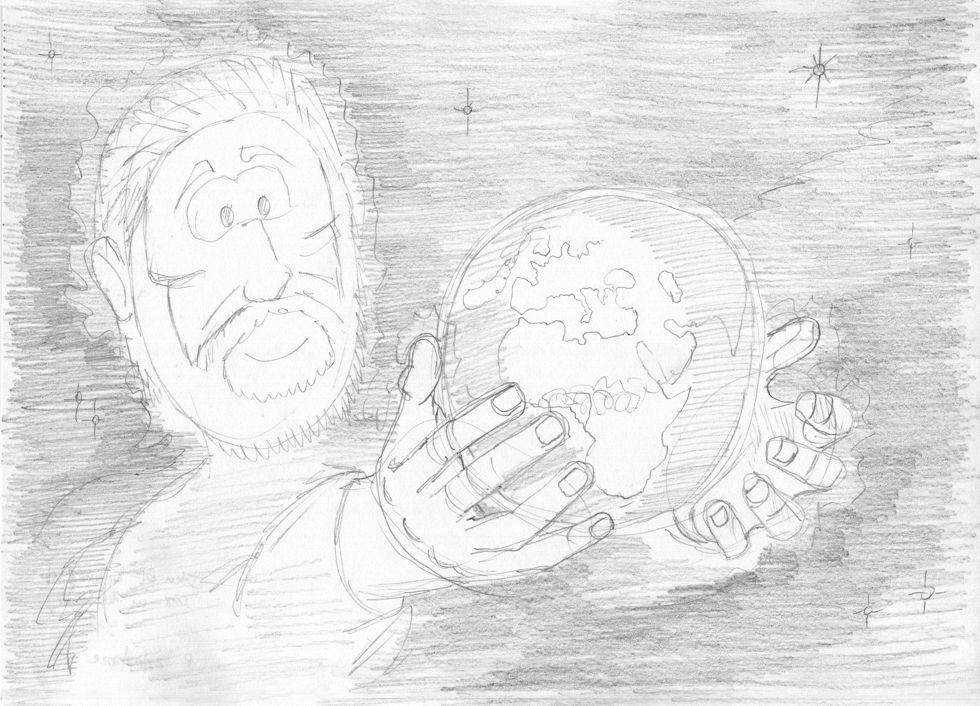 John 01 – The Word of life – Scene 01 – In the beginning – Greyscale