Bible Book:
Genesis
Bible Book Code:
0103702801
Scene no:
4 of 7
Bible Reference & Cartoon Description
Genesis 37:28 (NLT)
So when the Ishmaelites, who were Midianite traders, came by, Joseph's brothers pulled him out of the cistern and sold him to them for twenty pieces of silver [1]. And the traders took him to Egypt.
[1]
Hebrew, 20 shekels, about 8 ounces or 228 grammes in weight.
DRAWING NOTES:
TIME OF DAY:
Indeterminate from scripture, I have set the scene at late morning.
LIGHTING NOTES:
Natural, sunlight, from above left.
CHARACTERS PRESENT:
Joseph (in chains) with two of his brothers, Simeon & Levi.
Ishmaelites on camels in the background.
RESEARCH/ADDITIONAL NOTES:
There are three versions of this scene:
01) (This page) Genesis 37 – Joseph sold into slavery – Scene 04 – Joseph Sold.
02) (Next page) Genesis 37 – Joseph sold into slavery – Scene 04 – Joseph Sold (no skull). The only difference between these two versions is the inclusion of a human skull in the first one. I thought I'd remove it for viewers/customers wanting to use this scene for children's work.
03) (Next page) Genesis 37 – Joseph sold into slavery – Scene 04 – Joseph sold to Ishmaelites. This scene is set in Dothan (an area of good pastureland) rather than a sandy desert (like the previous 2 versions).
This scene was originally designed as one of my "Bad Day" mugs, but I thought it could also be used as a Bible Cartoon.
The colours used in each of the brother's clothes was previously decided upon when I drew the scene "Genesis 37 – Joseph's Dreams – Scene 02 – The coat of many colours"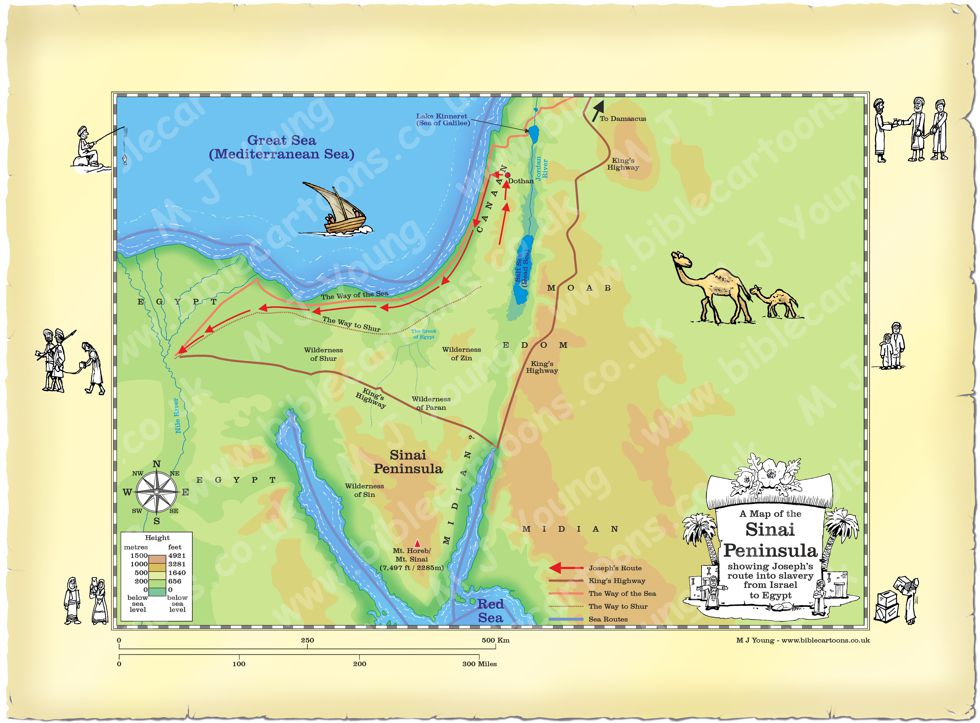 Map of Sinai Peninsula showing Joseph's route into slavery from Israel to Egypt

Link to related Map
Click blue bar below to see Map of Sinai with Joseph's route into slavery marked, with purchase option:
View/Buy this map

Links to articles
Encyclopaedia article: Jacob's sons – Who's who?! – Clothing notes
This article describes how I designed the clothing of the 12 sons of Jacob.
Blog Article: Jaco's sons – who's who?
This Blog article describing the 12 sons of Jacob as it first appeared in the BC blog.
Encyclopaedia article: Hebrew camp marching order This Encyclopaedia article describes how the 12 tribes were arranged around the camp and in what order they set off from the camp.