Bible Book:
Genesis
Bible Book Code:
0103702501
Scene no:
3 of 7
Bible Reference & Cartoon Description
Genesis 37:25-27 (NLT)
25 Then, just as they were sitting down to eat, they looked up and saw a caravan of camels in the distance coming toward them. It was a group of Ishmaelite traders taking a load of gum, balm, and aromatic resin from Gilead down to Egypt.
26 Judah said to his brothers, "What will we gain by killing our brother? His blood would just give us a guilty conscience. 27 Instead of hurting him, let's sell him to those Ishmaelite traders. After all, he is our brother—our own flesh and blood!" And his brothers agreed.
DRAWING NOTES:
TIME OF DAY:
Unspecified in the Bible narrative. I have set this scene in the late morning/lunch time.
LIGHTING NOTES:
The sun (unseen, high above & left) illuminates this scene, casting shadows to the right & below figures & objects.
CHARACTERS PRESENT:
Simeon, Levi, Judah, Dan, Naphtali, Gad, Asher, Issachar , Zebulun, Benjamin.
Joseph (in water cistern).
RESEARCH/ADDITIONAL NOTES:
This scene occurs a few moments after the previous one. Joseph's hands can just be seen in the cistern, waving frantically!
Notice that the storm clouds have advanced even more into the sky, disaster awaits Joseph nearby in the form of the Ishmaelite traders, which we can see coming round a bend in the road in the middle left of this scene.
Here is this scene without the figures in the foreground.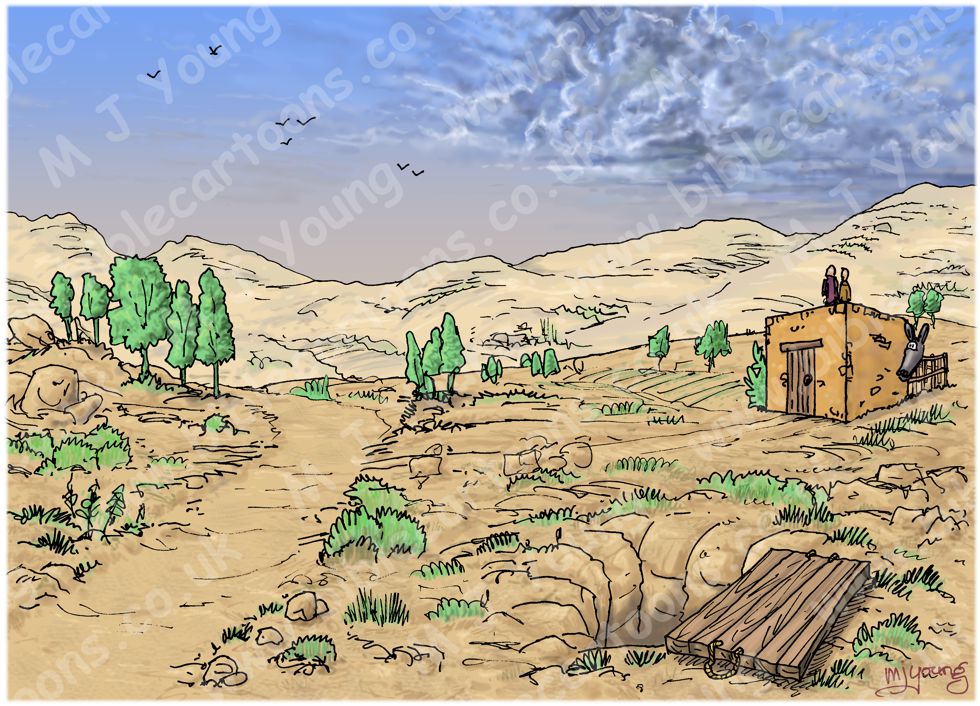 Genesis 37 – Joseph sold into slavery – Scene 01 – Making plans – Landscape