Bible Book:
Genesis
Bible Book Code:
0103700301
Scene no:
2 of 6
Bible Reference & Cartoon Description
Genesis 37:3-4 (NLT)
3 Now Jacob [1] loved Joseph more than any of his other children because Joseph had been born to him in his old age. So one day he gave Joseph a special gift—a beautiful robe [2]. 4 But his brothers hated Joseph because of their father's partiality. They couldn't say a kind word to him.
[1]
Hebrew, Israel; also in 37:13, see note on 35:21.
[2]
Traditionally rendered, a coat of many colours. The exact meaning of the Hebrew is uncertain.
DRAWING NOTES:
TIME OF DAY:
Indeterminate from scripture, I have set the scene at late morning.
LIGHTING NOTES:
Natural, sunlight, from above.
CHARACTERS PRESENT:
Jacob & his 12 sons, with a servant in the background. 2 chickens & a sheep – could it be a Jacob sheep?!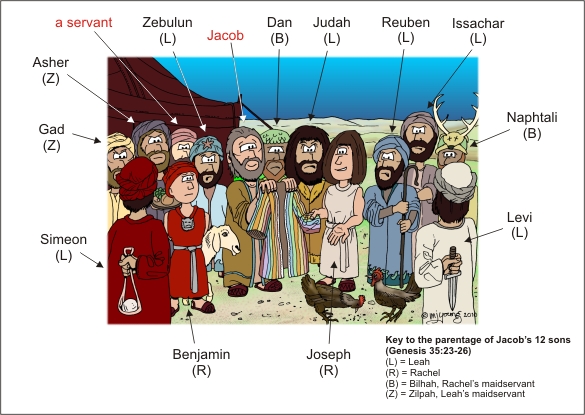 Genesis 37 – Jacob's sons – Who's who?
From left to right: Gad, Simeon (holding a sling behind his back), Asher, a servant (in the background), Benjamin, Zebulun, Jacob (holding the coat of many colours), Dan, Judah, Joseph, Reuben, Issachar, Naphtali & Levi (with a dagger behind his back.) See my blog (Under the "Information" button above) & navigate to the January 2010 Archive – click on the "Jacob's sons – who's who" entry to see a diagram that identifies each of the 12 sons.
RESEARCH/ADDITIONAL NOTES:
The geology underlying the Hebron area is made up of limestone, dolostone & marl. I have used a light brown, chalky limestone colour for the surrounding hills & ground.
I used Google Earth to provide a scene for the background. 31° 30' 06.90" N 35° 05' 59.88" E Looking SE. The Dead Sea, which is about 24 miles (38.5 km) away is hidden by intervening hills , but you can see the mountains of modern-day Jordan 35 miles away (56.3 km) on the horizon.
I found some reference images of Bedouin tents to help me with the depiction of Jacob's tent behind the characters in this cartoon.
All of Joseph's brothers are looking cross or miffed in this cartoon, because we know from Genesis 37 verse 4 that ..'his brothers hated Joseph because of their father's partiality (favouritism). They couldn't say a kind word to him.'
A note on colours used
If you read the BC blog entry "Jacob's sons – who's who" (dated 22/01/2010) you will see details of my designs for Jacob's son's heraldic banner designs. There is mention in the bible that clans & families had flags or banners, which I supposed helped them to identify where they were camped, whilst out in the wilderness. In Numbers 1:52 we read, 'Each tribe of Israel will have a designated camping area with its own family banner.' It was references like this that got me thinking about designing some sort of heraldic family banners.
Since I had already decided on colour schemes for each of Jacob's son's banners, it was easy, when it came to drawing this particular cartoon (Jacob giving the coat to Joseph) to simply use the colour schemes I had previously used, for each son's clothing.
Something to look out for
Have a look at Benjamin's turban – I have contrived to make it look like it has pointed "ears" which is a reference to Jacob's prophetic words that Benjamin would be like a wolf! I have also provided Benjamin with a little wolf's head clasp on his red tunic.
Jacob prophesied in Genesis 49:13 that…"Zebulun will settle on the shores of the sea and will be a harbor for ships." And so I have used sea colours for his clothing, & even used a starfish clasp for his turban!
Jacob likened Naphtali to a deer that will produce magnificent fawns (or baby deer.) I just couldn't help but have him with a deer's hide & antlers as part of his costume!

Links to BC Encyclopaedia articles
Article which describes how I designed the 12 tribal banners.
Article which describes how I designed the clothing of the 12 sons of Jacob.
Article describing the 12 sons of Jacob as it first appeared in the BC blog.
Article which describes how the 12 tribes were arranged around the tabernacle in the wilderness.
---
Bible Doctrine Notes
37:1-17

ELECTION

, God's Promise (4.11C)
Joseph incurred the wrath of his brothers when he shared his dreams concerning his leadership over them. His dreams revealed God's election of Joseph to save his family and nation. God reveals His election promise and purposes to us in different ways.
37:1-2 HUMANITY, Childhood and Youth (2.43C)
Youthful dreams are a normal part of growing up, but some dreams may be sent by God as special revelations to the dreamer. When Joseph shared his dreams with his brothers, it caused resentment and bitterness in them, which was already present due to Jacob's favouritism of Joseph.