Bible Book:
Exodus
Bible Book Code:
0201901601
Scene no:
1 of 1
Bible Reference & Cartoon Description
Exodus 19:16-19 (NLT)
16 On the morning of the third day, thunder roared and lightning flashed, and a dense cloud came down on the mountain. There was a long, loud blast from a ram's horn, and all the people trembled. 17 Moses led them out from the camp to meet with God, and they stood at the foot of the mountain. 18 All of Mount Sinai was covered with smoke because the Lord had descended on it in the form of fire. The smoke billowed into the sky like smoke from a brick kiln, and the whole mountain shook violently. 19 As the blast of the ram's horn grew louder and louder, Moses spoke, and God thundered his reply.
DRAWING NOTES:
TIME OF DAY:
"On the morning of the third day."
LIGHTING NOTES:
Natural, sunlight, diffused by cloud & fire of God, descending from heaven on the mountain top, lights this scene.
CHARACTERS PRESENT:
Three Hebrew people.
RESEARCH/ADDITIONAL NOTES:
Google earth position & orientation – 28° 31' 47.41" N 33° 58' 14.49" E Looking NNE. Egypt is behind & to the left of the viewer. Israel is north of this position.
The large mountain in the middle of th cartoon is mount Sinai. I have taken artistic liberties with the mountain & made it look more cone like, to add drama.
This story is also repeated in Deuteronomy chapter 4, verse 11.
Here's the scene in greyscale form, which I create before I colour up a scene, to get the tone (light and shade) right.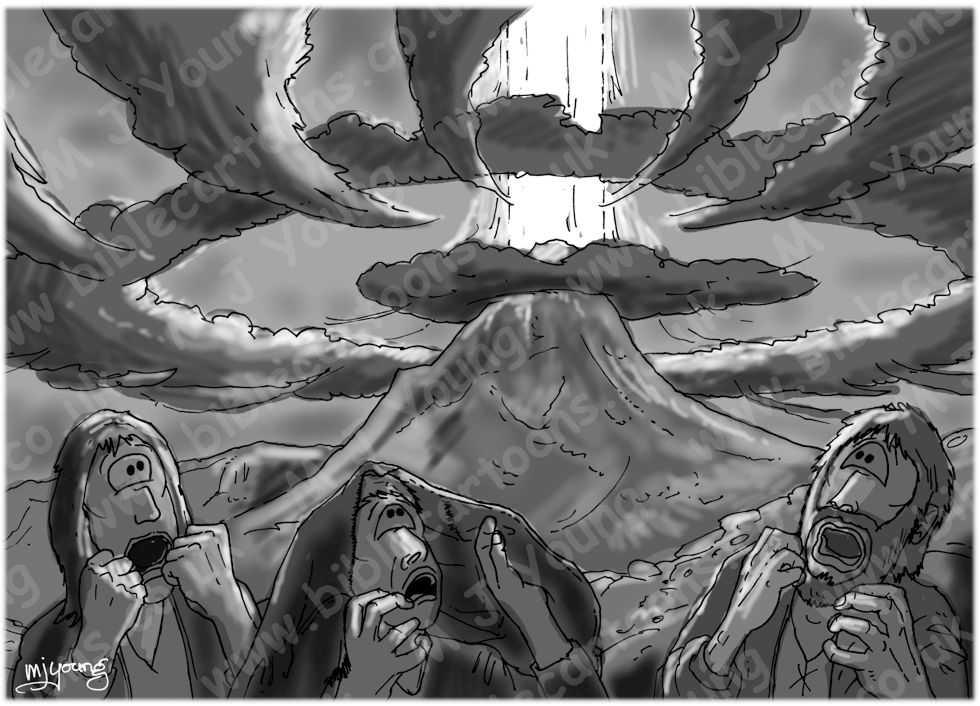 Exodus 19 – Mount Sinai – Scene 06 – Trembling greyscale