Bible Book:
Exodus
Bible Book Code:
0201701401
Scene no:
7 of 7
Bible Reference & Cartoon Description
Exodus 17:14-16 (ANIV)
14 Then the Lord said to Moses, "Write this on a scroll as something to be remembered and make sure that Joshua hears it, because I will completely blot out the memory of Amalek from under heaven."
15 Moses built an altar and called it The Lord is my Banner. 16 He said, "For hands were lifted up to the throne of the Lord. The [1] Lord will be at war against the Amalekites from generation to generation."
[1]
Or, "Because a hand was against the throne of the Lord the…
DRAWING NOTES:
TIME OF DAY:
LIGHTING NOTES:
Sunlight (unseen above tent) illuminates this scene, casting shadows to the right of figures & objects.
Moses & the contents of his tent are all in shadow.
CHARACTERS PRESENT:
Moses is sitting at a table writing a scroll.
Aaron (I brown robe & holding the staff of Moses) is outside directing the building of an altar.
RESEARCH/ADDITIONAL NOTES:
This is the last scene in the series, & shows Moses sitting at a desk in his tent. Moses is writing the scroll which the Lord God told him to write (see verse 14 above).
We can see some Hebrew men piling up stones to make an altar, under the direction of Aaron, the brother of Moses.
Below is the rough pencil sketch I drew to design this scene.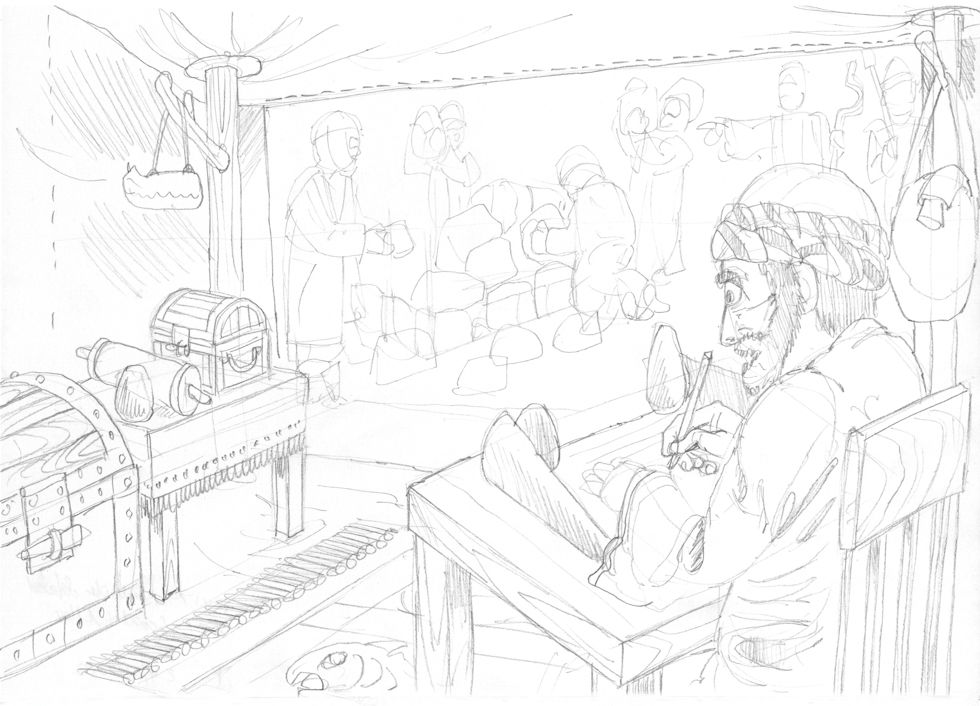 Exodus 17 – The Amalekites defeated – Scene 07 – Scroll and altar – Greyscale