Bible Book:
Exodus
Bible Book Code:
0201701201
Scene no:
6 of 7
Bible Reference & Cartoon Description
Exodus 17:12-13 (ANIV)
12 When Moses' hands grew tired, they took a stone and put it under him and he sat on it. Aaron and Hur held his hands up—one on one side, one on the other—so that his hands remained steady till sunset. 13 So Joshua overcame the Amalekite army with the sword.
DRAWING NOTES:
TIME OF DAY:
The Bible narrative tells us that this scene occurs at sunset.
LIGHTING NOTES:
The sun (low and going down in the west) is illuminating this scene, and casting shadows to the left of figures and objects.
CHARACTERS PRESENT:
Left to right, on the hilltop (in the foreground): a soldier/guard, Hur, Moses (with holding the staff), Aaron, another soldier/guard.
RESEARCH/ADDITIONAL NOTES:
This scene shows Hur & Aaron holding up Moses' arms. Behind them are two guards/soldiers.
This scene is all about frienship; we can see Aaron (Moses brother) & Hur (possibly a friend?) holding up Moses' hands, as we know that he had grown very tired as a result of holding up the staff all day, whilst the Isrealites & Amalekites were fighting on the plain below. I wonder if the Lord God was using this incident to help Moses realise that he needed other people's help in his leadership of all the Israelites during the Exodus.
Here's the scene without the figures.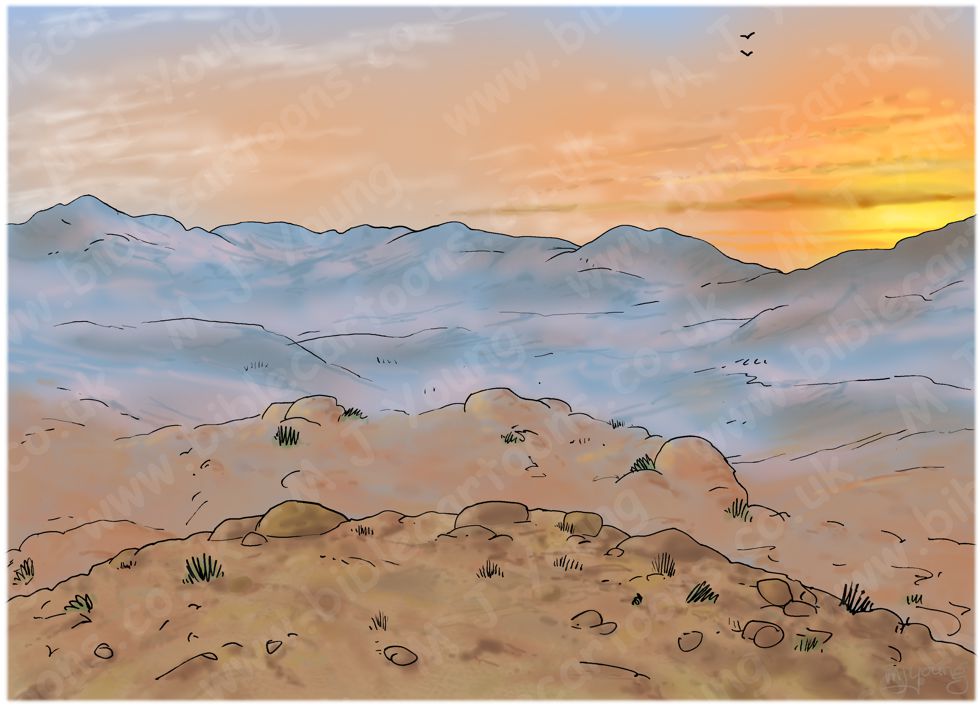 Exodus 17 – The Amalekites defeated – Scene 06 – Friends on either side – Landscape
Below is the rough pencil sketch I drew to design this scene.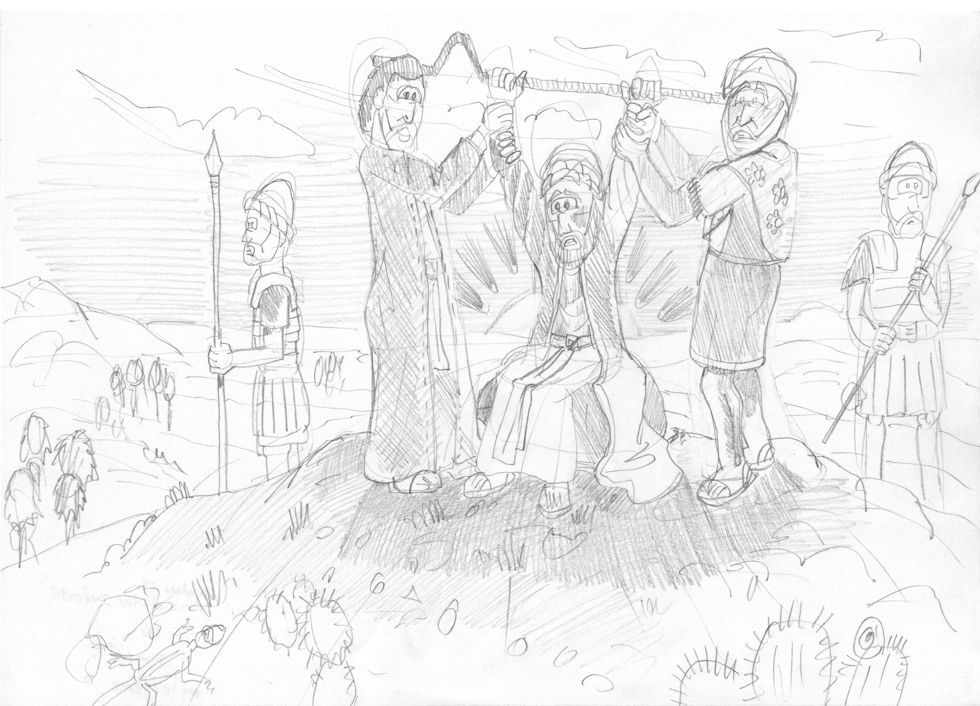 Exodus 17 – The Amalekites defeated – Scene 06 – Friends on either side – Greyscale