Bible Book:
Ecclesiastes
Bible Book Code:
2100300602
Scene no:
5a of 7
Bible Reference & Cartoon Description
Ecclesiastes 3:1,6 (ANIV)
1 There is a time for everything, and a season for every activity under heaven: …
6 a time to keep and a time to throw away, …
DRAWING NOTES:
TIME OF DAY:
Unspecified in Bible text.
LIGHTING NOTES:
Simple, diffused sunlight from above right lights this scene.
CHARACTERS PRESENT:
Un-named soldiers. The principle character is the hammer throwing soldier.
RESEARCH/ADDITIONAL NOTES:
This scene was originally drawn as a black and white outline for my series celebrating the London Olympic games in 2012. I looked for Bible references which might be linked to sports events and this is one that came to mind. I thought the phrase "a time to throw away" could be used to illustrate the hammer throwing event, although I thought that it would need to be a battle scene, in order to relate to the Bible in some way.
I drew this scene in July 2012, but have only just completed the coloured version in May 2016!
This scene doesn't for part of the Ecclesiastes 03 – A time for everything SET, even though it is situated in the middle of that SET!

Here's the scene in greyscale form, which I create before I colour up a scene, to get the tone (light and shade) right.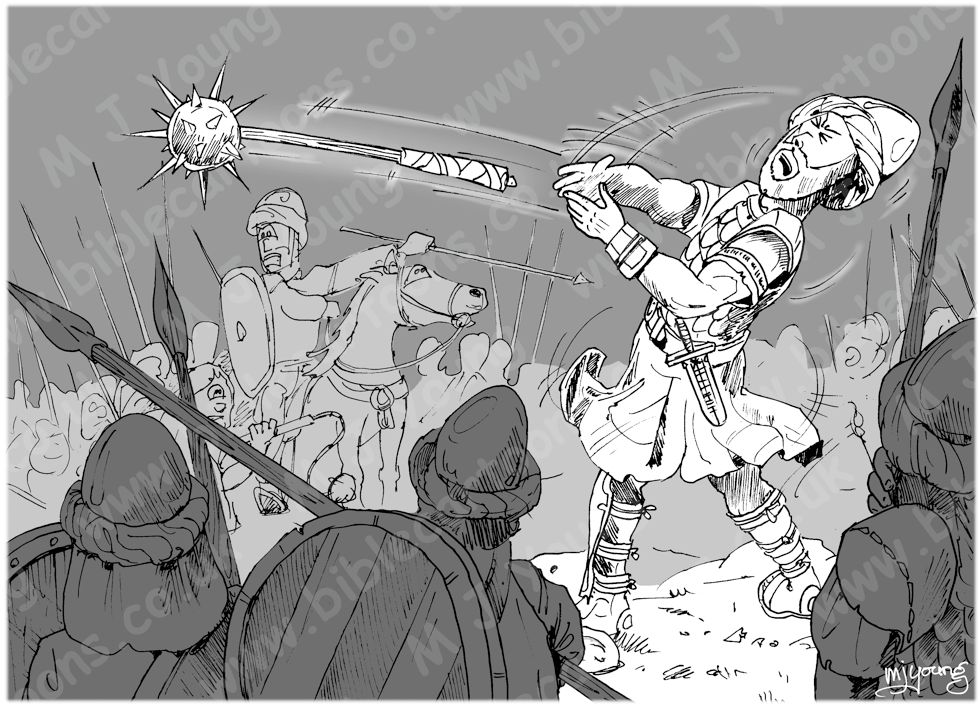 Ecclesiastes 03 – Hammer throwing – Greyscale

Follow this link to see the greyscale version on the Free Stuff page: Greyscale version of Ecclesiastes 03 – Hammer throwing
You will need to scroll down that page to see the picture!