Bible Book:
Deuteronomy
Bible Book Code:
0503400801
Scene no:
3 of 4
Bible Reference & Cartoon Description
Deuteronomy 34:8 (ANIV)
The Israelites grieved for Moses in the plains of Moab thirty days, until the time of weeping and mourning was over.
DRAWING NOTES:
TIME OF DAY:
The Bible doesn't specify the time of day. I have set this scene in the mid morning.
LIGHTING NOTES:
The sun (unseen, above & to the right), casts shadows ro the left of figures & objects.
CHARACTERS PRESENT:
Unnamed Hebrew people.
RESEARCH/ADDITIONAL NOTES:
This scene shows the Hebrew people mourning openly for Moses. The Bible verse above tells us that they grieved their lose for thirty days.
I found some photographs on the internet of grieving people, and based my image on some of those pictures. The background scenery is inspired by a video I saw of the valley of Beth Peor.
I have included a canvas tent in the background, since that is what the Hebrew people were all living in at this time.
Here's the scene without the figures & tent.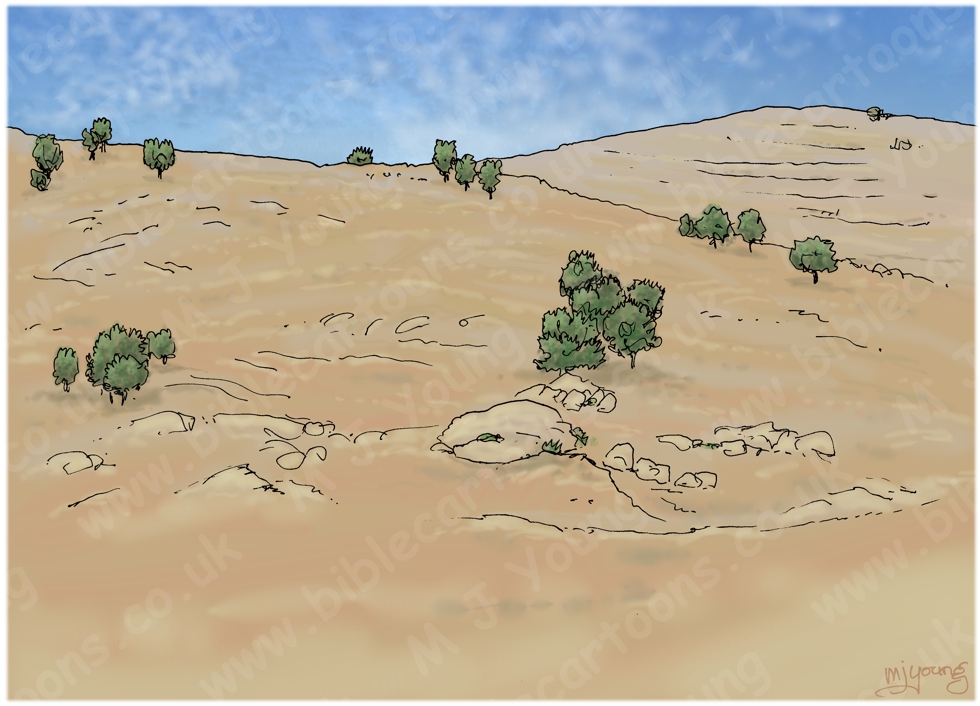 Deuteronomy 34 – Death of Moses – Scene 03 – Mourning for Moses – Landscape