Bible Book:
Acts
Bible Book Code:
4400200401
Scene no:
5 of 12
Bible Reference & Cartoon Description
Acts 2:4 (NLT)
And everyone present was filled with the Holy Spirit and began speaking in other languages, [2] as the Holy Spirit gave them this ability.
[2]
Or, in other tongues.
DRAWING NOTES:
TIME OF DAY:
A little further on in this chapter (verse 15) Simon/Peter addresses a crowd & states that it is 9am in the morning. So this scene must be a few minutes before that.
LIGHTING NOTES:
There is simple, one directional lighting in this scene, coming from the early morning sunshine, to the right of the scene (in the East) which is breaking through the storm clouds.
CHARACTERS PRESENT:
All of the Apostles are present in this scene, as are several un-named disciples, seen in the previous cartoon illustration.
RESEARCH/ADDITIONAL NOTES:
According to my internet research, Pentecost (called The Feast of Weeks, or Shavuot, in the Jewish language) is celebrated in late May.
The Lizard on right hand wall is a Sinai Fan Fingered Geckos or Fan-footed Gecko (Ptyodactylus guttatus)
The lizard on the left hand wall is a Mediterranean House Gecko, or Turkish Gecko (Hemidactylus turcicus turcicus)
The little rodent, looking up at the scene from the bottom right hand side of the illustration is a Macedonian mouse (Mus macedonicus)
The plant growing out of the wall to the lower right of the illustration is a Caper bush (Capparis spinosa) which is a plant that grows on the West (Wailing) Wall in Jerusalem, Israel today.

Close-up of man and donkey.


Acts 02 – Pentecost – Scene 05 – Languages – PARTIAL 01

Close-up of Apostles on roof.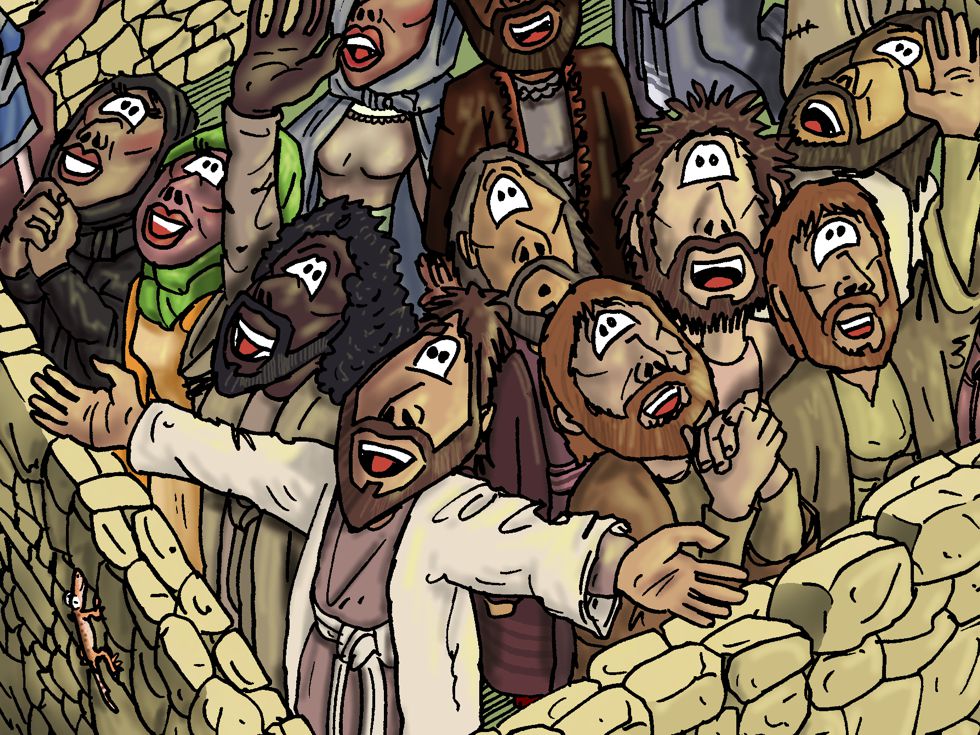 Acts 02 – Pentecost – Scene 05 – Languages – PARTIAL 02

Link(s) to related Blog article
Click blue bar below to read the Blog article:
Latest addition to my Pentecost cartoons
Link(s) to related Encyclopedia article
Click blue bar below to read the BC Encylopedia article:
Acts 02 – Pentecost – Scene 05 – Languages – Who's who