Bible Book:
2 Kings
Bible Book Code:
1200600402
Scene no:
3 of 4
Bible Reference & Cartoon Description
2 Kings 6:4-5 (ANIV)
4 [And he [Elisha] went with them [the company of the prophets]. They went to the Jordan] and began to cut down trees. 5 As one of them was cutting down a tree, the iron axe-head fell into the water. "Oh, my lord," he cried out, "it was borrowed!"
DRAWING NOTES:
TIME OF DAY:
Unspecified in Bible, I have set this scene in the mid morning.
LIGHTING NOTES:
The sun (unseen, on the right), casts shadows to the left of the figure & plants.
CHARACTERS PRESENT:
A man from the company of the prophets.
RESEARCH/ADDITIONAL NOTES:
This scene shows a member of the company of the prophets standing on the bank of the river Jordan. The man has just swung his axe… and the axe-head has just flown off and is falling into the river water.
As in the previous scene, Phoenix dactylifera (aka date or date palm) can be seen on the far bank. Harder to see are some small grasses with a light, flower head, which is Arundo donax (aka Giant cane, Spanish cane, wild cane, giant reed, Cyprus cane).
Here is the scene without the figure in the foreground.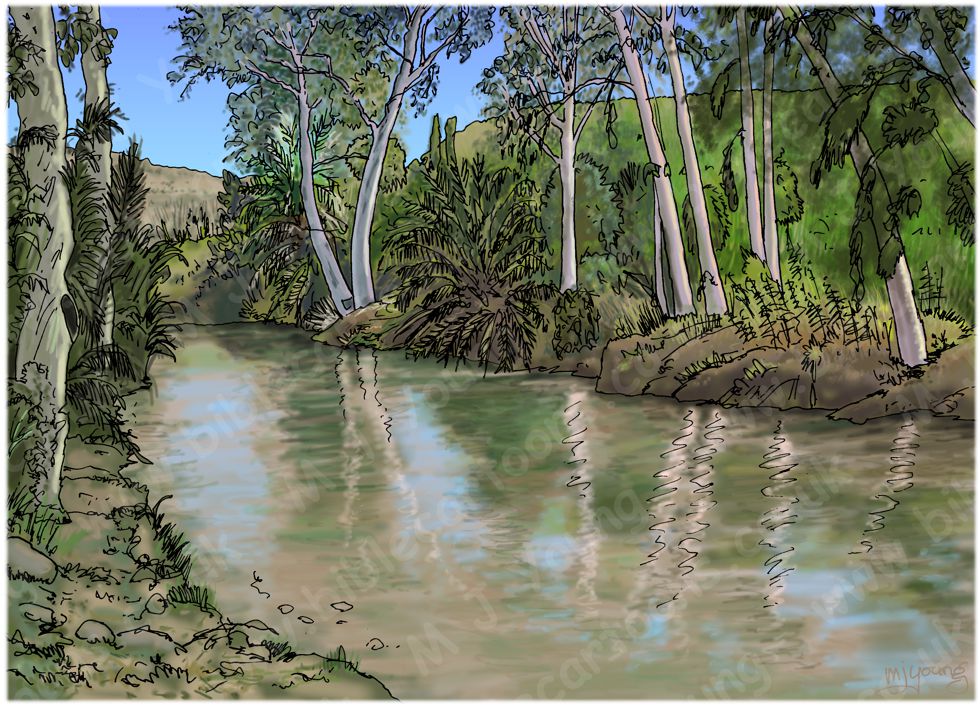 2 Kings 06 – Axe-head floats – Scene 03 – Fallen into river – Landscape