Bible Book:
2 Kings
Bible Book Code:
1200600601
Scene no:
4 of 4
Bible Reference & Cartoon Description
2 Kings 6:6-7 (ANIV)
6 The man of God [Elisha] asked, "Where did it [the axe-head] fall?" When he showed him the place, Elisha cut a stick and threw it there, and made the iron float.
7 "Lift it out," he said. Then the man reached out his hand and took it.
DRAWING NOTES:
TIME OF DAY:
Unspecified in Bible, I have set this scene in the mid morning.
LIGHTING NOTES:
The sun illuminates this scene, which is behind the viewer, casting shadows behind & to the right of figures and objects in this scene.
CHARACTERS PRESENT:
From left to right: Gehazi (in purple robes & hat, one of Elisha's servants), Elisha, the man of God (in blue outer robes, striped inner robe & carrying Elijah's mantle on his shoulder). Two men fro the company of the prophets.
RESEARCH/ADDITIONAL NOTES:
This is the final scene in this little set, in which we can see the axe-head floating on the water, with the stick (that Elisha threw into the river) below it.
The man from the previous scene (who lost the axe-head in the river water) is kneeling down by the water's edge, stretching out his hand to recover the axe-head. Another member of the company is holding on to his left arm, as he stretches out over the water.
As in the previous scene, Phoenix dactylifera (aka date or date palm) can be seen on the left & right. In the middle distance (behind the figures) are some small grasses with a light, flower head, which is Arundo donax (aka Giant cane, Spanish cane, wild cane, giant reed, Cyprus cane).
Notice that Gehazi has a white tinge to his skin, which is the leprosy he was infected with, when he tried to lie & hide silver & clothing given to him through deception from Naaman, the Aramean army commandeer (see 2 Kings chp 5).
Here is the scene without the figures in the foreground.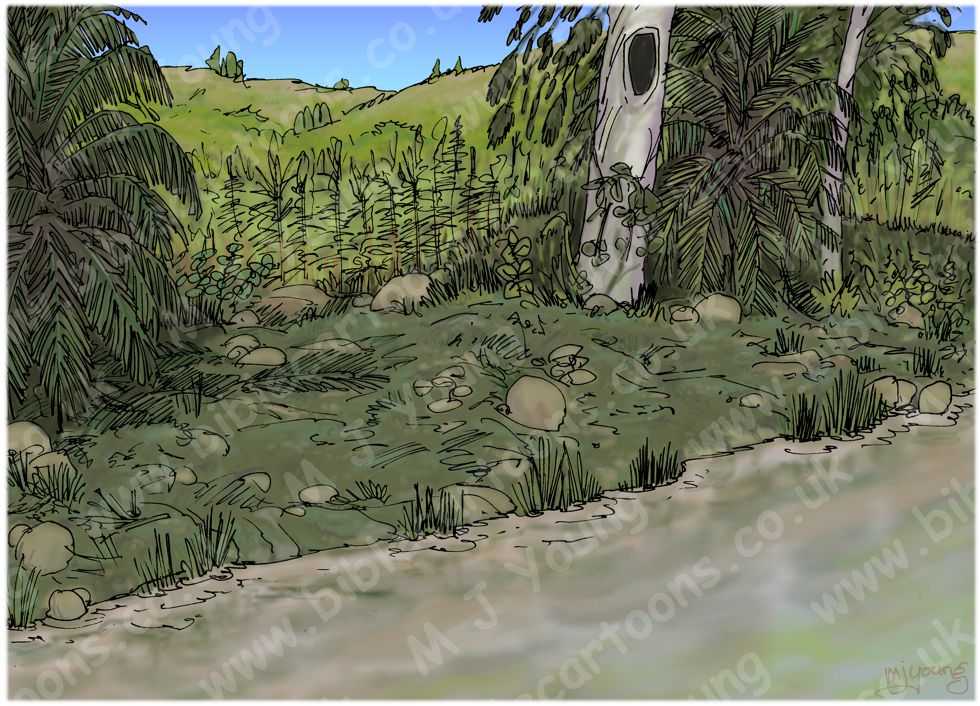 2 Kings 06 – Axe-head floats – Scene 04 – Floating miracle – Landscape