Bible Book:
1 Kings
Bible Book Code:
1101302901
Scene no:
10 of 11
Bible Reference & Cartoon Description
1 Kings 13:29-32 (NLT)
29 So the prophet laid the body of the man of God on the donkey and took it back to the town to mourn over him and bury him. 30 He laid the body in his own grave, crying out in grief, "Oh, my brother!"
31 Afterward the prophet said to his sons, "When I die, bury me in the grave where the man of God is buried. Lay my bones beside his bones. 32 For the message the Lord told him to proclaim against the altar in Bethel and against the pagan shrines in the towns of Samaria will certainly come true."
DRAWING NOTES:
TIME OF DAY:
Late afternoon.
LIGHTING NOTES:
The setting sun which is low I the sky (unseen, off to the right) illuminates this scene, casting vague shadows to the left of figures and objects.
CHARACTERS PRESENT:
From left to right: The daughter & her father, the old prophet from Bethel, the younger son (in dark purple robe), the elder son (in lighter purple robe).
The body of the man of God from Judah is bound up in pale strips of cloth, and is on the back of one of the donkey's. That particular donkey was the one we saw in the corral in scene 04, and which stood with the lion on the road to Bethel. The 2nd donkey (closest to the right hand side of the scene) is the one the old prophet of Bethel rode on, to search for the body on the road.
RESEARCH/ADDITIONAL NOTES:
I took the background building and surroundings from scene 04, and have re-used it in this picture, although I have adjusted the colours, darkening and making them redder, to show that the sun is going.
This scene is set in the walled enclosure home of the old prophet from Bethel. He has brought the body of the man of God from Judah back home (he who had been mauled & killed by a lion on the road to Bethel), to be buried in his own tomb (unseen in this picture).
In the background of the walled enclosure is an olive tree (Olea europaea). Outside the arched entrance to the family home is a scene of the hills around Bethel, which I sketched from a photograph of the area I found on the internet.
This is what the scene looks like without the foreground figures: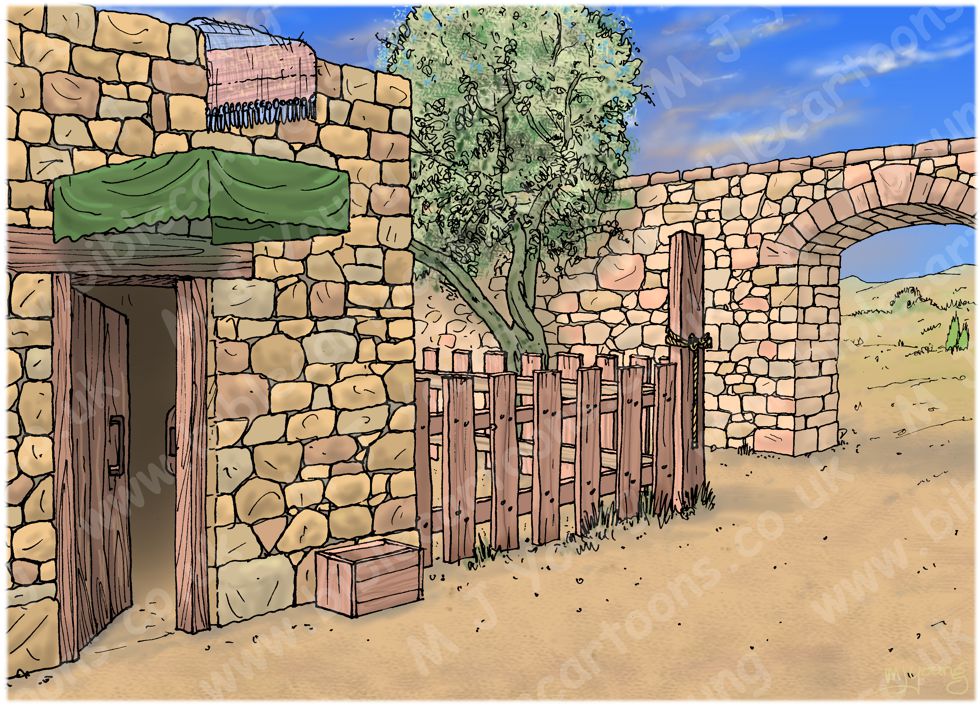 1 Kings 13 – Prophet and lion – Scene 10 – Oh my brother! – Landscape