Bible Book:
1 Kings
Bible Book Code:
1101302601
Scene no:
9 of 11
Bible Reference & Cartoon Description
1 Kings 13:26-28 (NLT)
26 When the prophet heard the report, he said, "It is the man of God who disobeyed the Lord's command. The Lord has fulfilled his word by causing the lion to attack and kill him."
27 Then the prophet said to his sons, "Saddle a donkey for me." So they saddled a donkey, 28 and he went out and found the body lying in the road. The donkey and lion were still standing there beside it, for the lion had not eaten the body nor attacked the donkey.
DRAWING NOTES:
TIME OF DAY:
The exact time of day is not specified in the Bible narrative above. I have set this scene at mid afternoon.
LIGHTING NOTES:
The sun is high in the sky, casting shadows below figures and objects.
CHARACTERS PRESENT:
The old prophet from Bethel is standing in the foreground, holding his 2nd donkey. Both are looking a bit apprehensive or worried, at the sight of the lion!
The body of the man of God from Judah is on the ground. The donkey he rode is still stood beside his body.
RESEARCH/ADDITIONAL NOTES:
This scene occurs a little while after the previous scene. We can see that the old prophet of Bethel has ridden his 2nd donkey to the scene of the mauling (by the lion) of the man of God from Judah, in accordance with God's judgement (see Scene 06 in this set).
This landscape view is similar to Scene 07 – Man of God killed by lion, except that we are looking from the right of the lion, body & donkey on the road's position. Notice I have added some wispy cirrus clouds & 5 black birds in the sky.
This is what the scene looks like without the foreground figures: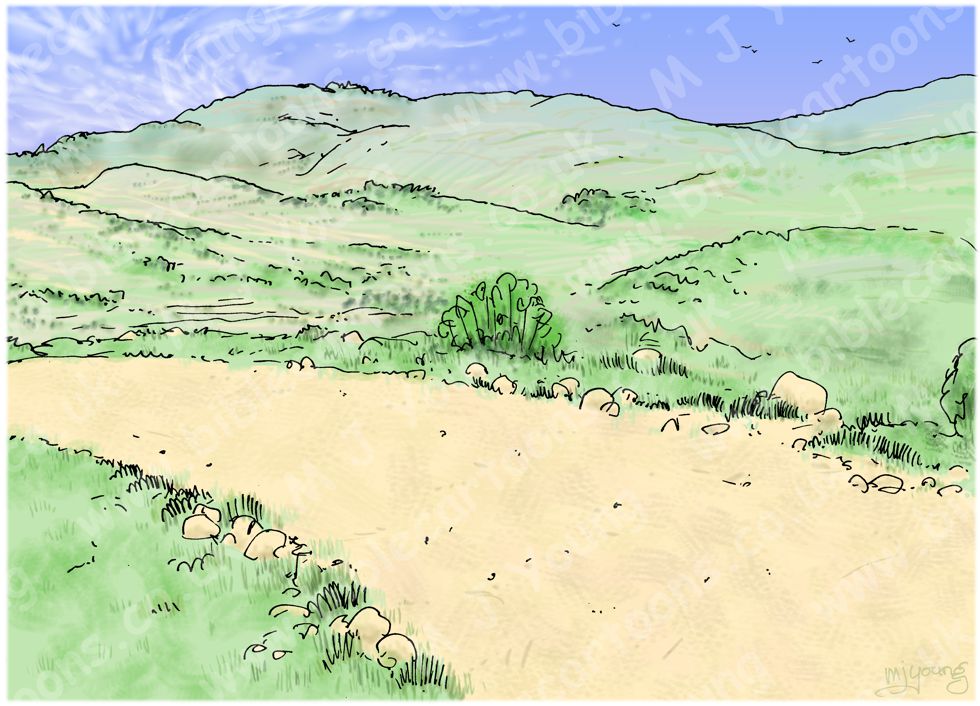 1 Kings 13 – Prophet and lion – Scene 09 – The lion and the donkey – Landscape