Bible Book:
1 Kings
Bible Book Code:
1101302301
Scene no:
7 of 11
Bible Reference & Cartoon Description
1 Kings 13:23-24 (NLT)
23 After the man of God had finished eating and drinking, the old prophet saddled his own donkey for him, 24 and the man of God started off again. But as he was travelling along, a lion came out and killed him. His body lay there on the road, with the donkey and the lion standing beside it.
DRAWING NOTES:
TIME OF DAY:
The exact time of day is not specified in the Bible narrative above. I have set the time a little after mid afternoon.
LIGHTING NOTES:
The sun is high in the sky, casting strong shadows below figures and objects.
CHARACTERS PRESENT:
The lion, the donkey (borrowed from the old prophet of Bethel) & the body of the man of God from Judah, on a road leading away from bethel & back towards Judah.
RESEARCH/ADDITIONAL NOTES:
This was quite a sad scene to draw! The man of God from Judah is lying in the road, after being killed by the lion (Panthera leo). On the other side of the body is the donkey (Equus asinus) which he borrowed from the old prophet of Bethel. The Bible states that both animals remained by the body. I decided not to show a blood-soaked corpse, or a fierce-looking lion, preferring a gentler interpretation of the scene for my viewers!
The flowering plants in the foreground is Tragopogon coelesyriacus (aka Long-Beaked Goat's Beard), which I haven't illusyrated before in Bible Cartoons. They are hemicryptophytes (typically herbaceous perennials, such as grasses, which produce perennating buds at the soil surface, where the buds are protected by leaf or stem bases.), which flower in Apr-July. The plants grows in Batha/Phrygana/Garrigue habitat (a type of low, soft-leaved scrubland ecoregion and plant community in the Mediterranean forests, woodlands, and scrub biome, found on limestone soils, generally near the seacoast where the moderated Mediterranean climate provides annual summer drought.) The plant can be found distributed in Israel in the Mediterranean Woodlands and Shrublands, Semi-steppe shrublands, Shrub-steppes, which are all in the north & west (coastal) parts of the country.
This is what the scene looks like without the foreground figures: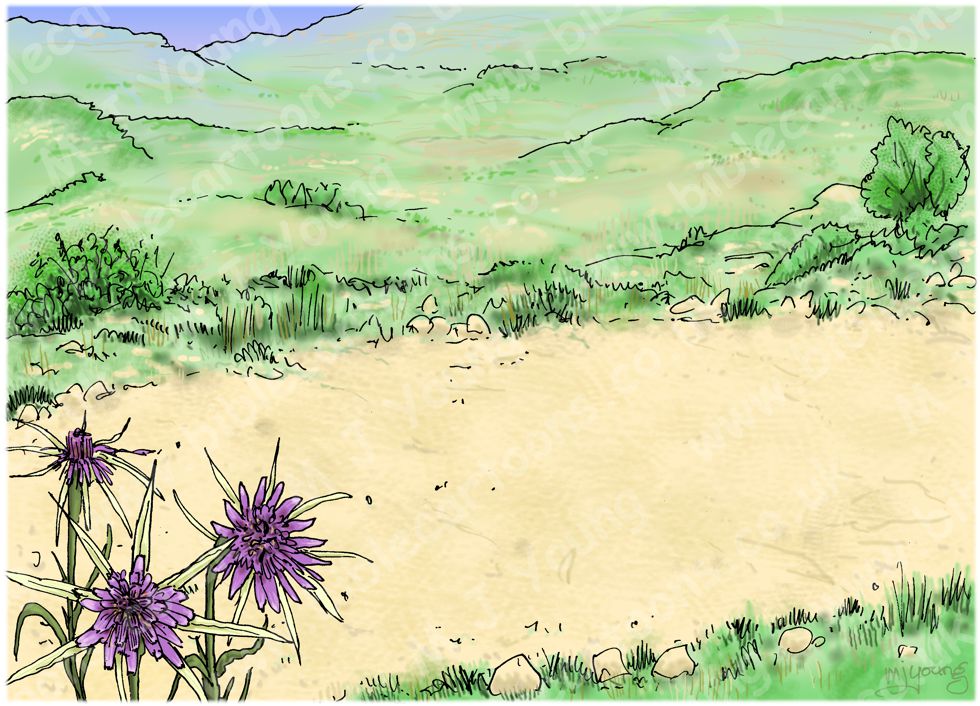 1 Kings 13 – Prophet and lion – Scene 07 – Man of God killed by lion – Landscape


This is the quick pencil sketch I drew to establish the elements of the scene before inking in: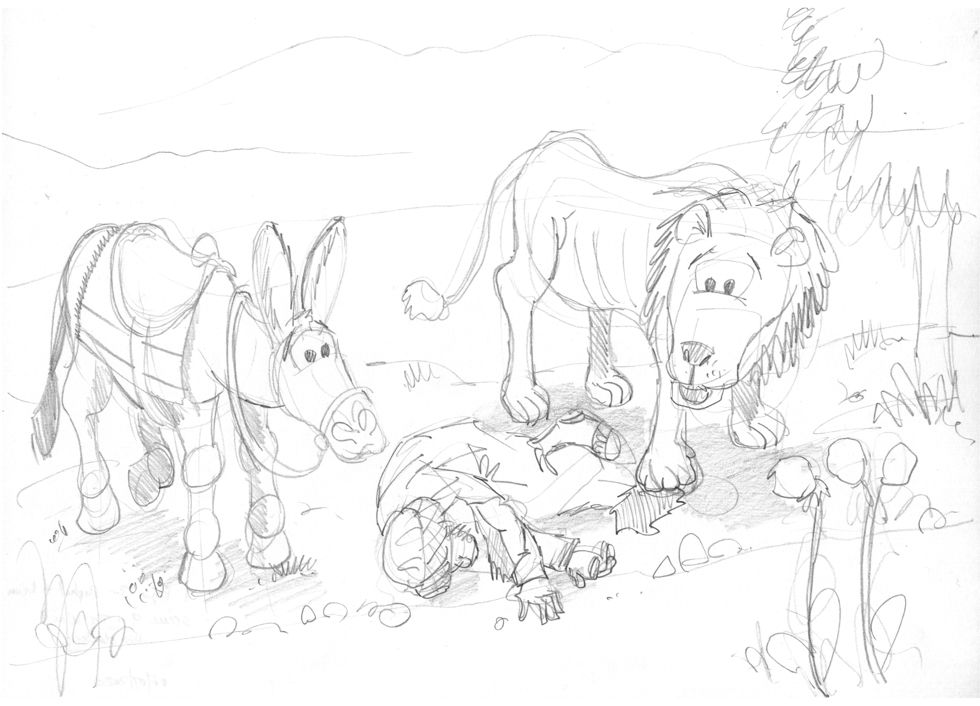 1 Kings 13 – Prophet and lion – Scene 07 – Man of God killed by lion – Greyscale