Bible Book:
1 Kings
Bible Book Code:
1101301401
Scene no:
5 of 11
Bible Reference & Cartoon Description
1 Kings 13:14-18 (NLT)
14 Then he [the old prophet living in Bethel] rode after the man of God and found him sitting under a great tree.
The old prophet asked him, "Are you the man of God who came from Judah?"
"Yes, I am," he replied.
15 Then he said to the man of God, "Come home with me and eat some food."
16 "No, I cannot," he replied. "I am not allowed to eat or drink anything here in this place. 17 For the Lord gave me this command: 'You must not eat or drink anything while you are there, and do not return to Judah by the same way you came.'"
18 But the old prophet answered, "I am a prophet, too, just as you are. And an angel gave me this command from the Lord: 'Bring him home with you so he can have something to eat and drink.'" But the old man was lying to him.
DRAWING NOTES:
TIME OF DAY:
Some time after the pevious scene, so later in the day.
LIGHTING NOTES:
The sun is high in the sky, casting strong shadows below figures and objects.
CHARACTERS PRESENT:
On the left is the old prophet from Bethel with his donkey. On the right is the man of God from Judah, sitting under a tree.
RESEARCH/ADDITIONAL NOTES:
I have drawn the two figures (& the donkey!) in previous scenes in this set. I am uncertain of the motives of the old prophet from Bethel in deliberately deceiving the man of God from Judah. I suppose he could have just been curious about him, and so wanted to spend longer in his company. If that is true then getting the man of God to go home & eat with him would naturally have provided the old prophet with plenty of opportunity to find out about the man of God. I suppose the old prophet could have been working for king Jeroboam & so trying to "trip up" the man of God. Whatever his motivation, I decided to make the old prophet from Bethel look vaguely like a sorcerer, complete with pointed hat, red robes and a large staff. I have given him a rather severe expression on his face, which informs you his motives are not pure, which we know from verse 18 where we read, "But the old man was lying to him".
The man of God from Judah is sitting under a Pistacia terebinthus (Terebinth terpentine tree). The trees in the background are Olea europaea (olive trees).
This is what the scene looks like without the foreground figures: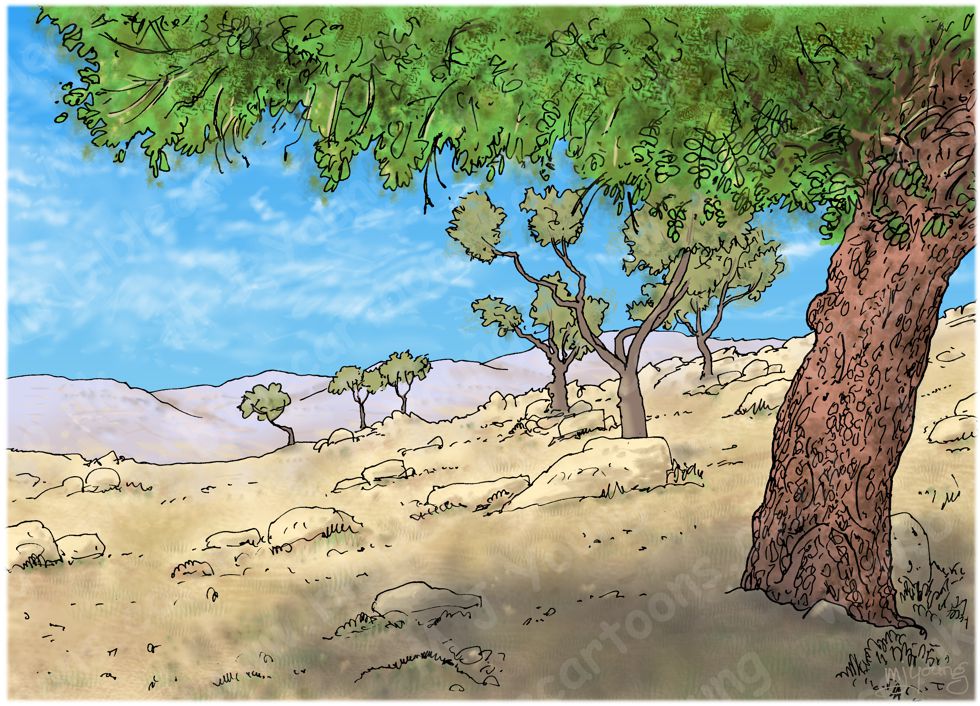 1 Kings 13 – Prophet and lion – Scene 05 – Old prophet's deceit – Landscape