Bible Book:
1 Kings
Bible Book Code:
1101301101
Scene no:
4 of 11
Bible Reference & Cartoon Description
1 Kings 13:11-13 (NLT)
11 As it happened, there was an old prophet living in Bethel, and his sons came home and told him what the man of God had done in Bethel that day. They also told their father what the man had said to the king. 12 The old prophet asked them, "Which way did he go?" So they showed their father which road the man of God had taken. 13 "Quick, saddle the donkey," the old man said. So they saddled the donkey for him, and he mounted it.
DRAWING NOTES:
TIME OF DAY:
Late in the morning.
LIGHTING NOTES:
Sunlight from high up and left illuminates this scene, casting shadows to the right of figures and objects.
CHARACTERS PRESENT:
From left to right: the old prophet who lived in Bethel; one of his sons (telling him which direction the man of God took); another son of the prophet (carrying a rake); the old prophet's daughter, carrying water.
RESEARCH/ADDITIONAL NOTES:
This scene is set in the walled enclosure of the old prophet living in Bethel's home. In my picture we can see the old man (who looks a bit cross!) talking with one of his sons, who is pointing out of the walled archway entrance of the family home, telling his father which direction the man of God took after leaving king Jeroboam at the altar of Bethel.
I assume from verse 11 above that either the sons of the old prophet living in Bethel were present during the interaction of king Jeroboam & the un-named man of God from Judah (see Scenes 01-03) or that his sons were in Bethel and simply heard about the events from someone who was present during that time. Either way, the sons of the prophet living in Bethel reported the incident back to their father, and he immediately gets on the family donkey & goes out looking for the man of God, in the direction indicated by his sons. I have drawn the son talking to his father in the doorway to their home. You may notice that the son is the same man we saw I the background in scene 01 & 02, on the right hand side of the picture, wearing a purple outer robe.
Notice the donkey looking at the old prophet & his son, from a wooden corral in the enclosed compound of the family home.
In the background, behind the donkey, is an olive tree (Olea europaea). Outside the arched entrance to the family home is a scene of the hills around Bethel, which I sketched from a photograph of the area I found on the internet.
The man on the right is another of the old prophet's sons. He is carrying an agricultural rake. The young woman carrying water in an earthenware pot is the old prophet's daughter.
This is what the scene looks like without the foreground figures: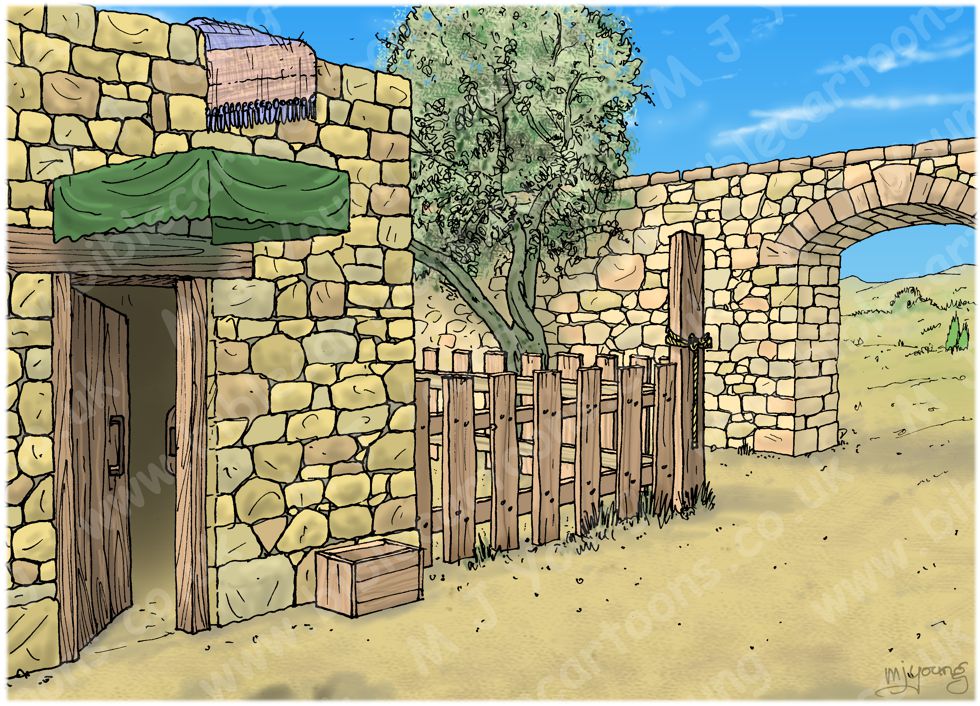 1 Kings 13 – Prophet and lion – Scene 04 – Old prophet sets out – Landscape