Elijah blown about on Mount Horeb!
---
Posted 31 Jul 2018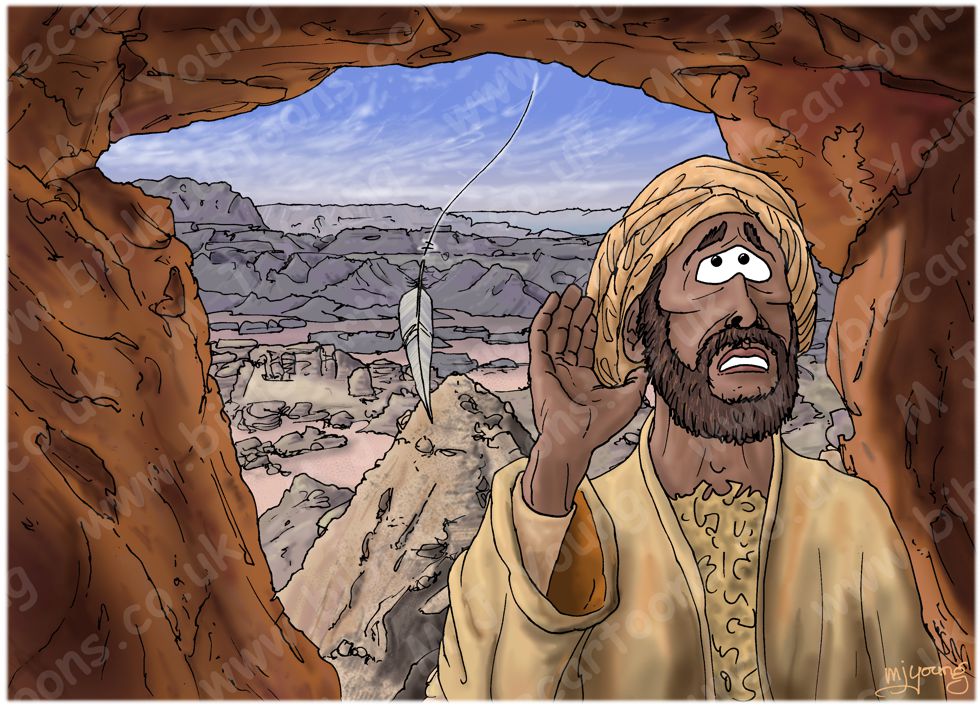 Bible Cartoon: 1 Kings 19 – The Lord appears to Elijah at Horeb – Scene 04 – Gentle whisper

Poor old Elijah the prophet – battered by divine wind storm, earthquake and fire!
I've just completed the final scene in the set of Bible Cartoons that illustrate the exciting story of the Old Testament prophet Elijah's trip from Israel to mount Horeb, and his encounter with the Living God on that lonely mountain.
The Lord shows Elijah a violent wind storm first, with gusts that shatter rocks… but the Lord was not in the wind storm.
Next the earth quakes, with more rocks splitting… but the Lord was not in the wind storm.
Next a huge fire storm sweeps over the rocks… but the Lord was not in the wind storm.
Lastly there is a gentle whisper – the voice of the Lord. On hearing this, Elijah covers his face and goes out of the cave he was hiding in. Then the Lord speaks to Elijah.
I don't know if these mighty visual manifestations of the Lord occurred as apocalyptic visions in Elijah's mind, or as actual, physical events on the mountain. In either case, he was convinced that he had met the Living God, so it probably doesn't matter.
In any case, Elijah is reassured and returns to Israel, to anoint the three men God directs him to, in 1 Kings 19:15-18 [1] which culminates in the calling of Elisha, the prophet who will replace Elijah.

Follow this link to see all of the Bible Cartoons that tell this exciting story on the BC Gallery page, with download & purchase options:
Bible Cartoons: Famous Bible Story – 1 Kings 19 – Elijah flees to Mount Horeb


[1]
1 Kings 19:15-18 (ANIV)
15 The Lord said to him, "Go back the way you came, and go to the Desert of Damascus. When you get there, anoint Hazael king over Aram. 16 Also, anoint Jehu son of Nimshi king over Israel, and anoint Elisha son of Shaphat from Abel Meholah to succeed you as prophet. 17 Jehu will put to death any who escape the sword of Hazael, and Elisha will put to death any who escape the sword of Jehu. 18 Yet I reserve seven thousand in Israel—all whose knees have not bowed down to Baal and all whose mouths have not kissed him."
Comments
Comments are turned off for this article
---
Go to Blog Archive page