Click on Add to cart button below shopping cart.
Purchased Meta4 Pictures do not have watermarks. Links to Meta4s provided on email once purchase is completed.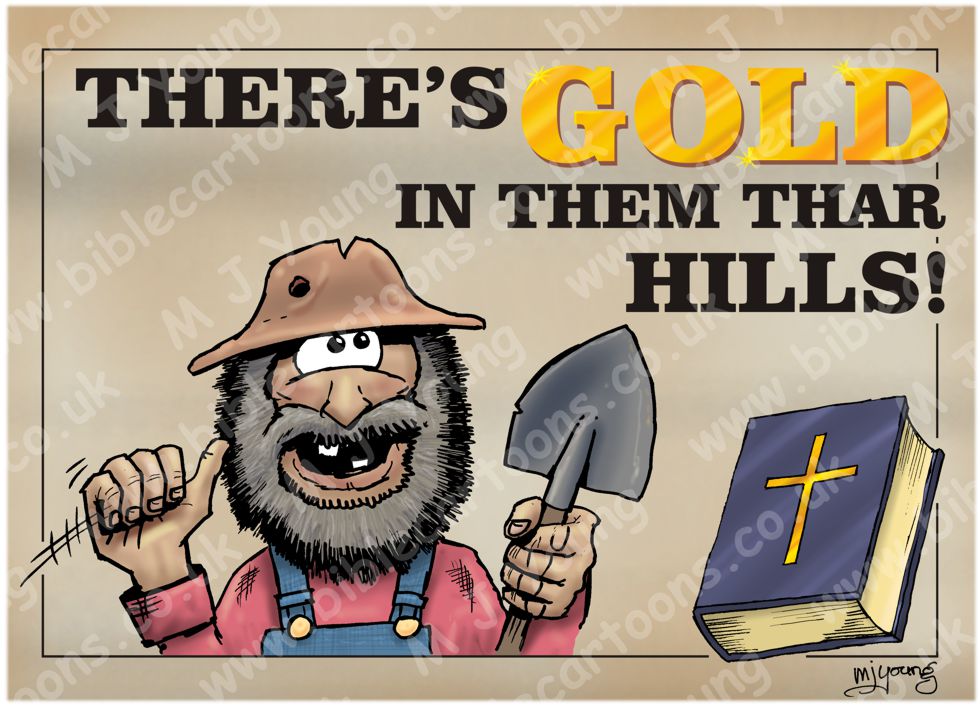 Bible code:
7500300101
Scene no:
1 of 1
Meta4 Picture Description
This is a full colour version of a design I drew some time ago. It shows a Prospector from the North American gold rush era (19th century) and his words "There's gold in them thar hills!", a popular phrase I probably heard on a old western film!
The gold I am refering to is metaphorical "gold", ie the knowledge, wisdom & insight to be found in the Bible, rather than the mineral from the ground!
---
Sermon/teaching theme suggestions:
This picture could be used to talk about the "gold" that can be found in the holy Bible. You could highlight the fact that people can read the Bible & get the most obvious "golden nuggets" from it, but that they could also "dig deeper" & find additional "gold" with further study.
Bible study may require time, patience, persistence, etc, all of which can be drawn out using this picture.
Trust in God's goodness, His dedication & commitment to encourage us to read the Bible, & the "Eureka!" moments we can experience whilst reading/studying the Bible could all be themes which this picture might help to illustrate.

---

I have written quite a lot about this subject in two articles in the BC Blog, which can be read by clicking on the blue boxes below:

Blog article: Metaphor: Looking for gold in the hills