Click on Add to cart button below shopping cart.
Purchased Meta4 Pictures do not have watermarks. Links to Meta4s provided on email once purchase is completed.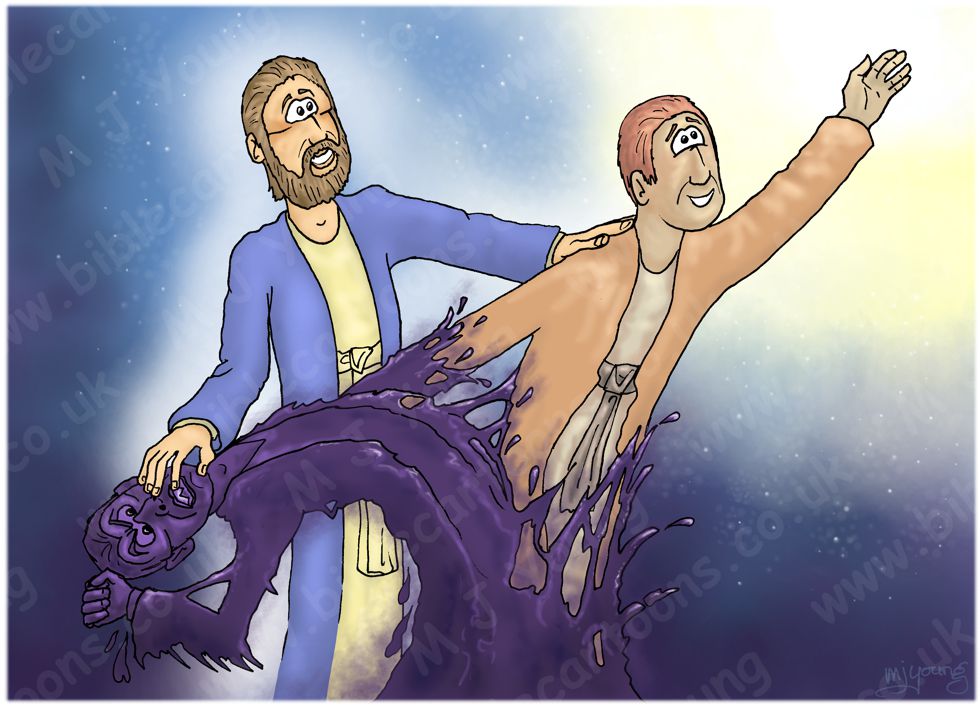 Bible code:
7500300501
Scene no:
1 of 1
Meta4 Picture Description
Jesus separates our holy nature from our sinful nature metaphor picture.
This picture represents the amazing, life-affirming truth that Jesus saves us from our sin. In the image we can see Jesus (in blue outer robe) pulling the dark purple, sinful nature away from the light, holy nature of a man. In one sense this occurs only once, when we first confess our belief in Jesus as Saviour & Lord of our lives: on the day when we become a Christian. But the process of becoming holy (called sanctification) goes on second by second, hour by hour, & ever after as well. In this way, Jesus separates us from our sinful nature once (at conversion), but also continually, throughout our earthly lives.
The good, holy nature of the man is happy to reach up towards the light of heaven, whereas the evil, corrupt nature of the man would shy away from the light, preferring the darkness. However, Jesus isn't giving the evil nature of the man the choice, as He is tearing apart the evil nature from the good nature of the man. Notice the oily, sticky appearance of the sinful self, clinging to the lighter, holy self. I wanted to show how insistent & cloying the evil part of us is… it doesn't give up without a life-long struggle. In fact, Jesus has to save us from our sinful side many times over throughout our lives. It is so easy to make mistakes & err again, as a Christian. But the wonderful truth is, that Jesus continually separates us from our sin, all we have to do is confess our wrongdoing to Him.
Jesus achieves this separation of our sinful & holy natures through his substitutional sacrifice on the cross. It doesn't matter that this event occurred 2,000 years ago. The power of the cross of Jesus to save us from our evil natures is as vital & effective today as it was the moment Jesus died on the cross. That substitutional sacrifice on the cross means that, for believers, we are free from the penalty of our wrong doing, of our sinfulness, for all time. That is an amazing truth that we would do well to recount to ourselves as often as possible.
Psalm 103:12 (NLT)
He has removed our sins as far from us as the east is from the west.
Psalm 103 (quoted above) reminds us that the Lord removes our sin from us completely & utterly. But we must also remember thatw e have a part to play before that, as Psalm 32:5 reminds us (quoted below) we MUST confess our sins to the Lord, & then He will forgive us all our sin & guilt.
Psalm 32:5 (NIV)
Then I acknowledged my sin to you and did not cover up my iniquity. I said, "I will confess my transgressions to the LORD." And you forgave the guilt of my sin.
---
Sermon/teaching theme suggestions:
This picture could be used to talk about Jesus and the cross, & about the way Jesus separates us from our sin.
---