Click on Add to cart button below shopping cart.
Purchased Meta4 Pictures do not have watermarks. Links to Meta4s provided on email once purchase is completed.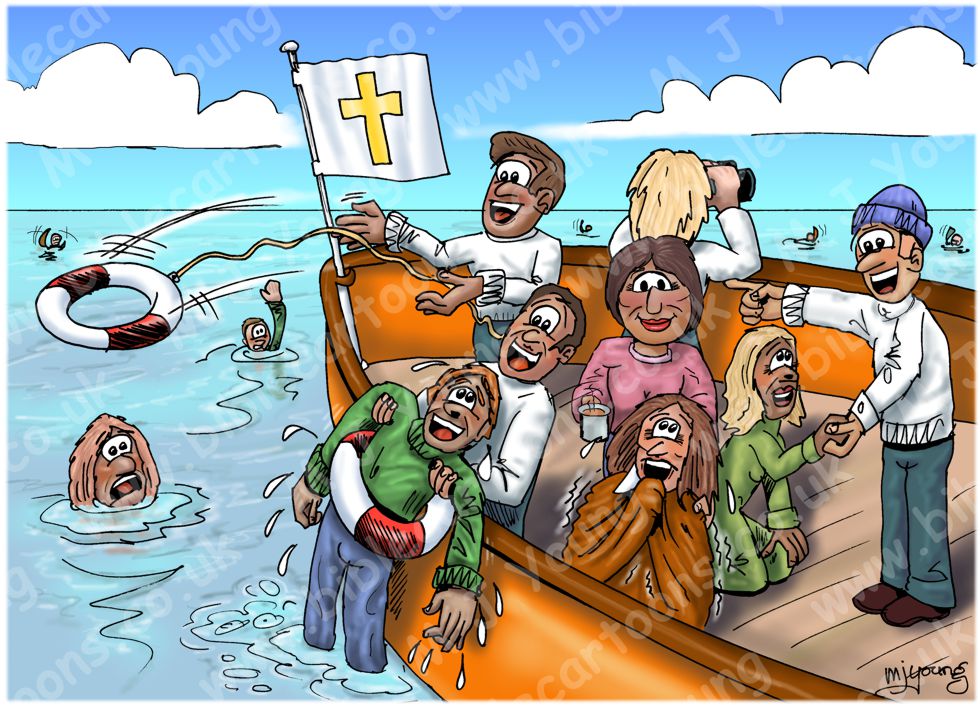 Bible code:
7500700301
Scene no:
3 of 3
Meta4 Picture Description
This is the Third & final Meta4 Pictures that was inspired by a Reinhard Bonnke (evangelist) observation, "We [in the Christian church] live like we are on a pleasure cruise, when we are really on a rescue mission from God."
That observation really struck me, so I drew three black & white pictures to convey the idea in Sept 2014. I have just coloured them up & uploaded them (July 2015).
This third picture shows a rescue boat that is well-equipped, full of motivated, inspired Christians who are effective in their work of rescuing people from the perilous sea. The cross on the flag shows that the boat is a Christian church congregation. Unlike the cruise liner (see previous Meta4 Picture), the members of this boat are Christians who are aware that part of their job is to help save other people, who are in the sea. And unlike the previous picture, these Christians are well-fed, well-equipped & well motivated in their ministry of saving people!
Notice that people are pulled from the sea, covered in blankets, given warm drinks (immediate needs met), helped up & directed (once they are fit, healthy & ready) to help save other people. This is a picture of what happens in a really good, well-focused Christian church: people are rescued, & once they are ready to take their place in the "crew" they are put to work helping other people (still in the "sea" of their sins) to escape the clutches of the sea & clamber on board the "rescue boat" of Christianity.
---
Sermon/teaching theme suggestions:
The three pictures that make up this series could be used to talk about church life: how we can make our church congregations more appealing to people, without "watering down" the (urgent, vital) message of the gospel of Jesus the Christ.
This third picture really shows how to do it: when a church congregation is appealing to people & is relevant & accessible to them, where they are, then we can hope/expect them to come through the doors & join us. Ultimately people are saved by a sovereign act of God, but as with all things, w have a vital part to play in making God's church clearly promote a better way of life to people who are dying in our world.
If we deliberately make our congregations "user-friendly" to non-Christians then we are helping them to see the relevance & attractiveness of the gospel to them, in their situation. We have to deliberately show the world that we have something that they are missing, & that they actually want: peace, love, acceptance, an eternal future, hope, etc.

---

Incidentally, the colour of the rescue boat is based on the actual colours of RNLI (Royal National Lifeboat Institute) lifeboats in the UK.
You can read my Blog about this observation, & see the black & white version of this cartoon, here:
BC article: "The difference between a pleasure cruise & a rescue mission – Part 3."