Click on Add to cart button below shopping cart.
Purchased Meta4 Pictures do not have watermarks. Links to Meta4s provided on email once purchase is completed.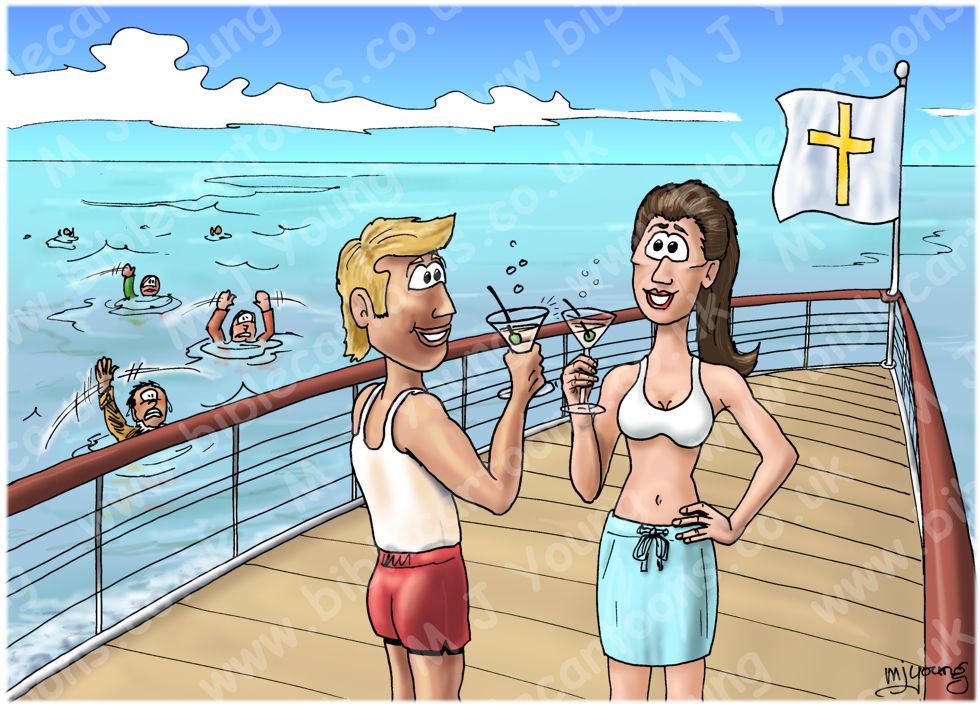 Bible code:
7500700101
Scene no:
1 of 3
Meta4 Picture Description
This is the first of 3 Meta4 Pictures that was inspired by a Reinhard Bonnke (evangelist) observation, "We [in the Christian church] live like we are on a pleasure cruise, when we are really on a rescue mission from God."
That observation really struck me, so I drew three black & white pictures to convey the idea in Sept 2014. I have just coloured them up & uploaded them (July 2015).
The first picture shows a couple on the deck of a cruise ship, enjoying themselves in the sunshine with drinks. This couple represent people who have been called by God, saved, & are going on in their relationship with God; ie Christians. The cross on the flag shows that the liner is a Christian church congregation. Then there are other people who are swimming in the sea, waving & calling for help; trying to get the attention of the couple. The people in the water represent unsaved people, or people who aren't Christians.
The couple on the ship (or cruise liner) represent a church congregation which isn't aware of it's mandate to become a rescue boat & start saving people from their peril, represented by the sea.
The following (2) pictures are elaborations of this whole idea. Two alternatives are presented: an under-powered church (rescue boat) which is ineffective at saving people, & a strong church with the right attitude, saving people & helping them to save other people from the "waters of life".
---
Sermon/teaching theme suggestions:
The three pictures that make up this series could be used to talk about church life: how we can make our church congregations more appealing to people, without "watering down" the (urgent, vital) message of the gospel of Jesus the Christ.
The second picture really shows how "not" to do it: if a church congregation is unappealing to people, then why in the world would we expect them to come through the doors & want to join us?! That is not to say that God can not cause people to come in to our congregations (provided we actually are preaching the whole gospel!), but that it is a lot easier to achieve that aim if we deliberately make our congregations "user-friendly" to non-Christians. We have to deliberately show the world that we have something that they are missing, & that they actually want: peace, love, acceptance, an eternal future, hope, etc.

---

You can read my Blog about this observation, & see the black & white version of this cartoon, here:
BC article: "The difference between a pleasure cruise & a rescue mission – Part 1."