Bible Book:
Revelation
Bible Book Code:
6600700101
Scene no:
1 of 2
Bible Reference & Cartoon Description
Revelation 7:1 (ANIV)
144,000 Sealed
After this I saw four angels standing at the four corners of the earth, holding back the four winds of the earth to prevent any wind from blowing on the land or on the sea or on any tree.
DRAWING NOTES:
TIME OF DAY:
Not specified in the account.
LIGHTING NOTES:
There is no specific light source in this scene. The four angels have a glow around them.
CHARACTERS PRESENT:
Four powerful angels. The four winds personified as angry looking clouds!
RESEARCH/ADDITIONAL NOTES:
This is a fairly simple, literal interpretation of Revelation, chapter 7, verse 1. I've drawn the four angels with arms spread wide, in postures that look like they are holding back the four winds, which are illustrated as four angry looking cloud faces, in the corners of the scene.

Here's the initial greyscale pencil sketch I drew of this cartoon.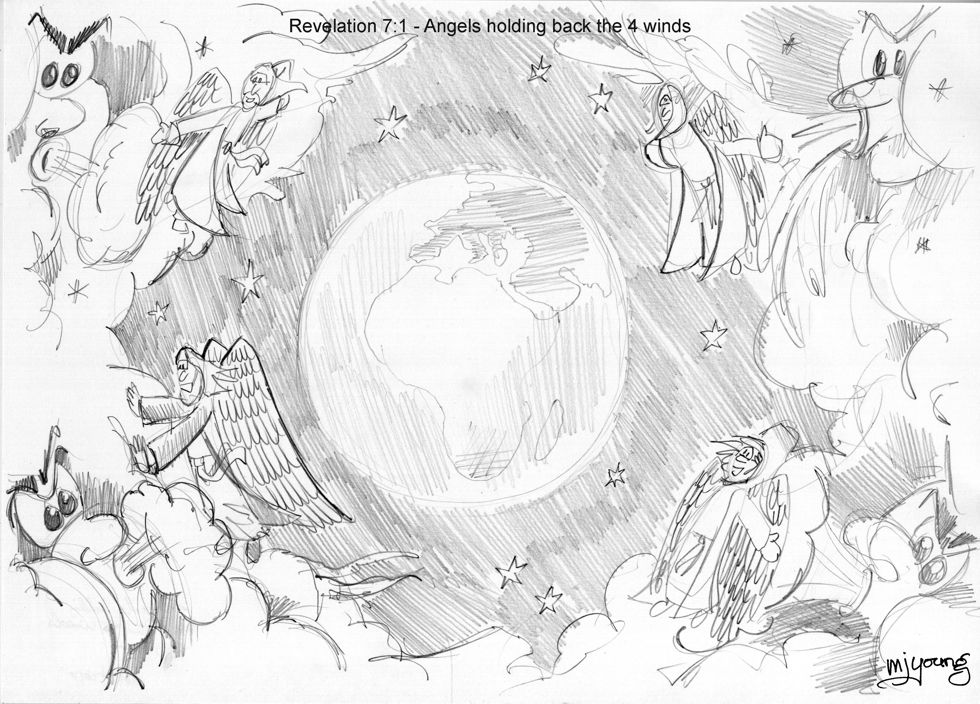 Revelation 07 – 144,000 sealed – Scene 01 – Four angels hold back the four winds – Greyscale pencil sketch