Bible Book:
Psalms
Bible Book Code:
1901803701
Scene no:
7 of 8
Bible Reference & Cartoon Description
Psalms 18:37-42 (ANIV)
37 I pursued my enemies and overtook them;
I did not turn back till they were destroyed.
38 I crushed them so that they could not rise;
they fell beneath my feet.
39 You armed me with strength for battle;
you made my adversaries bow at my feet.
40 You made my enemies turn their backs in flight,
and I destroyed my foes.
41 They cried for help, but there was no-one to save them—
to the Lord, but he did not answer.
42 I beat them as fine as dust borne on the wind;
I poured them out like mud in the streets.
DRAWING NOTES:
TIME OF DAY:
Unspecified in Bible Text. Daytime.
LIGHTING NOTES:
Sunlight from high above and right illuminates this scene. Shadows are cast to the left of the figure and objects.
CHARACTERS PRESENT:
A female warrior.
RESEARCH/ADDITIONAL NOTES:
Psalm 18 is an example of a psalm of Thanksgiving, which describe a situation of distress & how God delivered the psalmist.
The psalmist writes in the verses above about mercilessly attacking and destroying his enemies, culminating in the phrase "I beat them as fine as dust borne on the wind; I poured them out like mud in the streets." In light of this description I decided to draw a warrior both "pouring mud" & flinging dust into the air; a very literal visual version of the psalmist's words.
I have drawn many male warriors and soldiers, and thought it was about time the girls had a turn, hence drawing a female warrior. I doubt that the Israelites sent women into battle in Biblical times, war, battle and violence being a very male-dominated activity in ancient times! However, for the modern viewer, I expect a female warrior is a welcome relief from all the fighting men I have drawn over the years!

You can see the scene below without the figure.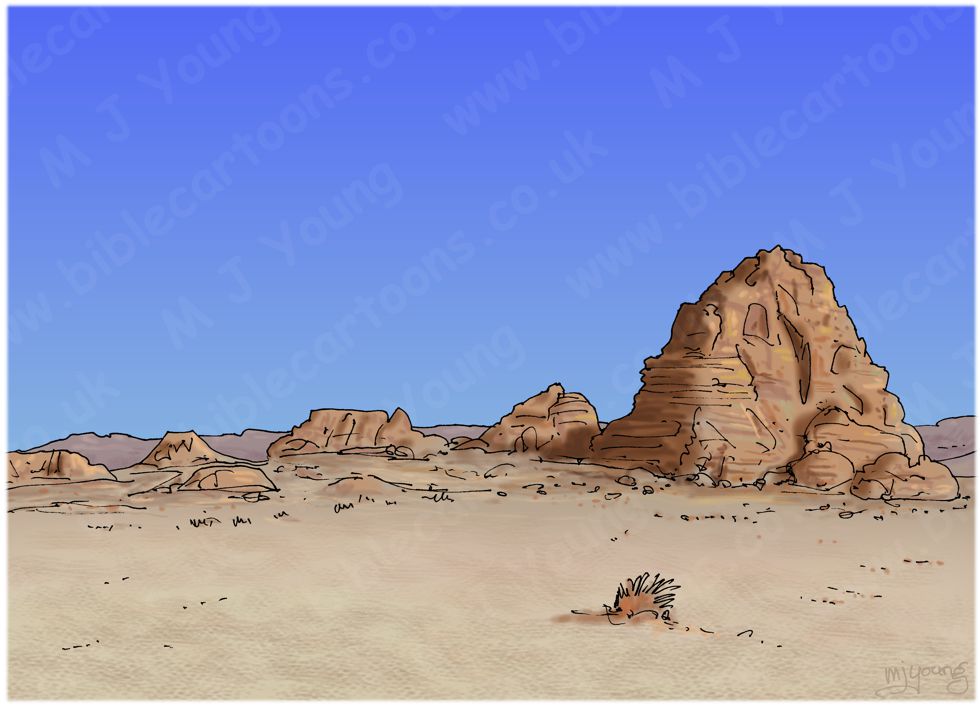 Psalm 18 – Scene 07 – My enemies ground like dust – Landscape