Bible Book:
Psalms
Bible Book Code:
1901803002
Scene no:
6 of 8
Bible Reference & Cartoon Description
Psalms 18:30-36 (ANIV)
30 As for God, his way is perfect;
the word of the Lord is flawless.
He is a shield
for all who take refuge in him.
31 For who is God besides the Lord?
And who is the Rock except our God?
32 It is God who arms me with strength
and makes my way perfect.
33 He makes my feet like the feet of a deer;
he enables me to stand on the heights.
34 He trains my hands for battle;
my arms can bend a bow of bronze.
35 You give me your shield of victory,
and your right hand sustains me;
you stoop down to make me great.
36 You broaden the path beneath me,
so that my ankles do not turn over.
DRAWING NOTES:
TIME OF DAY:
Unspecified in Bible Text. Daytime.
LIGHTING NOTES:
Dim, defused sunlight from high above illuminates this scene. Shadows are cast to the right of figures and objects.
CHARACTERS PRESENT:
A Hebrew man and woman, huddling behind a shield, as a sand storm rapidly approaches.
RESEARCH/ADDITIONAL NOTES:
Psalm 18 is an example of a psalm of Thanksgiving, which describe a situation of distress & how God delivered the psalmist.
There are two versions of this scene:
01) (Previous page) Psalm 18 – Scene 06 – The Lord is a shield (Version 01). I have included particles of sand with an almost horizontal motion blur effect on them, which gives the illusion of wind whipping the sand particles about. However, the figures and background sand storm clouds are rather indistinct in this scene, so I have provided Version 02 (see below) as well.
02) (This page) Psalm 18 – Scene 06 – The Lord is a shield (Version 02). In this version of the scene I have removed the horizontal motion blur effect, and only included a few sand particles in the air, to allow a clearer view of the figures, sand dunes and approaching sand storm clouds. I imagine this version to be just before the sand storm hits the couple, whereas Version 01 shows them in the grip of the mighty sand storm.
When I read verse 30b, "He [the Lord God] is a shield for all who take refuge in him" I immediately thought of a couple huddling behind a large wooden shield, as a terrible sandstorm sweeps towards them. In my picture the figures have scarves across their faces, with only their eyes showing, to protect them from the choking dust and sand clouds which are bearing down on them. The woman is clinging to the man, who is hanging on to the shield strap in anticipation of the powerful winds hitting them. Notice the palm trees and bushes being bent over by the wind.
I imagine the man is a soldier/warrior, hence he has a large wooden shield to hide behind in the sand storm. He also has a sword in a scabbard across his lap.


Here is the rough pencil sketch I drew to establish the elements in the scene and work out the tonal range (black, white & shades of grey) I might be using in the finished picture.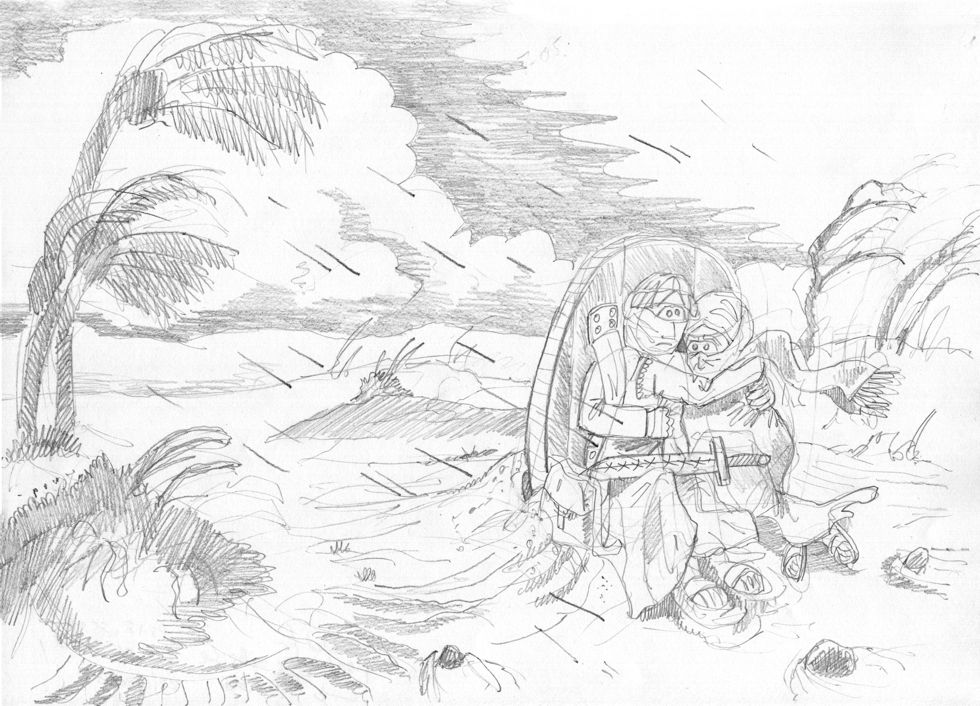 Psalm 18 – Scene 06 – The Lord is a shield – Greyscale 980×706px