Bible Book:
Psalms
Bible Book Code:
1901800701
Scene no:
3 of 8
Bible Reference & Cartoon Description
Psalms 18:7-14 (ANIV)
7 The earth trembled and quaked,
and the foundations of the mountains shook;
they trembled because he was angry.
8 Smoke rose from his nostrils;
consuming fire came from his mouth,
burning coals blazed out of it.
9 He parted the heavens and came down;
dark clouds were under his feet.
10 He mounted the cherubim and flew;
he soared on the wings of the wind.
11 He made darkness his covering, his canopy around him—
the dark rain clouds of the sky.
12 Out of the brightness of his presence clouds advanced,
with hailstones and bolts of lightning.
13 The Lord thundered from heaven;
the voice of the Most High resounded. [3]
14 He shot his arrows and scattered the enemies,
great bolts of lightning and routed them.
[3]
Some Hebrew manuscripts and Septuagint (see also 2 Samuel 22:14); most Hebrew manuscripts, resounded, / amid hailstones and bolts of lightning.
DRAWING NOTES:
TIME OF DAY:
Unspecified in Bible Text. Daytime.
LIGHTING NOTES:
I have made this scene quite dark with storm clouds, but the lightning illuminates the mountains and figures.
CHARACTERS PRESENT:
Un-named "enemy" soldiers.
RESEARCH/ADDITIONAL NOTES:
Psalm 18 is an example of a psalm of Thanksgiving, which describe a situation of distress & how God delivered the psalmist.
This scene is my interpretation of the verses above, in which the psalmists talks about The Lord parting the heavens and coming down to earth, with dark clouds under his feet (see verse 9)… with hailstones and bolts of lightning (verse 12)… He shot his arrows and scattered the enemies (verse 14).
You can see the scene below without the hail, lightning or figures.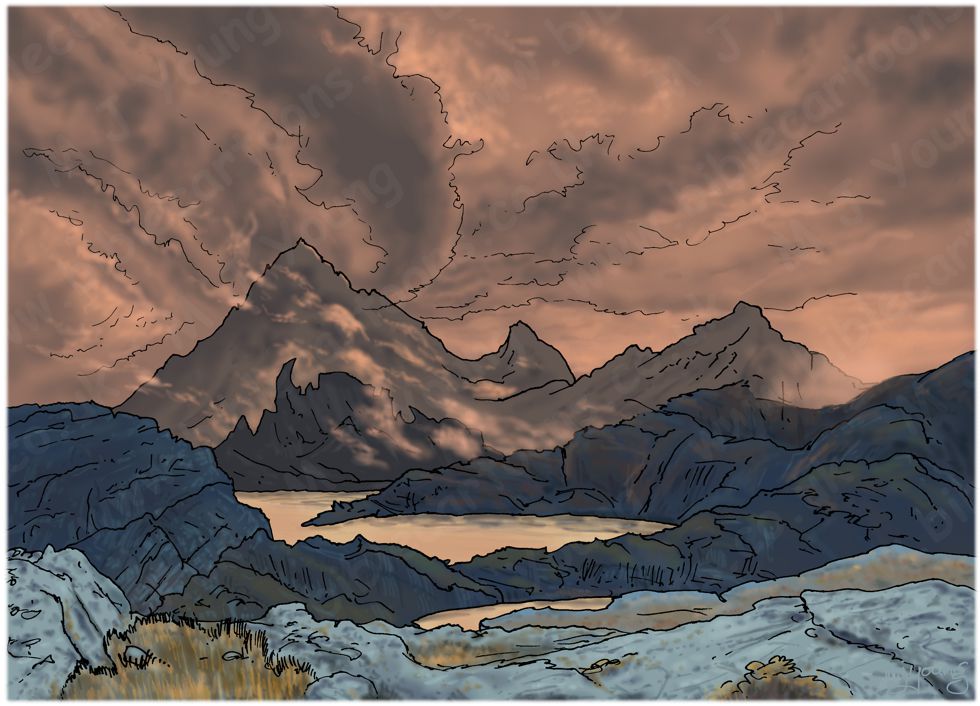 Psalm 18 – Scene 03 – The Lord scattered my enemies – Landscape